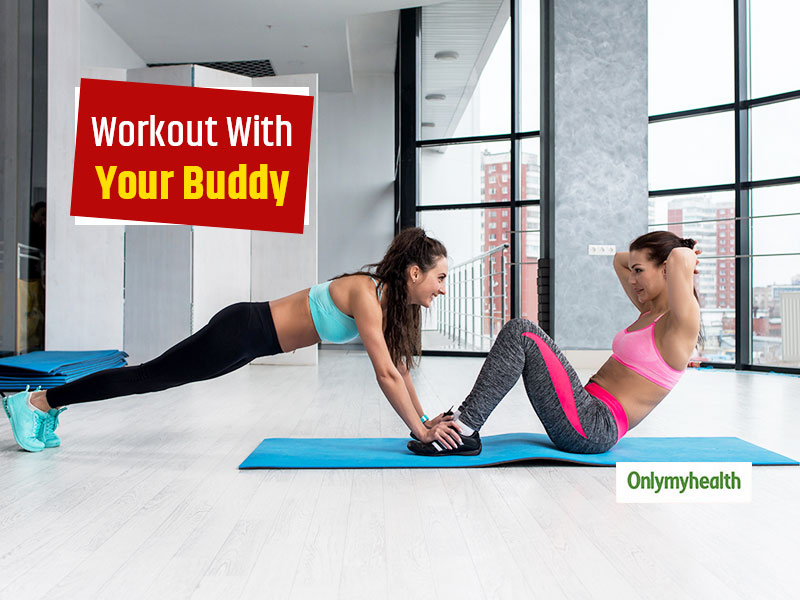 If you are bored of working out in the home, let us tell you a simple trick to turn the dull workout into a fun fitness workout. Find a workout buddy and start buddy workout. Confused? You must have noticed that exercising alone inside the home gets boring after a certain point of time where you feel like not working out anymore! To prevent this, you can ask one of your family members or house partner to join you for an easy buddy workout session. Not only this would fix your exercising woes but also helps spend a good time together. Here are some amazing buddy workout exercises recommended by celebrity fitness trainer Yasmin Karachiwala that you must do. So, pull up your socks, find your buddy and kickstart this fresh and new home fitness regime.
Here is ace fitness guru Yasmin Karachiwala's post on buddy workout. Look how the mother-son duo is doing this buddy workout with so much ease. Exercising becomes both easy and enjoyable when you do it with a partner. It yields more results as compared to working out alone.
Squats
First, stand straight facing each other.
Now hold your hands tightly and do squats.
Keep you back straight and don't bend your elbows.
Do this 20-25 times.
As you are done with the last squat, hold the position for 15-20 seconds and then return back to the starting position.
Reverse Lunge To Kick
Stand side-by-side but facing opposite directions.
Hold your hands and now use the outer side leg to lunge and then kick.
Do this for 15-20 times.
Now, switch sides and repeat the above steps with the other leg.
Lateral Jumps With Hover Holds
For this exercise, one partner gets in the plank position.
The other partner would jump left to right over the other partner with both legs conjoined.
Repeat this 10 times.
Now change the position.
Let the first partner do the same.
Criss-Cross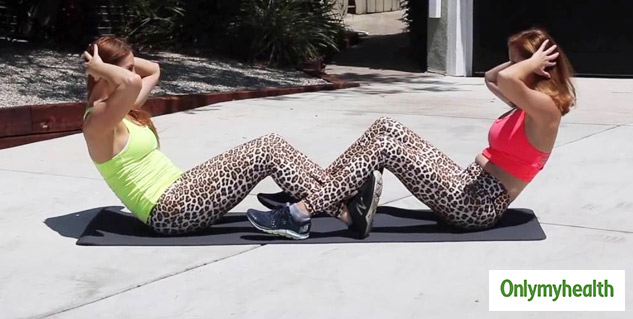 Lie down with your back in the opposite direction such that your feet are against each other.
Keep your hands under your head and widen your elbows.
Now, push each other's foot in opposite directions like a pulley.
Rotate your head left to right while doing this.
Now, switch the sides.
Repeat this for 15 times for each side.
Midas Touch
Get into the plank position with your face facing each other.
Keep the body straight.
Now, touch the left shoulder of your partner with your right hand.
Return to the original position.
Now, touch the right shoulder with the left hand.
Do this as fast as you both can.
Repeat 10-15 times.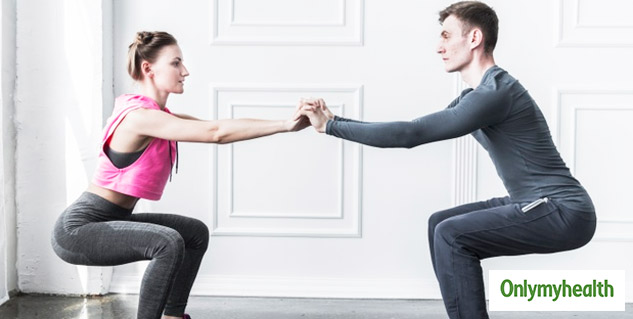 Triceps Dips
One partner sits on the floor with hands wide on the side.
Bend the knees in inverted V shape
Keep a gap of hip-width between your knees.
Elevate the hips a bit from the ground.
Now, the other partner has to stand in front with the back facing the partner.
Place your hands on the first partner's knees for the support.
Bend a bit and then do up and down.
This is called triceps dips.
Both the partner should try to lift their bodies without lifting the legs.
Get back at the starting position.
You may change the positions and repeat this again.
Read More in Exercise and Fitness