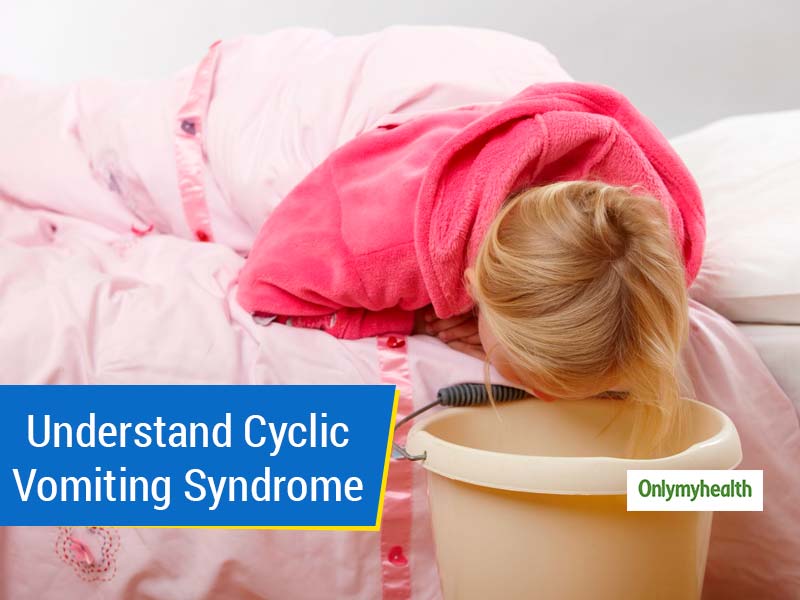 The moment we see any child or adult vomiting, it is not something that we immediately report to a doctor. We end up waiting for some time with some necessary precautions that can be taken at home. However, if vomiting happens more than once or twice, it is then only when we start thinking of possible reasons for the same. Hence, recurrent episodes of vomiting should not be taken lightly in kids and even in adults as it can be the cyclic vomiting syndrome. It is a rare condition that is more common in children where there are persistent vomiting and nausea, making it difficult for the child to eat anything. There is no exact cause of this syndrome but can be triggered due to certain food items. Some even term this syndrome as the abdominal migraine as there is excruciating pain in the abdomen if suffering from the cyclic vomiting syndrome. Onlymyhealth shares exclusive inputs on this topic by Dr. Ambrish Dixit, Senior Consultant, Internal Medicine, Max Super Speciality Hospital, Dehradun.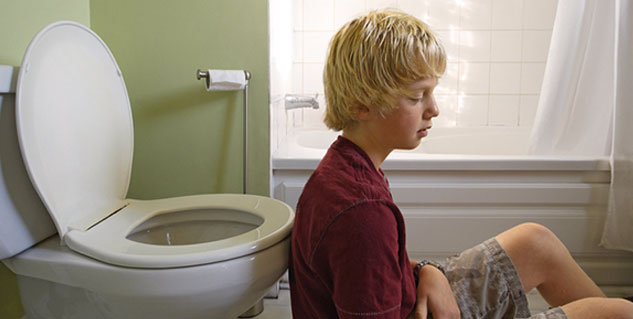 Also Read: Prevent Your Child From Getting Any Infectious Disease With Expert Tips By Dr Thirumalesh
More Common In Kids
Dr Dixit explains, "The age in which cyclic vomiting syndrome is more common is 4-8 years. More commonly experienced in infants as young as six days and children below the age of 8, it can also happen to adults in their 70s. In most cases, cyclic vomiting syndrome is mostly resolved in the latter part of childhood. Moreover, vomiting in most cases can be a normal reaction to something one must have eaten, but if it keeps happening more than two times, it should certainly be treated as a potential to a health concern."
Symptoms of Cyclic Vomiting Syndrome
As listed down by the North American Society For Pediatric Gastroenterology, Hepatology And Nutrition, following are some symptoms of cyclic vomiting syndrome:
A minimum of 5 such episodes where the kid/adult may vomit everything more than once
More nausea when the vomiting may last for 1-10 hours in a day. This should be reported soon if it happens one week apart
Each patient may display different symptoms due to various triggers
Vomiting more than 4-5 times in an hour
Most commonly vomiting to occur during early morning hours or immediately after waking up
With vomiting, there is nausea, abdomen pain and fatigue. Some patients may even have a fever or may look pale.
Mostly, cyclic vomiting syndrome is driven by several environmental factors. Some may even have headaches and vertigo.
Also Read: Dr Atish Laddad Explains Easy Ways To Treat Tummy Torment In Toddlers
Causes of Cyclic Vomiting Syndrome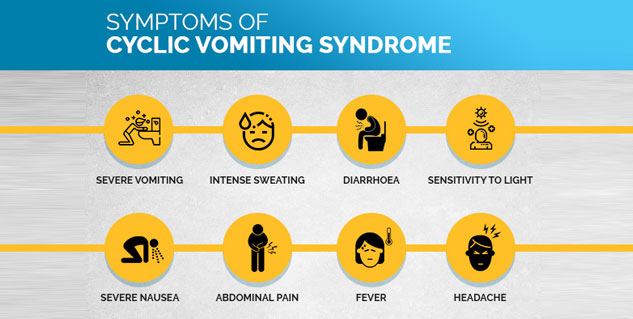 As we said earlier, there is no definite cause of cyclic vomiting syndrome, but a host of factors can be responsible:
An autoimmune disease
Family history of migraine
Extreme stress in kids due to various factors. Stress hormones lead to several digestive-related issues across all age groups
Constant bathing with hot water can be a possible reason for cyclic vomiting syndrome
Phases of Cyclic Vomiting Syndrome
Dr Dixit explains the four distinct phases of cyclic vomiting syndrome:
Prodrome Phase
The symptoms of this phase include:
A feeling of sudden vomiting
Pale skin
Sweating and nausea before and after the vomiting
Vomiting Phase
The symptoms include:
Vomiting periods lasting for 20-30 minutes
5-6 times vomit in one hour for 8-10 days together
Experience pain in abdomen, nausea, headaches, fever, drowsiness, excessive saliva, pale skin
Recovery Phase
The symptoms include:
Subsiding nausea but vomiting remains
Improvement in the symptoms mentioned above in the vomiting phase
Gradual signs of recovery
Also Read: Tourette Syndrome In Kids: 5 Habits That Might Indicate The Onset Of This Syndrome
Well/Fine Phase
This particular phase has no symptoms where the person may feel his usual self. But, if these phases happen again, then one should certainly see a doctor soon for possible cure options.
Those looking for respite can follow these basic steps for relief after throwing up: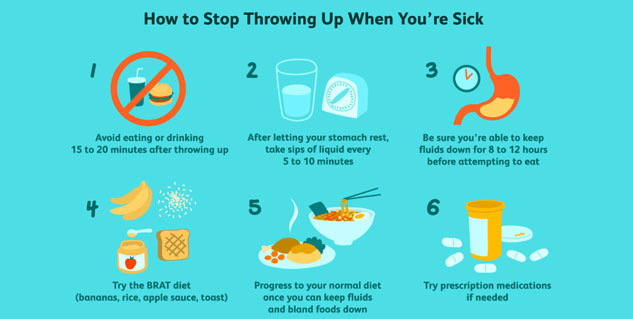 Read more articles on Children's Health