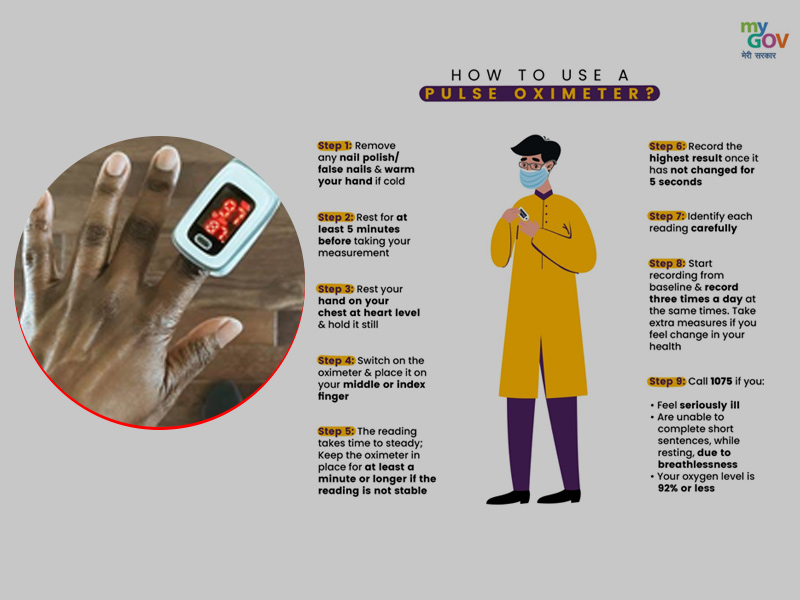 There is an alarming rise in the number of cases in India. The country's health care system is dooming as patients are facing difficulties to survive due to lack of beds, oxygen concentrators, ventilators and plasma in hospitals. The pandemic situation has gotten worse as compared to last year when it started. The number of Covid positive cases and death cases are increasing in almost all states in the country. Just like last year, lockdown or night curfew has been imposed in most of the states again for a temporary period amid the surge in COVID-19 cases. But, all the essential services will remain open, such as pharmacies, hospitals, grocery stores, etc.
Due to such an alarming situation, the Centre shared guidelines on the usage of oximeters. Oximeters are used to measure the oxygen levels (oxygen saturation) and heart rate and are very useful for Covid patients, especially who are fighting shortness of breath because of a drop in their oxygen levels. A pulse oximeter is used to estimate the blood oxygen levels. It basically uses light beams to tell about the oxygen saturation of the blood and the pulse rate. Oxygen saturation provides information about the amount of oxygen carried in the blood. The pulse oximeter can estimate the amount of oxygen in the blood without even taking a blood sample. An oximeter plays a major role in telling about the health status of Covid positive patients.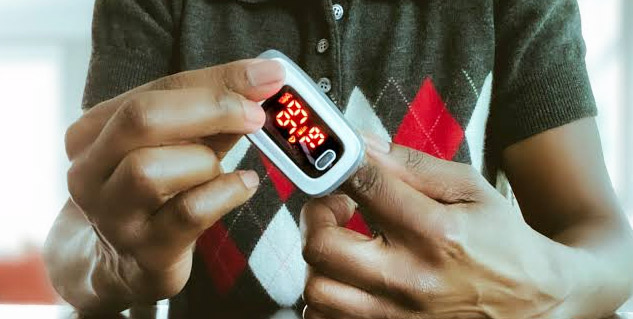 On the Twitter handle of citizen engagement platform of Government of India, the government shared a tweet giving detailed step by step guide on using pulse oximeter to check oxygen levels. This comes in after reports of lack of oxygen in many hospitals in the entire country. The doctors and experts have suggested COVID-19 patients who are under treatment and in isolation at home to check their oxygen levels on their own. Coming to the hospital for the checkup can put you at a greater risk of getting infected with this deadly virus. And, it is also important to take all necessary precautions including regular hand washing and sanitizing, wearing masks and social distancing.
Also read: What Is Pulse Oximetry and How To Use A Pulse Oximeter To Measure Blood Oxygen Levels
8-step Guideline For Using A Pulse Oximeter
Step 1: Remove any nail polish/false nails & warm your hand if cold
Step 2: Rest for atleast 5 minutes before taking your measurement
Step 3: Rest your hand on your chest at heart level and hold it still
Step 4: Switch on the oximeter and place it on your middle or index finger
Step 5: The reading takes time to steady; Keep the oximeter in place for atleast a minute or longer if the reading is not stable
Step 6: Record the highest result once it has not changes for five seconds
Step 7: Identify each reading carefully
Step 8: Start recording from base line and record three times a day at the same times. Take extra measures if you feel change in your health
The pulse oximeter is used to measure the oxygen level (oxygen saturation) of the blood. But do you know how does it work? Take a look! #IndiaFightsCorona pic.twitter.com/YAToaH8hIq

— MyGovIndia (@mygovindia) April 24, 2021
Call 1075 if you feel seriously ill, are unable to complete short sentences while resting, due to breathlessness and if your oxygen level is 92% or less. For better oxygenation at home, the Indian government has also advised COVID-19 patients to lie down on their belly with 4-5 pillows under them. This is known as the 'proning position', which is an exercise that helps in treating patients who have mild respiratory problems due to Coronavirus. Covid-19 patients have also been asked to take a 6-minute walk test in which one should check the oxygen levels both before and after six minutes of walking inside the room. Do not go out to take a walk and stay quarantined. If there is a fluctuation of 4 percent or more, then you should rush to the hospital.
Also read: COVID-19 Outbreak: 6 Tips By The World Health Organization For Home Caregivers
Read moe articles on Miscellaneous