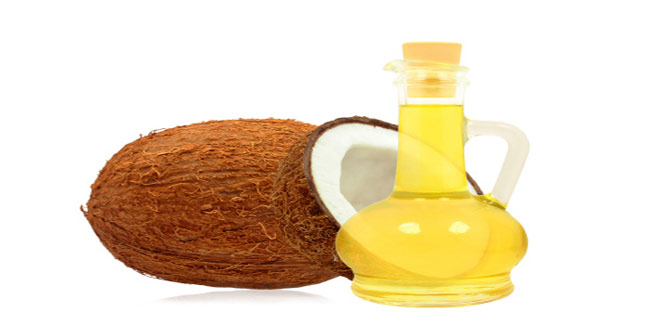 Coconut oil offers multiple benefits for hair. Coconut oil for hair is an all-in-one remedy; it can give hair natural proteins, moisturise it and help to restore its vitality and shine.
Coconut oil can work wonders on your hair. Nobody likes to look at their hair and see a dull, shine-less heap of follicles. Coconut oil for hair is an all-in-one remedy; it can give the hair natural proteins, thereby moisturising it and restoring the vitality and shine.
You can use coconut oil for massaging the scalp, conditioning hair, and also to make your tresses healthy and beautiful. Virgin coconut oil for hair, which is derived from fresh coconuts, can be used against several hair problems.

So, why should you use coconut oil for hair? Well, here are some reasons:
Coconut Oil Promotes Hair Health



When it comes to accelerating hair growth, there is nothing better than coconut oil for hair. The regular use of coconut oil protects and moisturizes the scalp. The fatty acids in coconut oil bind to the protein in hair to offer support to the roots as well as strands. Those with thin, flat, rough and dry hair can make their hair grow thicker, softer and shinier with coconut oil.
Coconut Oil Makes Hair Manageable



Coconut oil makes growing and maintaining long hair so much easier. Those who like to grow their hair long must use coconut oil twice a week and thus stop worrying about hair breakage and damage.
Coconut Oil Acts as a Conditioner



Many hair conditioning products have coconut as an ingredient. Coconut oil is a natural hair conditioner you can use. Owing to its easy molecular structure, coconut oil can easily penetrate into the hair shaft and work with the natural hair proteins. This is why coconut oil for hair loss in not a myth. It can be used to treat other hair-related conditions such as dry scalp or fungal conditions like seborrheic dermatitis which result in itchy flakes.
Coconut Oil Acts as a Hair Shampoo



The use of most hair shampoos cannot limit protein loss. You can minimise protein loss during washing if you use coconut oil due to the presence of medium-chain triglycerides that can pass through the cell membrane and waterproof the scalp and hair. Moreover, the natural antioxidants in coconut oil better your hair's softness and lustre.
Massage – Coconut Oil Hair Treatment



Moisture is essential for healthy hair and is also one of the main causes of hair problems. Massaging scalp with coconut oil penetrates the hair shaft, protects against environmental impurities and excessive heat. It enhances blood circulation and oxygen delivery to your hair, keeping them healthy. You can mix coconut oil with lime juice and apply it to your hair; this prevents hair loss. Another benefit of massaging scalp with coconut oil is relaxation. When you feel relaxed, chemicals get released throughout your body that soothe all parts of the body, including the hair.
Coconut Oil Prevents Hair Loss/Hair Breakage



Coconut oil hair treatment is nothing new. Coconut oil has been used for a long time now, particularly by people in tropical regions. If you want to prevent hair breakage, turn to coconut oil. Hair is one part of our body that is quite sensitive to changes in the body. Stress, malnutrition, hormone imbalance, pollution and chemicals can contribute to hair problems such as hair loss and hair breakage. When you use coconut oil on hair regularly, you don't lose strands of hair that easy. This is how coconut oil takes care of hair breakage, hair loss and keeps other hair problems at bay.
Coconut Oil Prevents and treats dandruff



Dandruff, a condition of flaking and itchy scalp, is one of the common hair complaints. If you want to reduce your risk of getting it or treat it, coconut oil can help you with that. Rich in vitamin E, vitamin K and iron, coconut oil helps you get rid of dandruff besides boosting hair growth.
Coconut Oil Fights baldness



The use of coconut oil on hair promotes hair growth as well as counter hair loss and combat baldness. Coconut oil is an antibacterial as well as an anti-fungal and full of medium chain triglycerides which prevent hair loss besides giving the hair more body. Coconut oil use makes hair stronger and restores all the necessary natural oils, preventing hair from breaking and allowing them to grow. Coconut oil also helps reduce the loss of protein in the hair.
Coconut Oil Promotes hair growth



Coconut oil is not just a natural conditioner that keeps hair healthy, but also something that promotes hair growth. Regardless of how or when you use it, coconut oil for hair has no or minimal risks in comparison to synthetic hair products, making it safe to use on a daily basis.
Besides hair, coconut and its products can aid in skin care, weight loss, digestion, metabolism and high blood pressure. When you have coconut oil, you don't need deep conditioners, under-eye creams and lotions. Coconut oil is a wonderful natural way to make skin soft, supple and healthy.
How much of coconut oil is right for you or dose of coconut oil depends on several factors. Health experts warn against the use of coconut oil for a person of certain age and other medical conditions. If you are pregnant or breastfeeding, you must ask your doctor if taking coconut oil at amounts greater than those used in food okay.
Read more articles on Hair Problems.