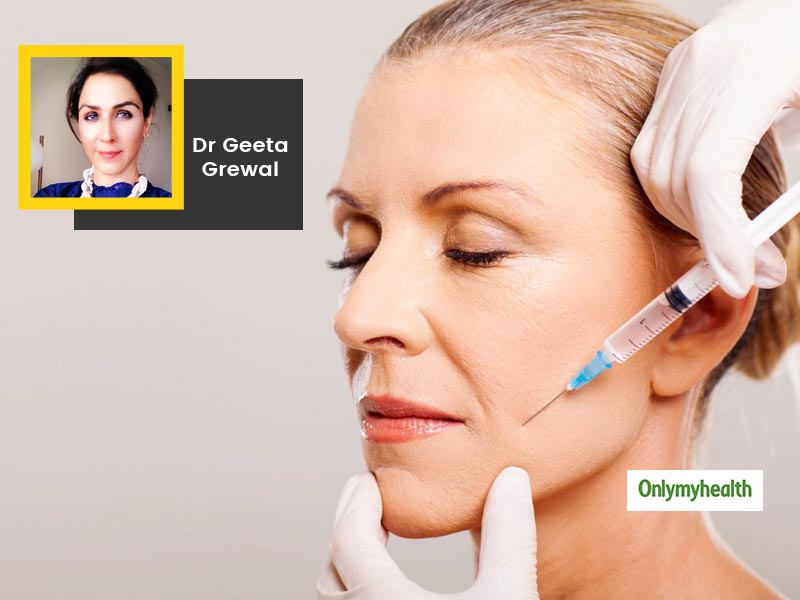 Botox is one wonder drug, botox or botulinum toxin is a neuromodulator. It works at the junction of the muscle and nerve blocking the signal transfer to muscle hence inhibits the muscle contraction. Botox is one powerful medicine, which always delivers 100 per cent results. Botox is used for various medical indications like strabismus, muscle spasms like torticollis, migraine, overactive bladder. In cosmetic practise, it is used to erase wrinkles, eyebrow lift, subtle facelift, slimming face, excessive sweating in underarms, plans and feet. But various myths and facts are surrounding this cosmetic procedure, making it essential for expert intervention. For the same, Onlymyhealth got in touch with Cosmetic surgeon Dr Geeta Grewal for her inputs on Botox treatment.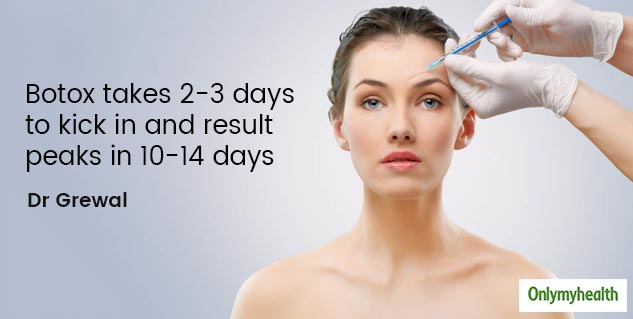 Listed below are 6 essential facts about Botox to know before undergoing the needle:
Fact 1: Can botox erase wrinkles?
In cosmetic practise, botox helps in erasing wrinkles. Facial muscles are muscles of expression. We all have a unique set of expressions on our face. Over the years, as we use the same set of facial muscles, we build the fibres in these muscles. The overlying skin is folded by these powerful underlying facial muscles which insert into the skin at the same point resulting in fine lines, to begin with, and etching deeper and deeper over a period causing fine lines to dynamic wrinkles to static wrinkles. Botox is in powder form, it's reconstituted with normal saline and injected into the muscle belly to relax the facial muscles. This decreased muscle activity gives time to overlying skin to heal, thus helping the fine line dynamic and static wrinkles to disappear.
Doctor Tip: Static wrinkles are very deep, so to fill these deep wrinkles, you might need other combining treatments like lasers and fillers. So it is very wise to start botox when fine lines appear so that these lines do not progress to static wrinkles. Some creams can also help in reducing wrinkles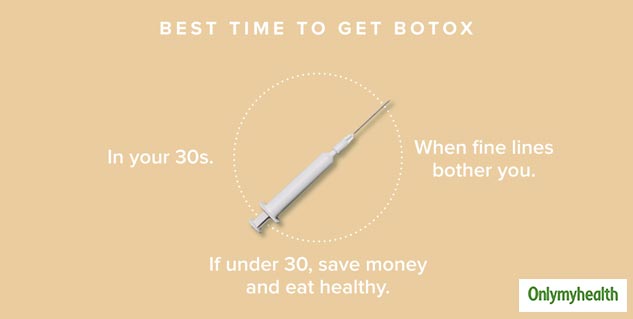 Also Read: Lip Fillers: Pros and Cons You Should Know Before Having Them
Fact 2: Is Botox temporary? How often would one need to undergo Botox fillers?
Over a while, botox effect goes away. On an average, initially, we need to repeat botox once every 4-6 months, but as we keep taking care of ourselves, it works out as a yearly treatment. Botox is injected with a fine needle. It feels like a tiny pinch and is done as a lunchtime procedure in most clinics.
Fact 3: What is the pain intensity for a Botox session?
A numbing cream is used to make this procedure a pain free experience for the patients. Skin vibrator and cold compress helps in making this procedure totally pain free. Botox is given with the help of a needle. It feels like a tiny pinch and is done as a lunchtime procedure in most clinics. Hence, try not to touch the area where botox injections are given for it can lead to complications. Speak to your doctor for every possible precaution needed to be taken for faster and easier recovery.
Fact 4: Care tips one needs to take after botox sessions?
With not very many post-procedure steps, the main precaution is to avoid rubbing or massaging the treated zone and avoiding exercise, swimming, steam sauna for a few hours after botox procedures. Patients who take botox treatment for the first time may feel a little heavy on the treated area. Botox takes 2-3 days to kick in and result peaks in 10-14 days.
Fact 5: Does the face feel frozen after a botox session?
Patients who take botox treatment for the first time feel a little heavy on the treated area. Botox takes 2-3 days to kick in and result peaks in 10-14 days. Botox treatment has no downtime associated with it, and you can be back to work immediately after your treatment.
Fact 6: How can one go for Natural-looking Botox?
A good botox treatment makes you look pleasant, relaxed and rejuvenated. A well-experienced doctor will not overdose your muscle with botox. Overdosing these tiny facial muscles can give a frozen unpleasant look to the face. Make sure your treating doctor is well trained and an experienced injector. The treating doctor should be able to diagnose the set of muscles which need botox. As we all are unique to look at, we have unique anatomy also, and every patient is different, requiring different doses and different injection points. Never go with the crowd. Get botox as per your face type and requirement.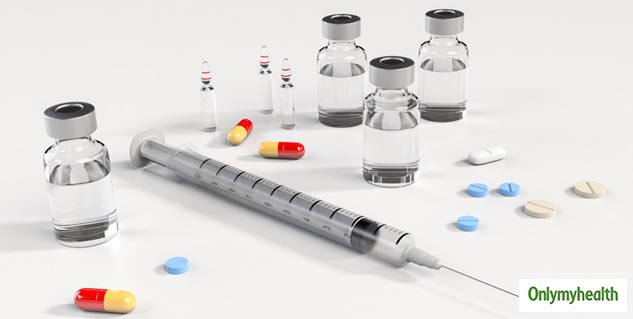 Also Read: Treat Darkening and Get Pump & Pink Lips With This DIY Lip Scrub
Hence, think twice before undergoing botox. Speak to experts and get all your doubts cleared as once done, removal of these fillers can cost a bomb, similar to what you must have paid while getting it done. Hence, do not let fashion trends drive the need for you to get botox shots. Listen to what the doctor has to say, and let them give you a natural filler than going in for artificial-looking fillers to look fancy.
With inputs from Dr Geeta Grewal - Cosmetic surgeon, Anti-aging, beauty and wellness expert. Master injector for Botox and fillers
Read more articles on Fashion & Beauty