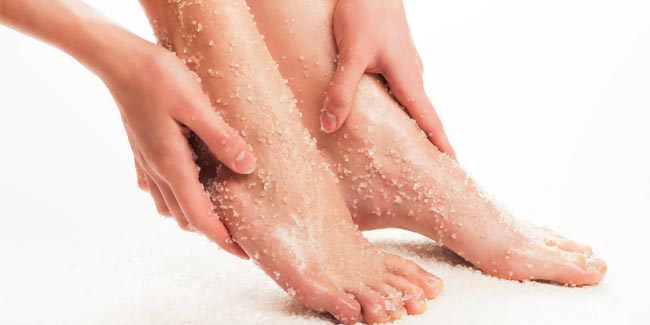 Salt scrub done with sea salts and Epsom salts can have massive benefits for your skin, from exfoliating to anti-aging.
The beauty industry has left no stone unturned to look for ways to enhance ones beauty, and hence sea salts and Epsom salts (magnesium sulfate) both are now commonly used in the industry. These contain minerals that can help you to enhance the skin. The sea salt is basically derived from evaporated seawater and is full of minerals that are beneficial to the skin. This salt can be prove to be a boon when mixed with olive, almond or rosehip oil. The Dead Sea salts are considered even more beneficial due to the number of minerals that it contains, it is expected to be close to 80.
Exfoliation
Take salt scrub and gently rub it on the skin in circular motions, this will remove the dead cells and this process of commonly known to be exfoliation. The process of scrubbing salt on your skin actually gives way for fresh new cells and leaves your skin looking beautiful and not to mention the feeling is fabulous. The dead skin cells get harder as it continues to lie on your skin, and this layer of skin will get thicker until they are removed. Exfoliation with a salt scrub reveals the moist and shiny skin hidden underneath.


Skin Glow and Cleansing
Having your skin to glow is one of the best wished you can have as far as skin care is concerned, and the salt scrub is a major help here. There are different grades of salt and as we have mentioned sea salt is the best option for a glowing skin. Apart from this salt scrub can also be used to cleanse your skin. When you apply salt on your skin, the bacteria that had settled they die and also it reduces inflammation along with any sort of itching and pain that may be associated with bacterial skin disease.


Relaxation
Salt scrubs could also help you to be relaxed especially when you massage it onto your body. Try and get salt scrub done by a professional as this could help you to de stress, and the addition of essential oils in them could heighten the experience making the effects more potent. You could opt for lavender as this makes a great choice for oils that could relax you.

Regeneration
Exfoliating with salt scrub doesn't just help to remove the dead cells, but also encourages regeneration. When the dead skin cells starts to get removed then this paves the way for new cells that are healthy, and this process of regeneration process tightens the skin, gives it a firmer and younger looking appearance. The regeneration of skin also reduces skin discolouration, evening out the skin tone and improving the texture of the skin.

Improve Cellulite and Aging
Aging and dimpled skin from cellulite could be helped with the help of salt scrubs. This is certainly not a miracle or magic cure, but you could try body scrub with the help of coffee. The coffee grounds are in fact considered to be the best option for the use of cellulite phone areas of the human body. The smell of coffee could also be a great teaser for your senses if you opt to use it with salt.

The benefits are so enormous that salt scrub cannot be overlooked by anyone looking for healthy and refreshed skin.

Read more articles on Skin Care.