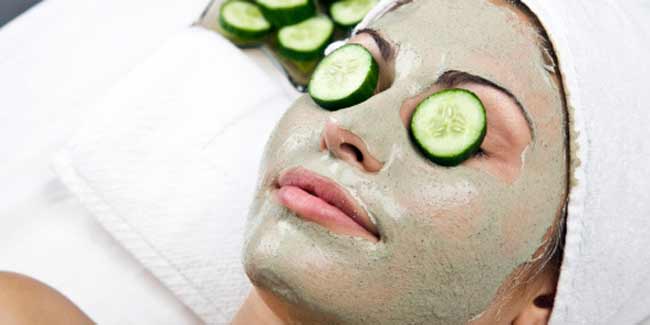 Cucumber has been an age old remedy to treat many skin problems and to soothe your senses. However, despite being aware of its benefits, many of us only see cucumber as a salad dressing and use it as an appetizer. But, to re-assure you about its benefits, which are beyond beautifying your dining table, following are some facts that will make it irresistible for you to not use cucumber.
Why Cucumber?
Cucumber is loaded with essential nutrients like vitamin K, C and manganese and beta-carotene which are useful for healthy hair and skin. Due to its nutritional content cucumber can become an essential part of your beauty regime.
For Glowing Skin
Cucumber alone can treat all you skin problems and ensure a healthy and younger-looking skin. It has cooling properties that can make it a natural toner and astringent. It can help you remove the oiliness on the skin and can act as a cleanser to remove blemished and acne. Due to its 95 percent water content, it keeps the skin intact and well-nourished. Apply cucumber puree or juice on face and neck and let it dry for 30 minutes. Wash it off with cold water and watch your clogged pores cleansing out.
To Hydrate Skin
Cucumber can effectively hydrate dull skin due to its water content and can be an easy substitute for moisturizer cream. You can also mix cucumber with a complementing ingredient like curd that can become a soothing and hydrating face pack. Take some cucumber juice and mix it with equal amount of yoghurt. Blend these and apply it on your face all over.
To Reduce Skin Tan, Sunburn and Rashes
Cucumber can act as a natural bleaching agent that can remove tan and reduce scars. If you have an uneven skin complexion, cucumber can help you restore that too. Make some puree out of cucumber and add equal amount of lemon juice to it. Massage with this mixture and leave it for 15 minutes. Rinse it off with cold water and watch sunburn and rashes vanish away.
For Anti-Ageing Benefits
To tone up your sagging skin, use cucumber to tighten it up. Regular and early use of cucumber can reduce and reverse the signs of ageing like, fine lines, wrinkles and dull skin. This happens because cucumber contains manganese and potassium. Make an anti-wrinkle mask by blending 1 egg white, 1 tablespoon of cucumber and lemon juice and apply it all over your face. Wash it off once it dries.
Stronger Hair
Cucumber contains essential nutrients like potassium, calcium, sulfur, silicon which are important for healthy hair growth. Consume a glass of cucumber juice directly or use it to rinse your hair with water. This will condition and repair the damaged air.
Healthy, Shiny Hair
If your hair looks dry, brittle and damaged try cucumber juice for your daily hair care. The nutrients it carries will make your hair look shiny and will give it a shiny texture. Mix one egg, quarter peeled cucumber and some olive oil and blend the mixture. Apply this fine mixture on the scalp and leave it for not more than 10 minutes and wash it off with a mild shampoo.

If you want a healthy skin or lustrous hair, cucumber is the answer to all your woes.
Image courtesy: Getty Images
Read more on Home Remedies for Skin.