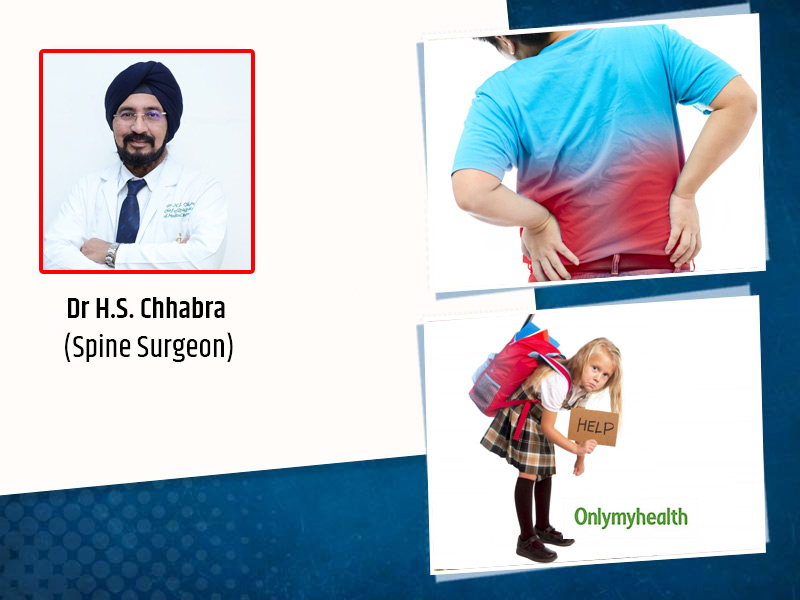 Does your child have back pain? Should you worried about that pain? Explains Dr H.S. Chhabra from Indian Spinal Injuries Centre.
Back pain in children, when to worry? Back pain is one of the silent pandemics of this century. The sedentary lifestyle is affecting us all. Excessive use of technology, especially smartphones and other gadgets, is inadvertently giving us a chance for unwanted problems. With an increase in sedentary time, long hours of sitting and a less active lifestyle, back pain has become more rampant. With the pandemic restricting movement for everyone, including children, back pain has penetrated this population which was otherwise least affected. About 68% per cent of children below 13 years in India report some back pain degree, states the Associated chambers of commerce and India's industry. Previously, heavy school bags were blamed for it, and now online classes and more screen time could be responsible for their back pain. But the question that remains constant is a sedentary lifestyle with poor postures.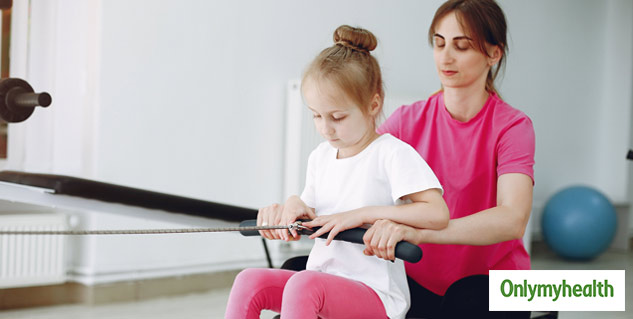 A healthy lifestyle with good sitting postures and general conditioning exercises (walks, sports, swimming, aerobics, dancing) can reduce the chance of back pain substantially. When we elders face these problems, we get to know what has happened, we can tell the doctor exactly, but this does not occur in children's case. These days back and neck problems have become extremely common. Here we are drawing your attention to the symptoms that suggest that your child is suffering from back and neck problems. There can be many reasons for back and neck pain. When the child complains of back and neck pain, we should pay immediate attention to it. Sitting for long hours at school, wrong poses while using gadgets, lack of physical activity are significant reasons these days are marked in giving pain to young children. Please pay attention so that we can provide a painless childhood to our children.
Also Read: 5 Exercises To Ease Sciatic Nerve Pain
Types of back pain in children
Not all back pain in children is a matter of concern. The most frequent back pain problem is a mechanical type of pain that can be easily prevented and managed. Some details are as under: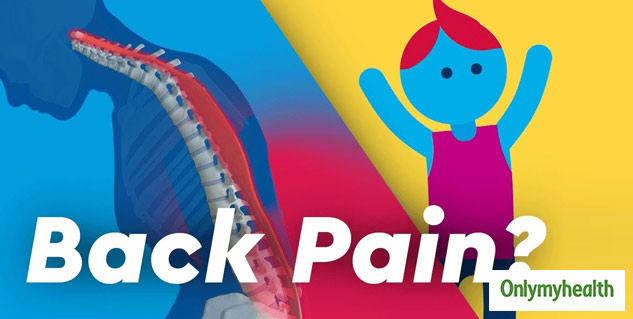 Mechanical Backpain
The underlying cause is generally a sedentary lifestyle and bad posture. The best way of keeping the back of children healthy is by incorporating general conditioning exercises in lifestyle. Maintaining good postures while sitting and studying is essential. Learning on a table and chair rather than a bed is necessary. Slouching for long hours in bed while studying is amongst the common causes of back pain. Using desktops (rather than laptops) with the height of screening, matching the level of eyes helps in attaining a better posture. Reclining tables when reading and writing for long hours also aids in the right poses.
Also Read: Stress-Induced Arthritis: Symptoms and How To Treat The Condition
There are some other uncommon causes of back pain in children as under:
Sitting forward, walking or standing: Chatting on mobile for long periods, sitting in one place, sitting forward at the study table, and using a laptop can affect the child's spine's alignment. This may cause a hump on their back, and they may have back pain. They begin to tilt, sit or stand slightly forward. What to do? Make sure that your child uses a laptop stand and sits on a high table. Reduce the time of using the phone. And note that he should not sit in one place for a long time. Encourage the child to have outdoor activities.
Spondylolisthesis: Children involved in activities that require twisting or stretching of the back, such as gymnastics, wrestling, diving, football, and hockey, may put increased stress in the low back. This can put pressure on the bone and result in a defect in the joint between the vertebra. This pain is usually worse while stretching the back than when bending forward. When this progresses, one vertebra of the spine starts to slips onwards over the vertebra below. If the slip is severe, it can cause pressure in the nerves.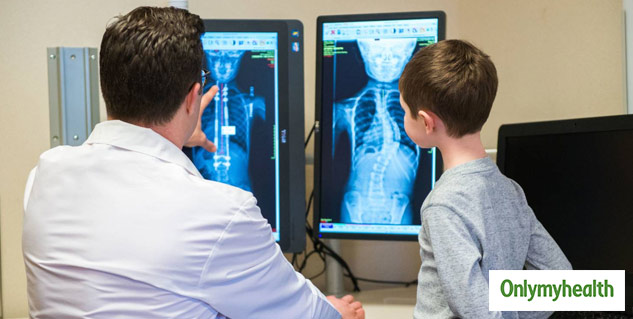 Pain between shoulder blades: If your child complains of pain between the two shoulders, he may have suffered an injury while playing. Apart from this, the spinal cord's swelling or postural tension can also be the cause of this pain. It would be best if you didn't ignore it at all. What to do? Spine specialists can identify such injuries during regular checkups. And can prevent further potential damage.
Swelling and pain around the back: Along with swelling around the spinal cord, problems such as fever, sudden weight loss, fatigue and restlessness are the signs of disturbance. Parents should take these signs seriously. What to do? Often, parents try to reduce pain with the help of pain killers. But instead of suppressing pain or trying a home remedy, you should take the advice of a spine specialist.
Round back or kyphosis or Spine deformity: A critical thing to remember is that some upper back usually is rounded. That is the normal curvature of the spine. An excessive amount of rounding can be seen in a few children since birth (congenital) or cases of infections. Rarely, the kyphotic deformity can cause back pain. If the rounding/deformity is increasing with growth, you should see a doctor.
Infection or tumour: Usually, in children aged ten years or below, infection in the spine can cause pain in the back. The disease can be tubercular or bacterial. Rarely, tumours of the spinal cord or the bone can cause back pain.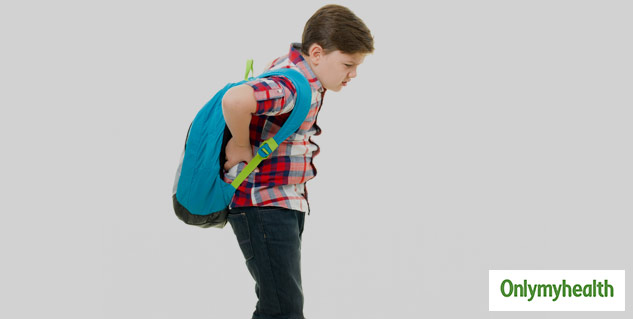 Muscular strain or overuse: Children who are active in sports or athletics use specific muscles repetitively. Occasionally these muscles may get strained, causing pain. Overuse of some muscles may cause pain.
Slip disc: It is rare in children. The pain of slip disc is generally a shooting current like pain in the leg. Rarely can a slip disc cause back pain.
Warning signs of back pain in children
If your kid is whining about back pain, below are a few situations where consulting a doctor is a must: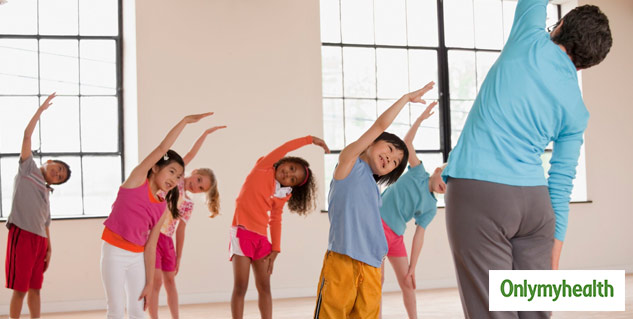 If the child is less than 4-years-old.
If the back pain is determined for more than 4 weeks.
If the back pain hampers everyday life.
If the child feels unwell and has a fever or weight loss or doesn't feel like eating.
If the pain is progressing and getting worse.If the child has sensations of pins and needles, numbness or weakness along with the pain.
If the spine of the child starts developing curvature.
If the child is complaining of stiffness or difficulty in moving.
If the child has difficulty with urination or constipation.
Treatment for back pain in children
While the vast majority of cases get better with rest, hot fomentation, local counter irritant gel, non-steroidal, anti-inflammatory medication and physiotherapy, rare cases may need surgery.
Surgery is recommended for conditions like increasing deformity (kyphosis, spondylolisthesis), infections, tumour, if symptoms are deteriorating or if they and are causing weakness in legs.
Given that many children live a more sedentary life since COVID-19 happened, including general conditioning exercises in their daily routine, it is essential.
Core strengthening exercises thrice a week also helps. Counselling for good posture and a healthy/balanced diet is also necessary.
(With inputs from Dr H.S. Chhabra, Chief of Spine Services & Medical Director, Indian Spinal Injuries Centre)
Read More Articles in Children's Health