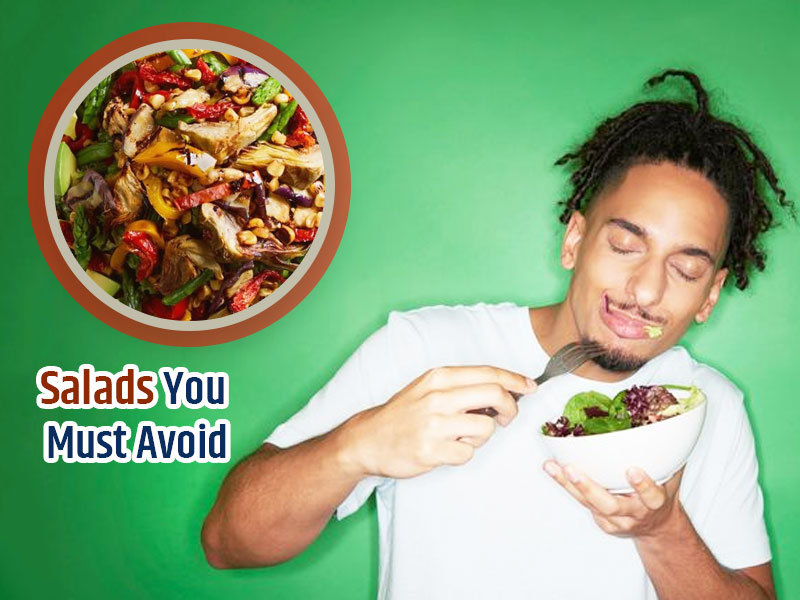 Salads are considered very healthy source of nutrients. They are assumed to have lower amount of calories, more fibre and proteins, etc in order to stay healthy and fit. Salads aid weight loss but conditionally. This means that it needs to have those nutrients that could provide you with weight loss supplements. Believe it or not salads can also be healthy or unhealthy depending on the type of salads you are eating. Some of them are overloaded with spices, toppings or meat that could actually ruin the purpose of having a salad in your diet.
Are All Salads Good To Lose Weight?
No, not all salads are beneficial to lose weight. We consulted our nutritionist Ms. Shilpa Singh from Fatima Hospital, Lucknow. She explained that there is different variety of salads that could be harmful for your health. People have salads for weight loss and reducing their belly fat but it cannot happen until you chose the right nutrition. Fat burning salads need to be rich in fibre, proteins, vitamins and minerals. They should also have lower calorie count and high glycemic index.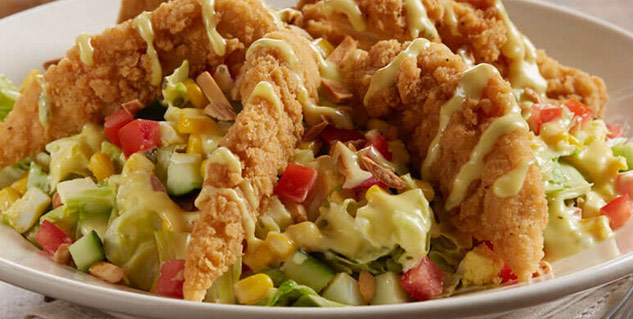 You need to be aware of these ingredients in salads if you are aiming for weight loss benefits-
Salads overloaded with toppings
Deep fried salads that contain protein
Too much dressing on salads
Bigger than necessary portion of salads
Containing nutrients that may increase weight
Too spicy topping or ingredients on salads
Salads To Avoid on While Losing Weight
It may be possible that you may not have come across some of these salads, and it is good that you haven't. However try to avoid these salads at any point of time as it may have a negative impact on your health.
1. Jack in the Box Club Salads
This salads is highly risky because it usually contains bacon, cheese, and creamy dressing all around. Jack in the box salad has fried pieces of chicken that contains high calories and saturated carbohydrates and fats. This salad is also covered up with mayo filled dressing that again increases fat in the body. Even though this salad might seem very attractive, it could be hazardous to your health. Especially if you are trying to lose weight, then you would like to keep it out of your sight. One serving of salad may contain upto 820 calories.
Also Read- 7 Health Conditions That Can Cause Sudden Weight Loss
2. Oriental Chicken Salads
This is a quite common salad if you are an non-vegetarian. Oriental salads may have a bit or two changes depending on the place it is served but chicken remains constant. People love to have this salad in their diet that causes damage to their health. This is because oriental chicken salads have approximately 1,570 calories in a serving. You waistline can increase anytime soon if you have this salad. It contains friend chicken, noodles, lettuce and a bunch of butter. Oriental chicken salad can have calories equal to the total calories you may like to have in a day.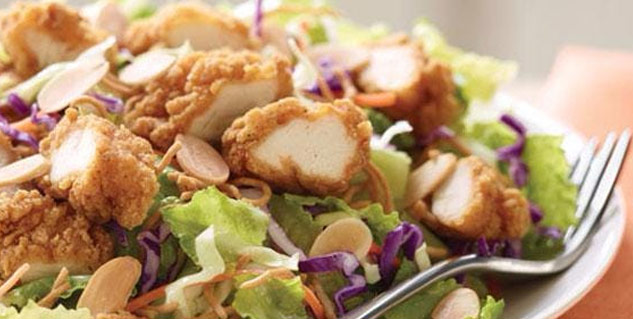 3. California Pizza Kitchen Chicken Salad
Another unhealthy option in salad that you must avoid is this California based pizza chicken salads. As the name suggests, it contains pizza filled with cheese and grilled chicken as main ingredients. This salads also comes up with candied nuts and gorgonzola cheese can actually fulfil your calorie count in a serving of 100 grams. Salads such as these contain around 1300 calories per serving which is too much to digest. It cannot be consumed if you are on weight loss regime. It can rather increase your belly fat.
4. Quesadilla Explosion salad
This salad could really blow your weight loss diet in several pieces. Quesadilla explosion salad is hard to be regarded as a salad because there are no such ingredients that you usually assume would be present in a salad. It just contains greens, fried chicken, and creamy dressing over a base of fried starch and cheese. This salad contains 1410 calories in a serving and I guess you should definitely not consider it while losing weight.
5. Cheesecake Factory Barbeque Ranch Salad
Now you may take cheesecake as the danger factor for avoiding this salad, but there are lots more. This salad is basically a bunch of calories stacked on each other. It has damaging 2150 calories in a meal and it is too high in sodium content.
Cheesecake factory barbeque salads are pile of crispy onions, grilled chicken, black beans, corn, with barbecue ranch dressing. It has more sodium than your entire family would need in a day and can have upto 16 teaspoons of sugar in it. So just imagine where your weight loss journey would end up.
Also Read- 5 Best Protein Powder For Women To Aid Weight Loss
6. Pizzeria Uno Chopped Honey Crisp Chicken Salad
This salad in worse than eating pizza, not it taste but in calories it leaves you with. Pizzeria Uno chopped honey crispy chicken salad is basically filled with ingredients that are made unhealthy. It has whopping 2000 content of sodium, and has around 1320 calories. It gets market meat deep fried chicken, crispy noodles, honey mustard dressing that could actually ruin your weight loss diet and routine. It is more harmful that having a big pizza in your dinner.
Picture Credits- pixabay.com