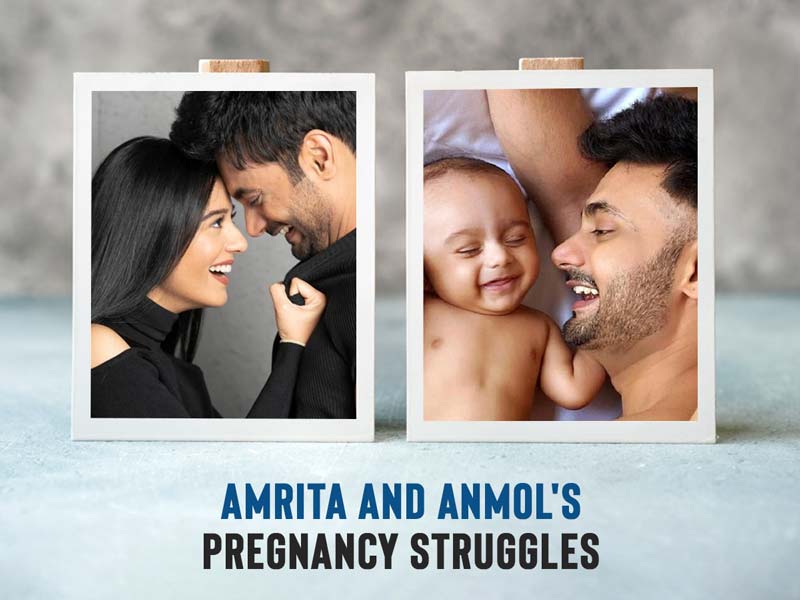 After dating each other for nearly 7 years and then tying the holy knot in 2014, Amrita Rao and RJ Anmol welcomed their first child, Veer in 2020. However, through a recent YouTube video, the couple shared their 4 year long struggle of conceiving and trying to have a baby. From opting for In vitro fertilization (IVF) to trying homoeopathy, Ayurveda and even surrogacy, they tried several treatments.
In their renowned YouTube series, Couple of Things, Anmol and Amrita recently opened up about their journey of getting pregnant and revealed that nothing worked for them. Anmol with tears in eyes also shared how Amrita lost a baby in surrogacy.
Surrogacy
In the video speaking about surrogacy Amrita says, "Frankly I was like hann hann mujhe pregnant nahi banna padega na, theek hai (If wouldn't get pregnant then it's okay). "Of course, there are many factors that the baby will get a lot of qualities of that surrogate mother and not what the original mother can give to the baby" she further added.
Amnol elucidates how he still remembers the day, their doctor called them to inform that the baby has a heartbeat. However some time later, in another call the doctor tells them that we have lost the baby. Anmol expressed his sadness saying "It still breaks my heart" whereas Amrita added, "Aspiring parents, I don't think you need to be so emotional. This is not in our hands."
Read more: From Couples To Singles, Here's A List Of Bollywood Stars Who Embraced Parenthood Through Surrogacy
View this post on Instagram
In vitro fertilization (IVF)
After taking a halt, the couple went ahead with IVF but they still didn't get pregnant. A few months in and they gave IVF a second shot. "Every time the nurse used to come to give me those hormonal shots I used to hate it. Although, they were painless but I used to hate it. After that, I decided not to do IVF again." Amrita expressed.
Ayurveda
RJ Anmol shared that someone suggest them to try Ayurveda. They gave it in with another way. However, they had a bad experience with ayurvedic medicines as well to which Amrita said, "The medicines weren't agreeing with me."
After years of failed attempted, Amrita expressed that she lost all hopes of having a child and reconsidered the thought altogether. "Baccha karna chahiye bhi ya nahi (Should we even have a child). Will we be able to bring up babies with the hectic lives we have? Zaroori hai ya nahi (Is it even important)?" she said in the video.
The couple then decided to take a break, get their mind off of the baby's thought and chill out for a few days. They planned a trip to Thailand and keeping everything on the backseat, they had a great vacation.
View this post on Instagram
Read more: Preity Zinta and Husband Gene Welcome Twins Through Surrogacy, Here Are Some Surrogacy Care Tips
The Final Breakthrough
Soon after coming back from the trip, Amrita said "kuch toh horaha hai yaar (something is happening)." and got an unplanned blood test done. They results of the test came in and thats when they got to know that they are pregnant.
Amrita says, "The greater things in life are always beyond our control and this is a steer clear sign that we should have faith in the almighty"
Anmol also shares in the video that Amrita was completely healthy as a woman to conceive a baby all through their struggle of getting pregnant. Amrita said that they were going in and around the gynecologist's clinic for three years and after every other test the gynaec said, " You are perfect when it comes to health"
On 1 November 2020, Amrita and Anmol welcomed their son Veer. Amrita finally had a normal pregnancy and delivery. They also smile and tell in the video that the time with son, Veer has been gala ever since.