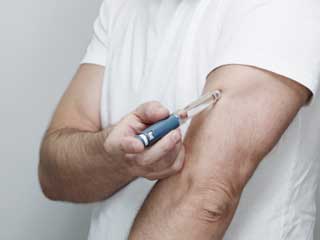 According to a recent study it has been found that a single enzyme known as 12-LO can trigger pre-diabetes or even diabetes.
A study recently found out that it is a single enzyme that promotes the obesity-induced oxidative stress in the pancreatic cells which cause the pre-diabetes and diabetes.

A group of scientists at the Indiana University School of Medicine, Indianapolis revealed that the action of enzyme 12-lipoxygenase (12-LO) is the final step in the formation of some small molecules which can cause harm to the cell.

According to the researchers, this recent study will help in developing of drugs that can interfere with the enzyme and prevent or reverse diabetes.

Diabetes is a result of failure of pancreas to produce enough insulin to remove sugar from the blood.

The principal investigator of the study Raghavendra Mirmira said "we surmised that when individuals eat high fat foods and become overweight, the beta cells of their pancreases fail to produce sufficient insulin".

The earlier studies that were conducted by these researchers with their collaborators at Eastern Virginia Medical School have shown that the enzyme 12-LO is found only in people who were overweight.

The harmful small molecules created by 12-LO enzymatic action are called hydroxyeicosatetraenoic or HETEs.

These HETEs cause damage to the mitochondria which is then not able to supply sufficient energy to let pancreatic cells to create the required quantity of insulin.

The study was conducted on genetically engineered mice that were lacking the gene for 12-LO only in their pancreatic cells.

The mice were either fed a low-fat or a high-fat diet.

The control as well as the knockout mice on the high fat diet developed obesity and insulin resistance.

The pancreatic beta cells of knockout and control mice were examined by the researchers using microscopic studies and molecular analysis.

Those of the knockout mice were found to be intact and healthy and those from the control mice had oxidative damage showing that 12-LO and the resulting HETEs had been the cause of beta cell failure.

Mirmira said "our research is the first to show that 12-LO in the beta cell is the culprit in the development of pre-diabetes, following high fat diets". He added "our work also lends important credence to the notion that the beta cell is the primary defective cell in virtually all forms of diabetes and pre-diabetes".

The study has been published in the journal Molecular and Cellular Biology.
Image courtesy: Getty Images
News source: financialexpress.com
Read more Health News.