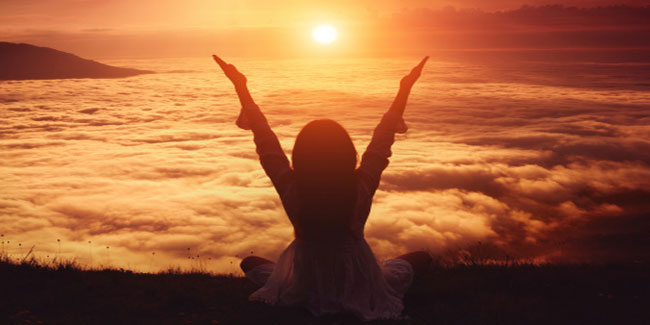 Spirituality is more prevalent now than it was 10 years ago, thanks to the Internet age. The meaning of spirituality is different to everyone; however, it is mostly taken for participation in an organized religion such as going to temple, a mosque, gurdwara or synagogue.
Spirituality is not a religion and does not refer to any particular practice. You can be spiritual but not religious. A religious person adheres to doctrines and formal rituals, whereas a spiritual person doesn't.

If you want to know that you are on spiritual path or want some inspiration to be on one, find out what spiritual lifestyle entails.
Getting Rid of Judgements

A spiritual person will never judge; neither himself nor others. The path of spirituality begins only when they get rid of judgments for themselves and others. They don't belittle or talk bad about others. On the other hand, they take opportunities to speak kind words and spread love. To summarise, a spiritualist strives to become kinder to people each day in their personal life and other situations.
Belief in Making World a Better Place

You are spiritual when you lend a hand for positive changes. A spiritual being believes in humanity as his/her religion and leaves no stone unturned to serve mankind. They serve in several ways – through volunteer work, donating for a cause, adopting a child, adopting endangered species, etc.
Self-love



A spiritual individual believes that love starts from them. They practice self-love which they think is necessary to love others. They take good care of their body and soul – through a healthful diet, exercise and a quiet time connect with the Divine. This helps them to give more joy, love and wisdom to those around.
Pursuit of Knowledge



Pursuit of knowledge is what drives a person towards spirituality. A spiritual person has a thirst for knowledge and self-discovery. They keep learning to become a better, a kinder and more loving person. They surround themselves with positive people, invest time on inspiring books and educational activities. In a nutshell, a spiritual being is on a lifelong quest to keep evolving and growing.
Getting Free of Time Limitations



A spiritual being stays in the present moment and doen't think of what is about to come. Staying in the "now" is one of the essential aspects of the spiritual path.
A spiritual lifestyle is all about how you can continuously evolve, change and grow into a more conscious person.
(Image source:Gettyimages.in)
Read more articles on Spirituality.