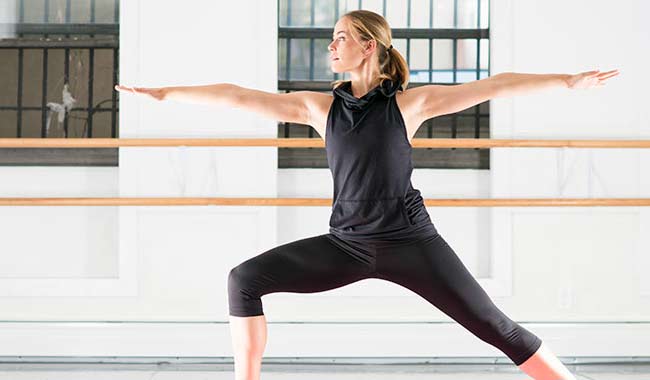 Everyone wants to have a perfect body. Hips and thighs highlight our curves perfectly. Lack of exercise and our lifestyle contributes to deposition of fat in hips and thighs. Thin thighs and perfect shaped hips are ultimate fitness goals, especially for girls. Almost everyone is aware of exercises to shed belly fat but when it comes to losing fat from hips and thighs most of us do not have a clue about what should be done. A proper combination of diet and yoga can help get your hips and thighs in line. Yoga has been helping millions to maintain a healthy life since ancient time and has shown remarkable results. Here are 5 yoga asanas to get hips and thighs in shape.
Utkatasana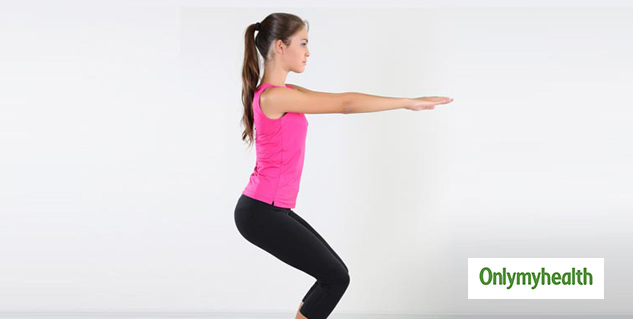 Utkatasana or chair pose braces legs, especially hips and thighs muscles as the whole body weight rests upon your legs. This yoga brings hips and thighs in shape as well as strengthens them.
Steps to perform Utkatasana
Stand straight and keep your feet slightly apart. Stretch your hands to the front with palms facing downwards. Bend your knees in such a way that you are sitting on an imaginary chair. Inhale and exhale slowly and hold this position for few seconds. Repeat this asana 4-5 times a day.
Also read: 5 Yoga Poses that Can Give You a Glowing Skin
Natarajasana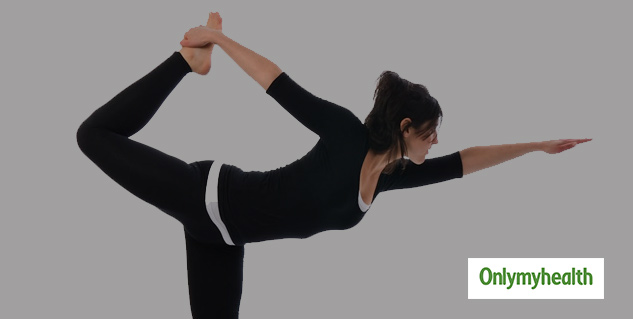 This asana stretches both inner and outer thigh muscles and hip muscles. This asana also strengthens legs as the whole body weight lies on one leg. This asana stimulates almost every muscle of legs as well as enhances blood circulation in legs.
Steps to perform Natarajasana
Stand straight, lift your right leg and bend in a backward motion. Now try to grab your right ankle with right hand and stretch. Stretch your left arm forward and keep the palm stretched out. Hold the pose for at least 20 seconds and repeat it by changing legs.
Ustrasana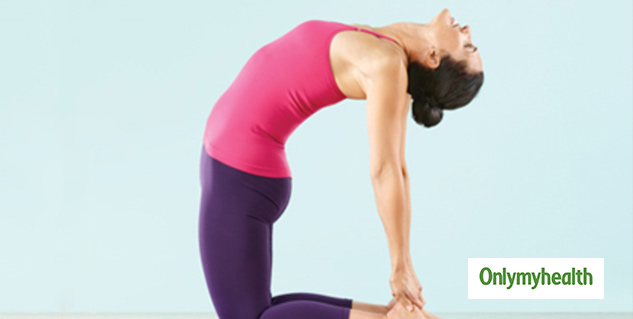 This asana is best for toning thighs. It also adds flexibility to the body and improves digestion. It is a very simple asana to perform and gives amazing results.
Steps to perform Ustrasana
Kneel on the floor and try to reach your feet with your hands. Your hip muscle and calf muscle should be perpendicular. Gently, hang your head and look backward. Breathe slowly and hold this pose for a while.
Also read: Try these Yoga Asanas for a Healthy Liver
Navasana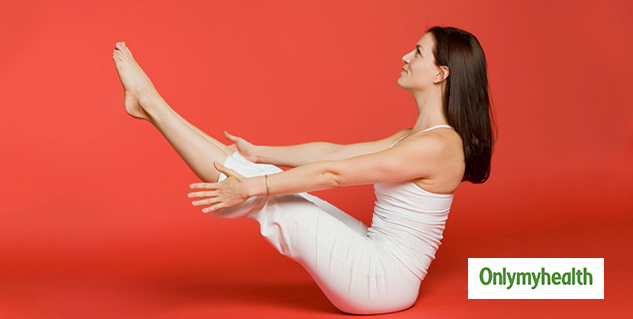 Navasana also called boat pose is amazing for toning hips and thighs. If you practice it regularly, it will possess many other health benefits like strengthening bones, muscles, and nerves. This asana makes you balance your whole body on your buttocks which helps in getting them in the correct shape. This yoga pose also aids blood circulation.
Steps to perform Navasana
Lie on your back and raise both your upper and lower portions of your body and make your body rest on your buttocks. Make sure that you stretch your arms toward your feet. Breathe deeply and try to hold this position for a few seconds. Repeat this asana 3-4 times a day.
Salabhasana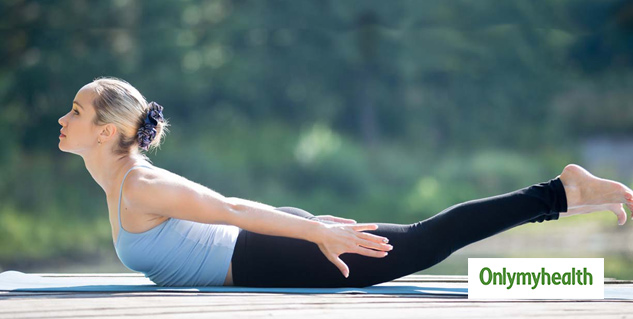 It is a very effective pose to reduce hips and thighs size. This asana also treats lower back pain and fixes postural problems. This asana enhances blood circulation in both thighs and hips and makes them strong.
Steps to perform Salabhasana
Lie facing down on your stomach. Lift your legs and chest off the floor simultaneously. Stretch your arms behind you and lift your chin up and look forward. Hold the pose and breathe slowly before you go back to the resting position.
Read more articles on Yoga.
For more related articles, download OnlymyHealth app.