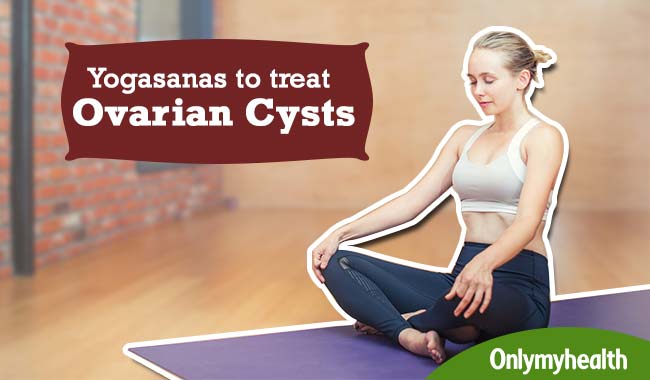 Yoga helps balance hormones by reducing androgens and encouraging egg production. It also helps in resolving issues such as weight, psychological problems, and infertility.
One of the most prevalent syndromes among women these days, polycystic ovarian syndrome (PCOS) is a common endocrinal system disorder characterized by irregular periods, obesity, acne and excess hair growth. One in every 10 women in India suffers from polycystic ovary syndrome, and out of every 10 women diagnosed with PCOS, six are teenage girls. This is the leading cause of infertility among women.
Due to the lack of awareness in our country, it often remains undetected and untreated. According to a study conducted by AIIMS, about 20-25 percent of Indian women are suffering from the syndrome. Out of these, about 35-50 percent has a fatty liver and 60 percent are obese.
Some of the common causes of PCOS include Stress, perennial tension, anxiety, unhealthy lifestyle and depression. Stress is considered one of the major reasons causing the disease. According to experts, reducing stress and anxiety is the best cure to treat PCOS. The best way to feel relaxed and strengthen the system is Yoga. But you have to curb the problem from within to get rid of the disease.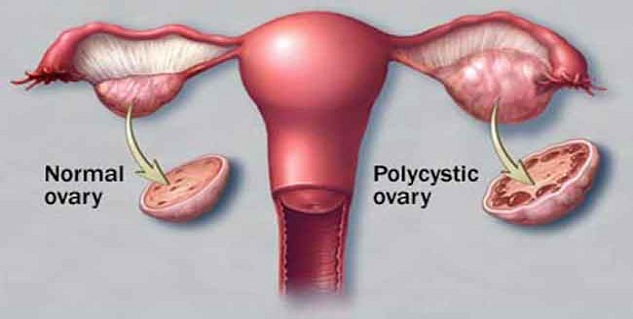 Read: Symptoms of Polycystic Ovarian Syndrome and What we can Do About it
Yoga helps balance hormones by reducing androgens and encouraging egg production. It also helps in resolving issues such as weight, psychological problems, and infertility. Here are some of the yoga poses for women who are suffering from PCOS:
Chakki Chalanasana (Mill Churning Pose)
This yoga pose helps tone the uterine muscles in females, reduce abdominal fat, and is also useful in reducing post-delivery fat.
Do not do this asana if you are pregnant, have low BP, lower back pain, or a heart problem.
Method:
Sit with your legs wide apart.
Interlock the fingers and outstretch your arms at shoulder height.
Now take a deep breath and move your upper body to the front and right, making a circle
Inhale as you go forward and exhale as you go backwards and to the left, keep breathing deeply while doing this
Cobra Pose (Bhujangasana)
This pose helps improve blood circulation, reduces stress, and opens up the chest and shoulders. It is also useful for respiratory disorders such as asthma.
Method:
For this pose, lie down on your abdomen and point your feet behind you
Place your palms on the ground beneath your shoulders
Slowly lift your chest off the ground by straightening your arms
Do not overstretch yourself. Slowly and gently bring your abdomen and chest down to the floor
Repeat the asana 5-10 times
Butterfly Pose (Badhakonasana)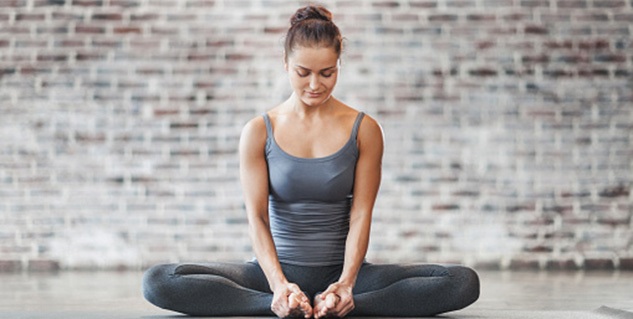 Read: Butterfly Pose in Yoga
The benefits of this pose include a relief from menstrual problems and menopause symptoms. It reduces fatigue and helps in bowel movement.
Do not do this asana if you are suffering from knee or groin injury, or people with sciatica should completely avoid practising this.
Method:
Sit on the ground, bend your knees and bring your feet together, the souls of your feet touching each other.
Grab your feet with your hands and press your knees and thighs down to the ground. Now flap your legs up and down like wings.
Do this about 20 times
Reclining Butterfly Pose
This is slightly different from the butterfly pose as this asana is performed while lying down. This asana helps stimulate the abdominal organs and relaxes your body.
Method:
Stay in the butterfly position
Gently lower your upper body as you exhale
Use your hands to balance your lower back
Bring your torso to the floor until your back touches the floor
Try not to stretch the muscles too hard
Do this for about 10 minutes and breathe
Bharadvajasana (Seated twist position)
This asana helps regenerate abdominal organs and improve metabolism. This yoga asana is beneficial for pregnant women as well.
Method:
Sit on the floor and stretch your legs.
Relax your hands on one side and bend the knees towards the left hip. You should feel the weight of your body on your right buttock
Keep breathing while you lengthen your spine as you twist your upper body. Use the right hand to balance the pose
Now twist slightly and feel the pull from the base of your spine to the head
Hold this position for a few minutes and repeat on the other side
Read more articles on Yoga.
For more such articles, Download OnlymyHealth App.