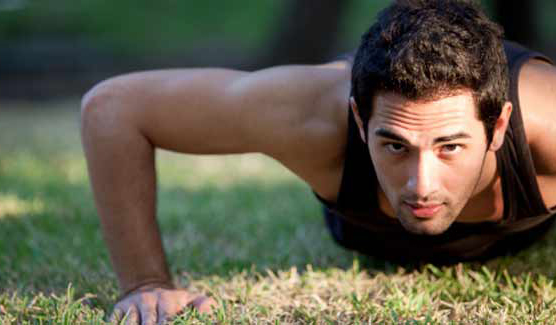 To combat stress created by frantic lifestyle, it is a must that you make exercise a regular part of your routine. Follow this regime and you can find yourself in a much better physical and mental state of being.
Humans are busier than ever before. Demanding jobs, increase in traffic on roads and the change in lifestyle have left people with very less time to keep a watch on their health. This scenario is more evident in men because many of them are the sole bread earners of a family. The necessity to satisfy the demand of a family keeps a man on his toes round the clock. This leaves them with no time for work out or to eat a proper diet.

But, to give some relief to these men, here an introduction to a simple 10-minute exercise routine by Charles Atlas that was shared in 1936 in the Physical Culture Magazine. Spending only 10 minutes may not seem to be enough to have a healthy body but then, as they say, something is better than nothing. The best part about this exercise routine is that it does not need any equipment. This means you can get started wherever and whenever you find some time. So, here is how you do it.
Spine stretching
This workout helps you to have a flexible back. Stand up straight and clasp your hands behind your head. Swiftly, bend down and touch your elbows to your knees. Come back to the standing position and repeat 12 times.
Deep knee bends
This exercise can be best for your quads, butt and hip flexors. Stand with your shoulder width-apart and hands on the waist. Bend down and then rise to the same position. Repeat this for as long as you are comfortable.
Calf raises
With the help of this exercise, you can work out your calves. Spread your feet a little less than shoulder width. Rise high on your toes and then bend down. Repeat for as long as you can. If you wish to intensify this workout, try out performing the exercise with your toes on a phone book.
Push-ups
With your hands on the ground spread shoulder width-apart, lower your head down towards your knees and then rise. Repeat and try to mix the muscles by widening and narrowing your hand's position.
Dips
Place yourself straight on the ground. Now, elevate your feet by placing them on a chair or a bed. Start lifting your lower self with arms till you feel exhausted.
Leg raise
This will help you to have abs that you have always wished for. While sitting on the floor, place your hands behind. Start propping yourself up and keep your legs straight out and close to each other. Lift up your legs and reach a `v' shape. Lower down when you feel completely exhausted.
Bicycle crunch
This exercise helps you work the muscles on your stomach. Lie down on the floor and press lower back to the ground. Place your hands beside your head and bring your knees up forming a 45-degree angle. Slowly start moving along the lines of the bicycle-peddling motion. Make your left elbow touch your right knee and then your right elbow touch the left.
A little enthusiasm along with these exercises can show you the way to a healthy life.
Image Source: Getty