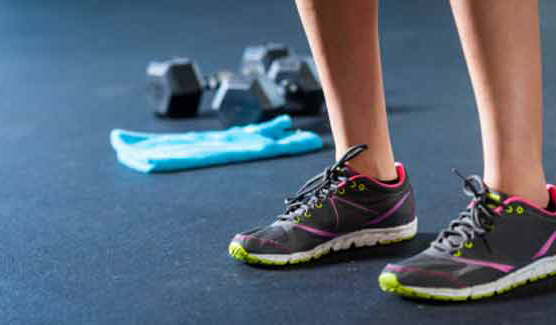 The motive of a sweating at a gym can be different for all of us. For some, it means shedding belly fat, for some building muscle mass and for some it would mean getting back in shape. During work outs we pay proper attention to almost all of our body parts. But, one body part which skips out attention is our feet.

The creator of Men's Health StreaFIT, BJ Gaddour, C.S.C.S., said "When you perform a standing exercise and your feet are your base of support, what they do affects the rest of your life. If they're not stable, you're going to have a harder time performing the exercise".
Muscle irradiation: The effect
When your non-working muscles actually provide support to your working muscles during a lift by holding tension, this effect is known as muscle irradiation, says Gaddour.

To understand it better you can clench your fist very hard. When muscle contraction takes place in your hand, some tension is also felt all the way up to the shoulder. This is exactly what happens with your feet during a lift. When you put your feet to use to create tension with the ground, it will shoot up to the body to assist the targeted muscles.
Creating the support
If you wish to create tension and a solid base of support, dig your feet into the floor, says Gaddour. You must press your feet flat on the ground and use your leg muscles to try and twist your feet away from each other just like you are trying to stretch or rip the floor between them.
The catch
Gaddour says "doing this is easiest and most effective when you have full contact between your feet and the floor. If you're wearing highly cushioned shoes, there's a lot more standing between you and the ground that can sabotage the tension you're trying to create".

However, ditching your shoes always cannot be an option. There are gym policies, germ-ridden floors and the weird looks by your fellow gym goers that can make you uncomfortable with removing shoes. Thus, the best possible option would be wearing a pair of minimalist footwear.

Gaddour suggests that you must look for shoes that have minimal cushioning and arch support in the sole and zero drop, which is the difference between the levels of your heel and toe. If you are used to sitting in a padded shoe, give your feet some time to adapt to less support.
It may take some time for your feet to adapt to the less padded version of your shoes. But, eventually when they would and it will result in a much better workout.
Image source: Getty