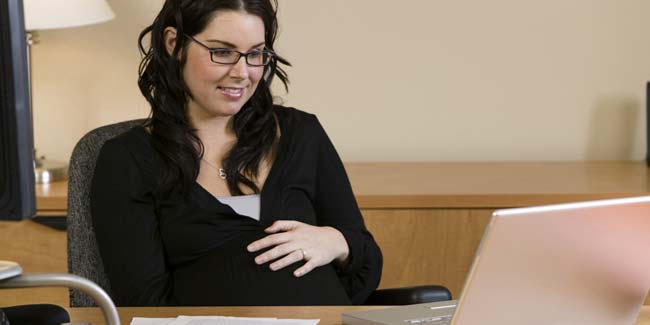 If you are expecting and have chosen to work until the last stage of your pregnancy, you need take into account safely and comfort.


If you're having a normal pregnancy and work in a safe environment, you can work until the day you deliver, or close to it. To ascertain safety during pregnancy, you need to consider certain health measures at your professional front.
Plan with your employer
Depending on the culture of your workplace and your relationship with your employer, you can break the news of your pregnancy in a professional yet personal manner to your boss. You may delay breaking the news of your pregnancy until the end of first trimester if you feel you will get an unfavourable response from your employer, it is acceptable to do so as you would have earned the reputation of working efficiently even while you are pregnant. It is important that you are aware about your company's guidelines and policies regarding pregnancy and maternity leave. You can consider working part-time or working from home if your employer is flexible with the idea.
Get adequate sleep and rest
Keep aside at least eight to ten hours of a day for quality sleep as fatigue and exhaustion is quite common in pregnancy especially during the first and third trimester. When at work, take regular breaks by taking a stroll or chatting with a friend to provide some relief from stressful work.
Snack healthy and often
Working professionals often skip a meal especially breakfast as they hurry up to go to work. If you are pregnant, never make the mistake of skipping any meal in the day as it can be harmful for you and the baby's health. Skipping meals can tire you, keep the baby starving, deprive the baby of important nutrients and could also lead to fluctuating blood sugar levels. Eat after every two or three hours to avoid any cravings which can make you opt for unhealthy food options. Choose baked and steamed foods rather than fried food products. Snack on foods rich in calcium, fibre and other essential nutrients. Fresh fruits, dry fruits and whole-wheat snacks are a great idea.
Stay active
A sedentary or a standing job can be a problem during pregnancy. Move around and keep changing positions to avoid stiffness, swelling and varicose veins. Moving around at regular intervals will not only provide restful breaks to your body but will also help as a mild form of exercise.
Avoid risky work environment
Avoid working for job profiles which involve you to work with chemicals, solvents and pharmaceutical drugs. Field jobs and working in extreme heat is best avoided. Work which involves long hours of standing, walking and lifting weights should be avoided. Working in shifts is not advisable during pregnancy.
Desk work and long sedentary hours
Sedentary work can lead to aches in the neck, back and shoulders. If you cannot avoid long hours of sitting, ensure that you take regular breaks and keep moving around. Take the help of a leg-rest to raise your feet while working on the computer to reduce pressure off the back. Use cushions and lower back support to make sitting at your desk a comfortable experience.
Dress up comfortably
During pregnancy it is important to wear the right clothing and gear at work as well as during rest. Wear loose and breathable fabrics to ensure proper blood circulation. Do not wear tight belts, high heels or slippery footwear.
Don't take stress
Stress and work are interrelated and cannot do with each other yet learn to manage stress by effective delegation at work. Share your concerns with someone and practice relaxation techniques to deal with stress.
Read more articles on Pregnancy and Work.