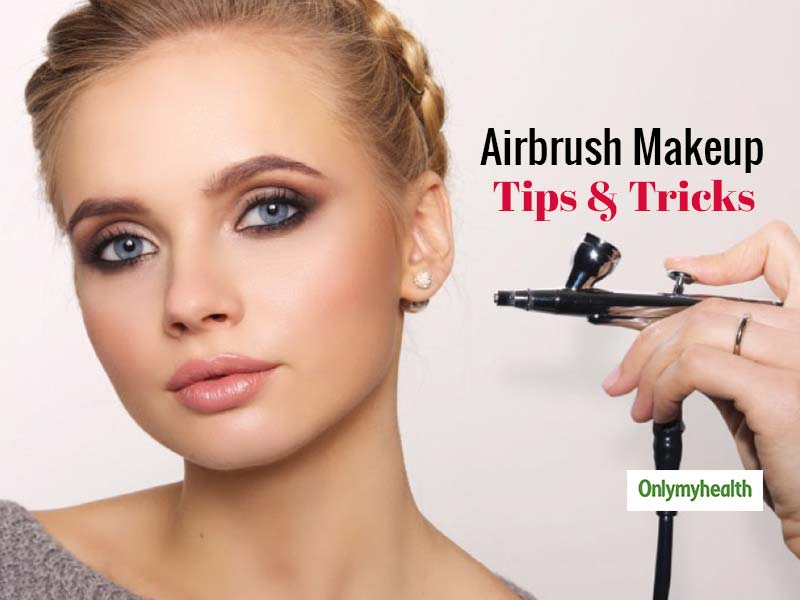 Airbrush is the latest makeup trend which a lot of brides are opting these days despite this being double the cost of normal makeup. Even though this is latest, a lot of women don't know much about this makeup and why it is better than regular makeup. In short, this makeup is done with a brush to give a flawless look with perfect finish and minimal makeup product use. Which means, you will get the best look without caking your face with layers of makeup. Though, this is used by professional makeup artists only, it is not that difficult to try on your own. Anyone who has a basic knowledge about airbrush makeup can do this self. Light makeup doesn't mean it would get smudged with sweat or water, this would stay for the longest time. We have tried to include every detail about airbrush makeup in this article, give it a read.
What is Airbrush Makeup?
Airbrush makeup is a makeup technique in which no brush or beauty product is applied by hand. It is like spraying makeup on the face with an airgun or a spray gun. This spray gun is first preloaded with a makeup product, then applied to the skin. In airbrush makeup you get makeup in a similar layer. That is, it does not have the tension of not having a good blend of foundation, it gives you a perfect. However, its makeup products are also different.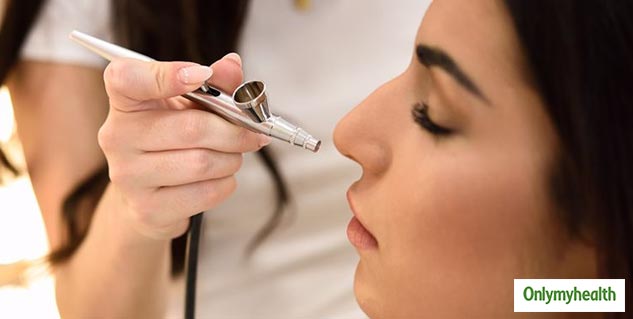 How is airbrush makeup done?
Airbrush makeup is done with a stainless steel gun and hoses and air compressor. The gun has a needle-shaped opening, which is used to apply makeup. Once the trigger is pulled, the loaded product in the gun comes up. It uses liquid foundation, blusher and eyeshadow. After spraying the foundation, it is very important to re-spray on soft tissue paper because the first one can be mixed with the other when the second product is added.
Also Read: Easy Tips To Trim Your Brows At Home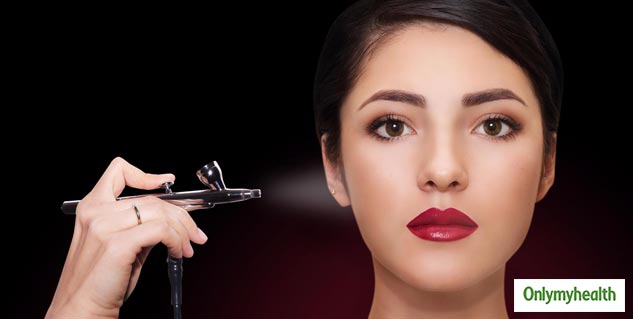 Benefits of airbrush makeup
1- Airbrush makeup has many benefits and this is the reason why this makeup technique is liked by big celebrities. It does not give you a natural look as well as makes you feel heavy despite heavy makeup. That's why brides also like to get this makeup done.
2- Airbrush makeup does not require touch-up. It takes some time to set on the skin, but once set, it lasts for a long time. This is the reason why you do not need a touch-up in this makeup. It can easily last 12 to 14 hours.
3- In addition, airbrush makeup is smudge-and water-proof. Everything from foundation to eyeshadow and highlighter is done using airbrush technology. Everything in it is water proof and there is no fear of spreading or spoiling it. It cleans with makeup remover.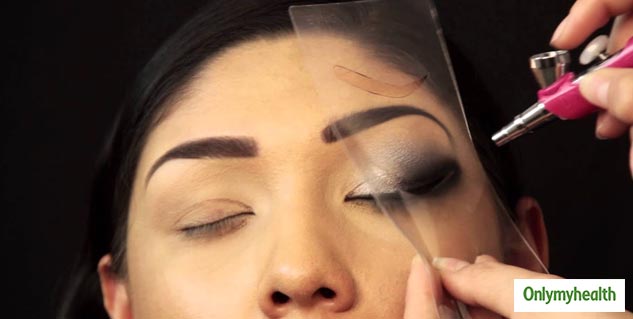 Also Read: 5 Ways to Style a White Shirt this Summer
4- The most important thing is that airbrush makeup suits all skin types. In addition, Airbrush Makeup works on fine lines and wrinkles. Usually, after applying makeup it sets between fine lines, making them look unsightly. But airbrush makeup creates a layer of makeup on the skin, it temporarily camouflages wrinkles.