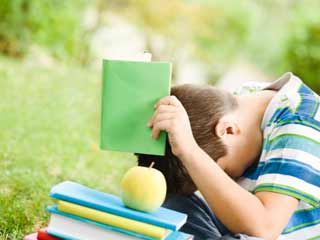 A delay in achieving certain developmental milestones, when most other aspects of development are normal, could be a symptom of a learning disability. So can be problems pronouncing words and trouble finding the right word.
Learning disorder is a general term that describes specific kinds of learning problems. A learning disorder can cause a person to have trouble learning and using certain skills.

Preschool Signs and Symptoms of Learning Disorder
Problems pronouncing words
Trouble finding the right word
Difficulty rhyming
Trouble learning the alphabet, numbers, colors, shapes, days of the week
Difficulty following directions or learning routines
Difficulty controlling crayons, pencils, and scissors or coloring within the lines
Trouble with buttons, zippers, snaps, learning to tie shoes
Ages 5-9 Signs and Symptoms of Learning Disorder
Trouble learning the connection between letters and sounds
Unable to blend sounds to make words
Confuses basic words when reading
Consistently misspells words and makes frequent reading errors
Trouble learning basic math concepts
Difficulty telling time and remembering sequences
Slow to learn new skills
Ages 10-13 Signs and Symptoms of Learning Disorder
Difficulty with reading comprehension or math skills
Trouble with open-ended test questions and word problems
Dislikes reading and writing; avoids reading aloud
Spells the same word differently in a single document
Poor organizational skills (bedroom, homework, desk is messy and disorganized)
Trouble following classroom discussions and expressing thoughts aloud
Poor handwriting

Diagnosing a learning disorder isn't always easy. Don't assume you know what your child's problem is, even if the symptoms seem clear. It's important to have your child tested and evaluated by a qualified professional.

Learning disorder can be lifelong conditions. In some people, several overlapping learning disorder may be apparent. Other people may have a single, isolated learning problem that has little impact on their lives.

Image Courtesy: Getty

Read more articles on Learning Disorder.