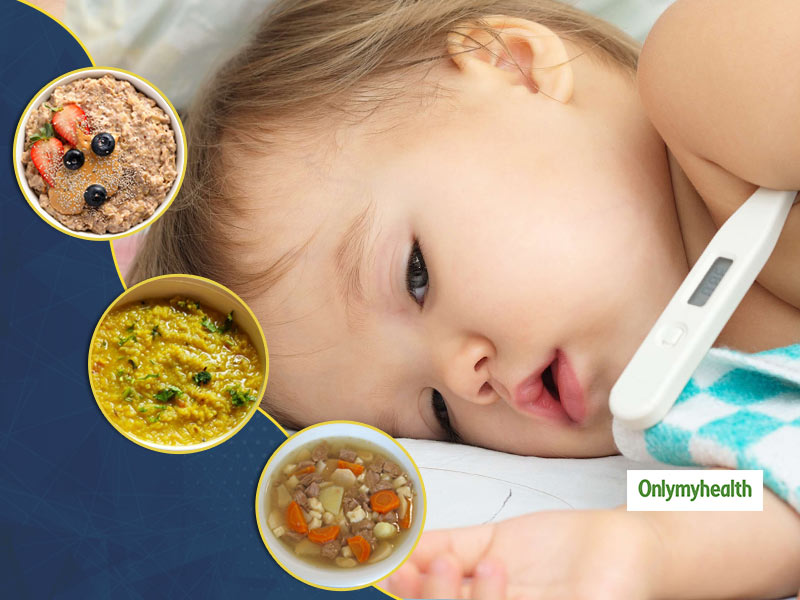 What To Give An Infant With Fever And Vomiting? Having a child brings a lot of joy, as well as some worries. Whenever your child falls ill and has a fever, it becomes physically and mentally challenging for you. Sometimes, the best way to increase the strength to fight infection is to give your child a diet that enhances the body's defences. Breastfeeding during fever: One of the many symptoms of illness is the loss of appetite. In such a situation, you should try to feed your child things that he likes and also make sure that the diet is healthy and nutritious. During this period, your baby may prefer to drink breast milk or formula milk. But keep breastfeeding the child at regular intervals so that his body has the energy to fight disease.
Seven foods to feed infants with fever (age: 6-12 months)
To protect your baby from illness, give a balanced and energy-rich diet. Here are some foods that you can give to your child during a fever.
Also Read: Mental Health: Know The Importance Of Child Counselling
Dal Khichdi: This basic dish helps your child gain strength to fight the disease. It is rich in protein which is easily digested and also provides immense energy. Prepare this dish without spices and do not add any pungent flavouring ingredients to give your child a more tasty meal. Make the khichdi very simple and serve hot, and let your child eat as much as he can.
Mashed pumpkin or sweet potato: You can introduce sweet potatoes into baby's diet around six months of age. Around the same time, you can also add the most solid foods into a baby's diet. When choosing sweet potatoes, you should pick firm, sweet potatoes without any bruises or cracks (or soft spots).
Soup: Giving the baby a bowl of hot soup ensures as much nutrition they need (being the light for the digestive system). It is effortless to make and contain all the necessary vitamins and minerals in plenty. Boil the chopped vegetables of your choice in some filtered water. You can only give soup broth to your child or add finely grind cooked vegetables in it.
Oatmeal: You can make this dish by putting pulses or broken wheat in a pressure cooker with water. Remember that, while cooking the porridge, add the same amount of water so that it becomes thick. Oatmeal is a good source of protein that boosts your child's energy. Add a pinch of turmeric to it, which is excellent in boosting immunity.
Vegetable and fruit puree: One of the most natural things to eat during a fever is a puree of vegetable or fruit (that you can give to your child). You can choose any fruit or vegetable (to make the puree) that you want to give to your child (as per your choice). Apples, peas and carrots are all good for your baby in the form of puree during a fever.
Mother's milk or formula milk: Occasionally, your baby may start to take the mother's milk or formula milk again completely. Mother's milk has high nutrition that ensures that your baby is hydrated during fever, so don't hesitate in giving it to them. Mother's milk, in particular, has antibodies that help improve your baby's immunity and prevents infection.
Barley water for kids (six-eight months): Barley is a varied and nutritious grain to offer to babies. Barley can be cooked into stews, soups and pilaf, and it can also be made into cereal. Barley is a great kid food as it is blended into a soupy and grain-like consistency which is full of nutrients that baby needs.
Read more articles on Children's Health