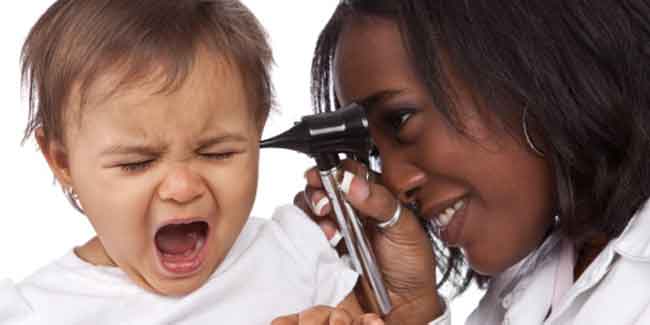 Middle ear infection is quite common in younger children and most of them have had it once until they age 5. Bacterial infection was believed to be the cause behind this contagion, but now researchers have found viral infection in nose to also pla
Almost 85 percent of children younger than age 3 suffer a middle ear infection. It is believed that this infection is caused be a bacterial contagion. But now, a US study has found that it can be triggered by a viral infection in the nose rather than solely by a bacterial infection

Ear infections are the second most-commonly diagnosed childhood illness after cold in the United States. Approximately 25 million clinical visits in the US alone every year are for middle ear infections.

The animal study done by Wake Forest Baptist Medical Center in Winston-Salem showed that when both flu virus and a bacterium that commonly causes ear infection in children, infect the nose, they inflame the nasal tissue that in turn increases the number of bacteria. By this, the likelihood of them travelling down the Eustachian tube to the middle ear raises.




"Every individual has bacteria in the nose that most of the time doesn't cause problems," said the study's lead author, W. Edward Swords, Ph.D., professor of microbiology and immunology at Wake Forest Baptist. "However, under certain conditions those bacteria can migrate to the middle ear and cause an ear infection, and now we have a better understanding of how and why that happens."

The investigated bacterium was Streptococcus pneumoniae, which as experts know, live in children's noses in two phases: One is a relatively harmless or benign state while the other phase is an invasive one. Children with an infected ear are found to have more of the invasive form of this bacterium. It was indicated by the study that the flu virus encouraged bacterial growth and ear infection regardless of the phase of bacteria present in the nose.

Prof. Swords says the findings "suggest that a flu infection modifies the response of the immune system to this particular bacterium, enabling even the type that has previously been considered benign to infect the middle ear."

According to the American Academy of Otolaryngology - Head and Neck Surgery, around 3 in 5 children in Western countries will have their first middle ear infection by the age of 1. This number goes up to 4 in 5 by their third birthday. Streptococcus pneumoniae bacteria are thought to cause 50-60% of middle ear infections.

Symptoms of Middle Ear Infection
The signs and symptoms of a middle ear infection in children show up rapidly and include:
Ear pain, especially when lying down
Tugging or pulling at an ear
Difficulty sleeping
Crying more than usual
Acting more irritable than usual
Difficulty hearing or responding to sounds
Loss of balance
Fever of 100 F (38 C) or higher
Drainage of fluid from the ear
Headache
Loss of appetite

Almost all ear infections can be treated with antibiotics and the best treatment course is generally decided based on many factors like your child's age and the severity of symptoms.

Image Courtesy: Getty

Read more articles on Understanding Ear Infections.