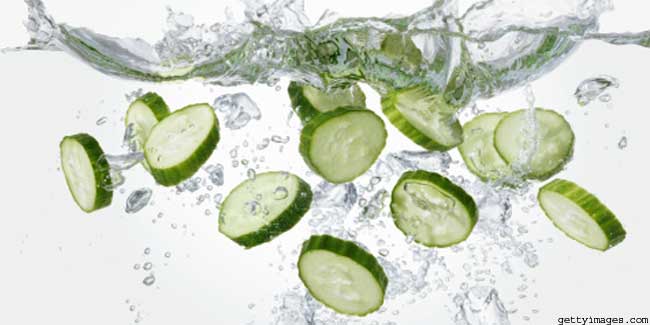 Every time you take a bite off the cool cuke, you empower your body with uncountable benefits of good health. Do you know what they are?
Not only do a few slices of cucumber quench your thirst, they also help you fight outside as well as inside heat. Even better is that they work as good as water in flushing out toxins out of the system. An interesting fact about cucumber is that it is the fourth most cultivated fruit in the world. You can pretty much call cucumber a super food. But, be careful when buying them, as they can be infested with sprayed pesticides.
Removes Dark Circles
You must have seen women use slices of cucumber for their eyes to remove dark circles. Cucumbers have the ability to quickly and safely reduce dark circles from the eyes. They are full of antioxidants and silica that helps to rejuvenate the skin and fade the dark circles away. All you have to do is to place two slices of cucumber on both your eyes and relax for 20 minutes. You will see the difference.
Keeps you Hydrated
Cucumbers are full of water i.e. they consist of 95 per cent water, thereby ensuring that your body stays hydrated while eliminating toxins at the same time. Eating cucumbers will in fact, substitute for your desire to drink water. But, this is not to say that you avoid water all together.
Fights Cancer
Cucumbers contain lariciresinol, pinoresinol, and secoisolariciresinol, the three lingams that have a strong history of reducing risk of breast cancer, ovarian cancer, uterine and prostate cancer.
Improves Complexion
Coming back to its use as a beauty product, cucumbers are good for improving the skin's complexion and most commonly rejuvenate the skin. When you mix cucumber with a few drops of fresh lemon juice and apply it on your face as a mask, you will get a glowing skin with less scars and pigmentation.
Cures Hangover
Morning hangovers can also be taken care of with the help of cucumbers; just eat a few slices of cucumbers before going to bed and you will notice that you are not waking up with a hangover anymore. Cucumbers consist of sugar, vitamin B, and electrolytes that replace any vital nutrients that the body may have lost. Additionally, your system will also be balanced.
Freshens your Breath
If you have the bad luck of producing bad breathe then you could use cucumbers to get rid of it. Get started by pressing a slice of cucumber to the roof of your mouth and use your tongue to keep in place for about 30 seconds. Cucumber contains phytochemnicals that will destroy the bacteria that is causing bad breathe.

With so many benefits of cucumber you may as well just run to the market now and keep your refrigerator piled up on cucumbers. Yes, go now!
Read more articles on Healthy Eating.