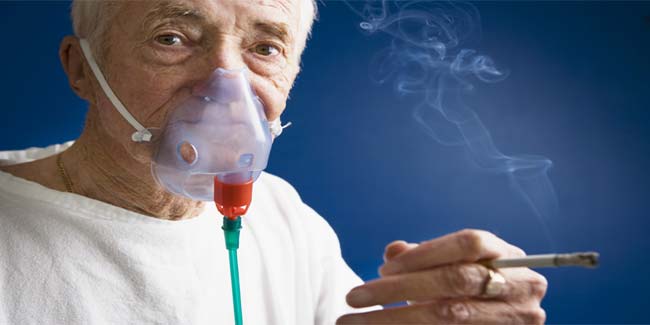 Smoking inflicts huge damage on the health of India's people. Learn about the various types of lung diseases caused by smoking.
For Purshottam Gupta, the crisis came a year ago, on Wednesday morning when he had planned to go to work but ended up in hospital, barely able to breathe. He was 56, an accountant of a small gas agency. The 25 years of cigarettes had taken their toll.


According to a report by the International Tobacco Control Project (ITCP), tobacco inflicts huge damage on the health of India's people and could be clocking up a death toll of 1.5 million a year by 2020 if more users are not persuaded to kick the habit

Accounting the report, Reuters described that India, with a population of 1.2 billion, currently has around 275 million tobacco users. Harm from tobacco accounts for nearly half of all cancers among males and a quarter of all cancers among females there, as well as being a major cause of heart and lung diseases.

Smoking damages our lungs or airways, so that they are no longer able to take in oxygen, remove carbon dioxide as well as before, or protect us from germs and irritant particles.

What Smoking Does to Our Lungs
Most smokers realise what damage is smoking doing to their lungs. They sometimes feel short of breath and puff more easily than they used to. These problems happen because with every smoked cigarette, the following occurs:
The minute hairs in the upper airways (cilia) are paralysed or damaged by the chemicals in cigarette smoke.
The lungs are irritated so the airways narrow, which encourages phlegm and makes it harder to breathe.
Carbon monoxide, a poison, is forced into the blood and restricts the oxygen carrying capacity of the blood.

Smoking is associated with a number of respiratory diseases. They are:

Lung Cancer
Lung cancer is the most common form of cancer causing highest number of deaths worldwide. It accounts for 1.61 million new cases and 1.38 million cancer deaths every year. Around 90% of all lung cancer cases are caused by smoking. This holds true for passive smokers too.

The sad part is there is a very poor prognosis associated with it. Fewer than ten percent of people suffering from lung cancer survive five years beyond diagnosis. Out of two persistent smokers, one dies from a smoking-related illness. Out of these people, approximately, one in four dies of lung cancer.

Present smokers are at fifteen fold increased risk of dying from lung cancer as compared to a life-long non-smoker. The duration of smoking is the strongest casual factor of lung cancer in smokers; however, the risk of dying of lung cancer also increases with the number of cigarettes smoked per day.

Chronic Obstructive Pulmonary Disease (COPD)
COPD is characterised by an obstruction in airflow that interferes with normal breathing. Smoking, being the most common cause for it, accounts for nearly 80% cases of COPD. The World Health Organization (WHO) estimates that around 210 million people have COPD world-wide, of which 80 million are moderate to severe cases.

COPD can be categorised into two respiratory problems:

Emphysema- It refers to the wipe-out of air-sacs (alveoli) in the lungs. This disease starts gradually and breathlessness becomes troublesome after about half of the lung is destroyed. It is not fully reversible, but quitting can help smokers diagnosed with COPD in reducing the rate of lung decline.

Pneumonia- Among the top five leading causes of death worldwide, pneumonia is an acute respiratory infection. Pneumonia is the leading cause of childhood death world-wide and parental smoking is a known risk factor for childhood pneumonia.

Tuberculosis (TB)
The Mycobacterium tuberculosis bacteria cause TB infection. When a TB patient coughs into air, his/her cough droplets and bacteria in it are inhaled by others. This way TB is spread. Several studies have indicated that there is a strong association between tobacco smoking and TB. It is more common among smokers.

Asthma
Asthma affects airways and is the most common disease of childhood. When a person experiences an asthma attack, the walls of the airways tighten and narrow. The lining of the airways inflame and swell.

The development of asthma is triggered by exposure to second-hand smoke. Among children, parental smoking is a cause of asthma and the prevalence increases with the number of smokers in the house.

Children who suffer from asthma, and whose parents smoke, are twice as likely to suffer asthma symptoms all year round compared to the children of non-smokers. Wheeze and physician-diagnosed asthma is more common in children who live with a smoker.

Knowing these facts, you must quit smoking right now- for yourself and your family. Quitting is the best option you have to keep lung diseases at bay and save your life. To quit, you must overcome the physical addiction to nicotine and the habit.
Read more articles on Lung Diseases.