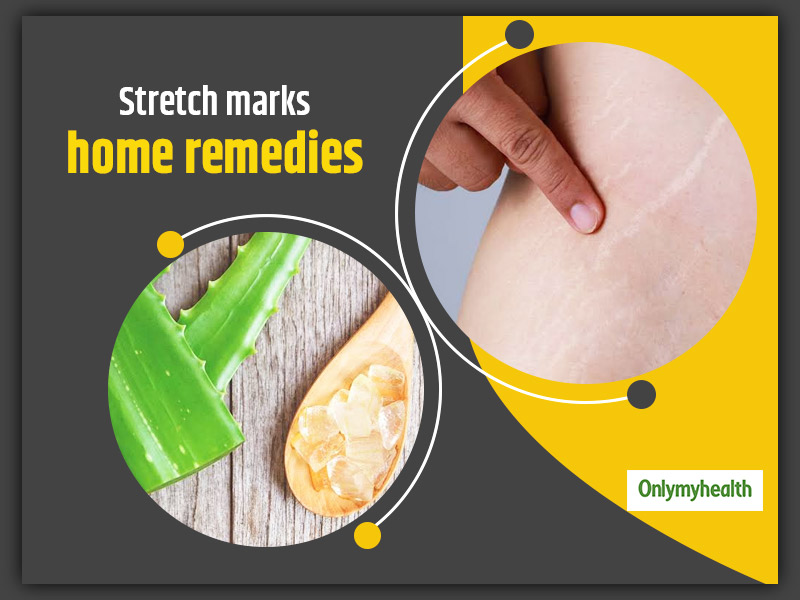 Stretch marks, also called striae, are visible on the body mostly when the skin changes shape quickly and frequently. This happens due to a quick expansion or contraction of the skin. The skin consists of three major layers. So basically, stretch marks form in the middle layer when the connective tissue is stretched more than the limits of its elasticity. Both men and women can get stretch marks on the skin.
Surely, one doesn't need to worry of any health problem as stretch marks are harmless. They are mostly common in pregnant women and those who are obese. There are certain pinkish or silver marks that might appear on your body, mostly on the waist. Moreover, it takes a long time to reduce or remove stretch marks. Some even go for various beauty products or creams to reduce those marks. Also, there are some natural stretch mark treatments that can be tried at home. Read on to know about the natural remedies for stretch marks and the symptoms and causes of the same.
Home remedies to reduce stretch marks
If you are facing the problem of having stretch marks on various parts of your body and you want them to get them reduced or removed, it is possible through some natural remedies at home. However, one should always keep in mind that stretch mark removal takes time. You can remove stretch marks by applying a few household ingredients. 10 impressive home remedies to get rid of stretch marks are:
1. Coconut oil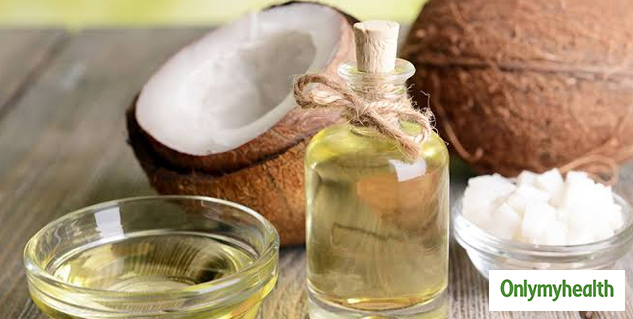 Coconut oil is available in almost every household. It can be a very good way to treat the stretch marks on your skin. You have to apply on the particular affected areas. Coconut oil contains antibacterial and healing properties, that can help in reducing the scars on your body. You can apply it before bedtime and wash in the morning.
2. Aloe Vera
Aloe Vera is a natural remedy that is used for skin, hair as well as health problems. It is rich in antioxidants and has healing agents that can remove the effects of stretch marks. For this, an individual has to remove the leafy layer and use the inner aloe Vera gel. Apply the aloe vera/aloe vera gel on your stretch marks everyday for around 10 minutes and wait for results.
Also read: 5 top reasons to keep coconut oil in your bathroom
3. Vitamin E oil
Stretch marks develop on the skin quite quickly. And, it becomes hard to make these marks vanish. Vitamin E oil can help you in treating this skin problem. You can apply vitamin E oil on the particular location of the skin to increase levels of the nutrient in the skin tissue. You will definitely see desired results in a few days.
4. Lemon juice
Acidic fruits can also be a home remedy to remove stretch marks. For example, lemon juice has many antioxidants present in it. It can be very helpful in lightening the stretch marks. Take a little lemon juice in a small bowl and use a cotton ball to apply it on the marks on your skin. After 10-15 minutes, you can rinse it off. You can use this remedy atleast twice a week.
5. Cocoa butter
Cocoa butter is basically extracted from cocoa beans. They have the properties to seep deep into the skin and retaining moisture. Moreover, it can help in removing stretch marks too. This process might be long but is quite effective. Apply a little cocoa butter on the skin and massage gently. Repeat this atleast twice a day, especially after taking a bath.
6. Egg whites
Egg whites have amino acids and proteins present in them that can be useful in reducing stretch marks. After taking out the yolks, you can whisk atleast two eggs to apply on your skin. Let it dry and then wash in off. Lastly, moisturize that part to reduce the dryness. Follow this everyday and wait for desired results.
7. Sugar
Another beneficial DIY is applying sugar on your stretch marks. You can easily use the grains of sugar as a scrub by mixing it with some honey and olive oil. Sugar is an exfoliant and can help in getting rid of those stretch marks naturally. After scrubbing it on your skin, you can rinse it off. Do this 3-4 times a week and see the results for yourself.
8. Potato juice
Potato is highly nutritious and has many health benefits. Except that, this vegetable is an advantage for your skin too. You can use a potato or even it's peel to gain the benefits of its components. From treating dark circles to lightening the skin tone, potato juice can also be used to get rid of stretch marks. You can cut a potato into two pieces and apply it on your skin.
Also read: How to Get Rid of Stretch Marks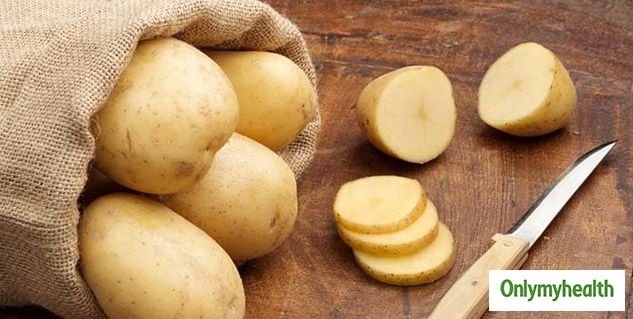 9. Apricots
Apricots have also helped a lot of overweight and pregnant women. Just like sugar, apricots are also natural exfoliants that can heal stretch marks on the body. Just cut the apricots and take out the seeds. Then, crush it and apply the paste on the skin for 10-15 minutes Follow this everyday and your stretch marks will reduce.
10. Turmeric
The ingredient curcumin that is present in turmeric, is a good way to treat stretch marks on your skin. You can mix turmeric powder with oil or lemon juice to apply on the skin easily. Use this natural remedy twice a day everyday, and your stretch marks will start fading away.
Symptoms of stretch marks
The signs of stretch marks on your skin are easily noticeable. You can think of further treatment even at an early stage of a stretch mark. They are mostly noticeable initially but fade away with time. Here are the simple symptoms of stretch marks:
Inflamed marks on the skin
Pink, red or white streaks
Multiple disfigured scars
Irritation
Itchiness
Fading marks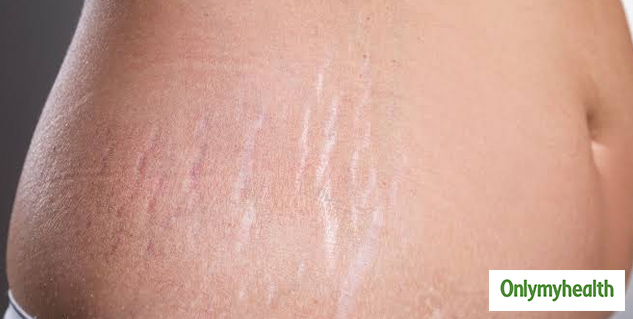 Stretch marks causes
There can be various reasons for having stretch marks on your body. Your skin mostly changes rapidly due to due to growth or weight gain. The factors behind it can be pregnancy or sudden weight gain. Stretch marks can be a very big deal for some people. The most common body parts where stretch marks develop are stomach, thighs, lower back, buttocks, breasts and arms. The main causes of stretch marks are:
1. Family history
Sometimes, there are people in your family or your own might who might be having the problem of stretch marks. And, when there is a family history of stretch marks, the scars are not minor. You might have to ask for doctor's treatment or try some home remedy to treat the stretch marks. There is surely a genetic connection for stretch marks too.
Also read: Make Your Stretch Marks Disappear With This Homemade Massage Oil
2. Obesity
As mentioned above, stretch marks occur due to the exceeding limit of elasticity of your skin. Therefore, obesity can stretch the skin more than normal. An obese body can see the effects of stretch marks majorly in the abdominal area and thighs.
3. Pregnancy
Pregnancy is also another cause behind stretch marks. They tend to develop in almost every woman. Stretch marks during pregnancy are mostly pinkish and occur on the stomach, breast or hips. This happens because there is a rapid increase and decrease in the size of the body during pregnancy.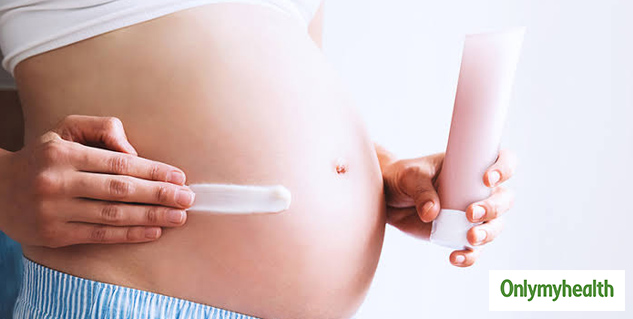 4. Surgery
There are certain surgeries that may also have an effect on your skin getting loose or on your weight too. So, this may result in the development of stretch marks. You can talk to your doctor/surgeon in such cases.
5. Gaining or losing weight rapidly
A rapid increase or decrease in the weight can also result in having stretch marks. This mostly happens with teenagers or in growing kids. The skin gets stretched more than its ability. You can try the above mentioned remedies to get rid of those stretch marks at home.
These were the home remedies to reduce stretch marks and its symptoms and causes. If these natural ways don't work for you at home, you can always talk to your doctor about it. However, a very easy way to avoid the occurrence of stretch marks is to maintain a healthy weight. If you are exercising enough and eating well, you might minimize the risk of stretch marks.
Read more articles on Home remedies