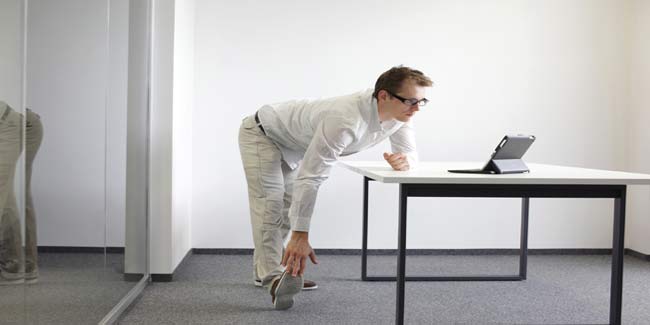 Everyone seems to be having an excuse for their unfit physique and time management is one of the greatest excuses that mankind has come up with. Men, especially seem to have the burden of the world on their shoulder and that is precisely why their waist line seems to be growing at a fast rate. Are you one such man?
We have news for you; you do not have any more excuses to set aside your health and allow it to rot. Because, despite of all the work that you may have, there are ways in which you can improve your health by doing exercises amidst all your work. Your health should not be compromised in any way and you have to do all that you can in order to ensure that you are at the best of your health. Find out how you can work on your health from your work place.

Take the Stairs
Taking the stairs is a very good way to burn extra calories; you could take the stairs when you are on the phone, when you enter and exit office and when you go for breaks and meals. Don't sit and talk for long hours, instead just take a walk, climb the stairs up and down and you will make a great difference.

Bike to Work
Buy a bicycle, and ditch your car. Everyday use your bicycle to reach office and to return home. Cycling is a very good cardiovascular exercise and by doing so you will not only be the cool guy who cycles to work, but also the fit guy who takes care of his body. A few months of regular cycling and you will notice that you are fitter than you are right now.

Carry Healthy Snacks
When you go to work you should always carry weapons of body construction, and these are healthy foods for snacking. Keep fruits, nuts, and whole wheat bread with a low fat spread and go to work armed. When you are hungry do not munch on potato chips anymore. This way you will also avoid over eating during lunch and will keep your body enriched with good nutrients. Fruits like apple, pear and banana are easy to eat and are all time favourites for most people.

Move About
We know you are the boss and have a cabin to feel elated, but that doesn't mean you should be glued to your throne forever. When you are low on energy you should get up and walk about, go outside and get some fresh air. Your muscles need to move, they cannot be at rest the whole day, you will also improve blood circulation this way.

Walk to Work
If you stay close to your workplace then there is no reason for you to not to walk to work. By walking to work you will burn calories and exercise your legs and knees. If you drive to work then park your car a little far from work or if you take the public transport then get down a few stops before so that you can walk the rest of the way to work. When returning from work you should do the same.

Stretch and do a Few Pushups
In between all your work you must take some time off to stretch; you could also do some pushups. Just go to an empty location at your workplace and do a few pushups, and stretch; remember your physical drill exercises? Do them. You could also keep a few dumbbells at your work place and work out with them from time to time. Instead of going for your cigarette and cold drink break, go for an exercise break.

No matter how busy you are, you must always find time to do exercises, and the time to eat healthy foods. Also, make sure to drink enough water and keep yourself hydrated.

Read more articles on Office Health.