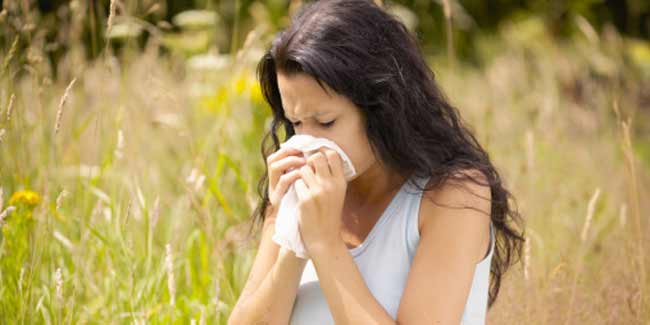 Allergies can give you a tough time especially if you love to stay outdoors. An experiment in the US recently showed that higher than average pollen levels is making it troublesome for as many as one-sixth of the pollution that suffers from indoor/outdoor allergies.

Another condition that can create breathing troubles by blocking the airways in the lungs is asthma. Although the symptoms like persistent coughing are common in both the conditions, asthma is thought of as a serious condition that demands regular medical attention.

However, many people still ponder over the relation between allergies and asthma. What these people are not aware of is that allergies can eventually trigger asthma symptoms. The pollen that makes you sneeze in spring season can also be the cause for persistent cough and breathing problems.
The Relationship
Allergies are a way in which the immune system fights off unwanted substances from entering the body. The immune system which is responsible for protecting you from diseases, releases chemicals called histamines that cause the irritating allergy symptoms. The dripping nose and sneezing are a reaction to the foreign substances.

In the same way, people who suffer from asthma have problem in their airways. Eventually, those airways become inflamed and sensitive to usual inhalants like dust and pollen. Asthma patients may have symptoms showing up the entire year or seasonally, just like people who suffer from allergies.
Allergy-Triggered Asthma
The asthma triggered by allergies is known as allergy-induced or allergic, asthma. The very first thing to be understood about this kind of asthma is that there is a direct genetic relation between allergies and developing of asthma. When one or both parents suffer from asthma, their children are most likely to experience allergies. Also, people who have some kind of allergy are at a risk of developing asthma at some point of their lives. Hence, family history must be kept in mind.

Besides, many of the substances that can trigger allergies can also have an effect on asthma patients. Allergens like pollens, spores, dust, etc. can make the body to react in a way as it has attacked by a virus or bacteria which can cause asthma symptoms also.
Treating Allergy-Induced Asthma
The very first remedy to treat allergy-induced asthma is to treat allergy causing reactions. This can be done by conducting allergy tests that can determine your specific allergy. To decrease the level of congestion antihistamines can be used. These can also be effective in reducing asthma symptoms.

Protecting yourself from breathing troubles cannot be a difficult thing to do if you are completely aware of what is causing it.
Image courtesy: Getty Images
Read more on Causes and Risks of Asthma.