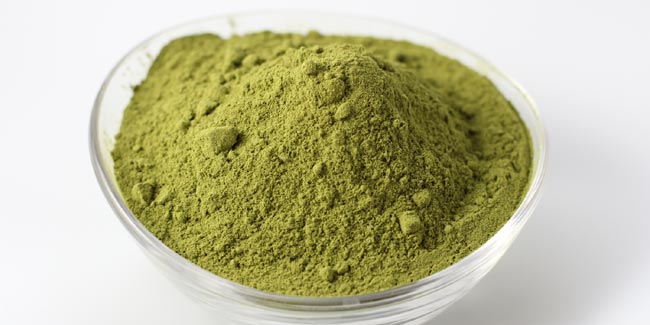 Henna or mehendi is a popularly used hair colouring dimension that has been used since time immemorial. With so many hair colouring products available in the market today, people have lost touch with the good old henna and that is why we think it is important to put a spotlight on its benefits and bring it to the forefront again. Besides, there is nothing remotely as safe and good for hair as henna. Take a look at the many health benefits of applying henna on hair.
For Colouring Hair Naturally
Those people who have grey hair can find solace in henna to have their hair coloured naturally. Yes, naturally because henna does not have any side-effects like chemical crèmes do. Henna can really make your hair stronger and nourish it from the roots.

Here's how you can prepare a concoction of henna and other ingredients for your hair.
• 2 cups of henna powder
• ½ cup of amla powder
• 1 egg white
• 2 spoonfuls of lemon juice
• 1 spoon of basil powder
• 1 spoonful of raj powder
You can either buy a packet of henna with all the ingredients mixed together or just get a packet of organic henna and mix the ingredients separately. Mix all the ingredients together some time in the day and apply the mixture on your hair the next morning. After application, rinse for about 45 minutes and cover your hair with plastic. This will keep the hair moist so that the colour can be absorbed quickly.
For Hair Growth
Rubbing the scalp with oil that is made out of henna can help in triggering hair growth. Besides, it prevents hair fall, further growth of grey hair and protects the hair from the harmful effects of pollution.

You can prepare the oil by boiling gingil oil till it gets hot, add henna powder to it. Make the oil boil for about 5 to 6 minutes. Switch the heat off and wait until the mixture cool down. Store the remaining mixture in a bottle. Make sure that you apply the oil every 2-3 times in a week for about 2 months.
For Conditioning Hair
One of the most common reasons why henna is used leisurely on hair is because of its conditioning properties. To make a hair conditioner out of henna, mix the following ingredients together with sufficient amount of curd:

• 2 cups of henna powder
• 1 cup of amla powder
• 2 tablespoonfuls of hibiscus flower powder
• 2 tablespoonfuls of methi powder
• 1 tablespoonful of orange peel powder

Once you have mixed these ingredients together, let it remain for about an hour or two. Finally, wash and rinse the hair and ensure that you cover it with a plastic cap.
For Treating Dandruff
Henna has been used to fight the most severe of dandruff problems. There are a lot of ways in which henna can be used to get rid of dandruff and one such way is to mix fenugreek seeds as well as lemon with it when preparing the concoction.

The ingredients used for preparation of henna for dandruff treatment include:
• 1 cup of fenugreek seeds
• 2 cups of curd
• 1 cup of mehendi powder
• Juice of 1 lemon.
Soak the fenugreek seeds in curd overnight and grind it the next day. Mix 1 spoonful of henna powder and add lemon juice to it. Apply the mixture to your scalp. Make sure the mixture covers each part of your scalp. Let the mixture dry before rinsing it off. Make sure that you wash your hair with cold water and avoid shampooing. You may shampoo your hair the next day.

Unlike most chemical colours, henna does not damage the hair, rather it moisturises them leaving it soft and shiny. Henna can help heal the hair shaft by repairing and sealing the cuticle, thereby protecting hair breakage and loss of shine. It also strengthens the roots of the hair. When you buy henna, make sure to read the ingredient list carefully. Some henna dyes had added chemicals and metallic compounds that can ruin your hair. The henna powder should be as fine as talc and should have a vibrant green colour.
Image courtesy: Getty Images
Read more articles on Hair Coloring.