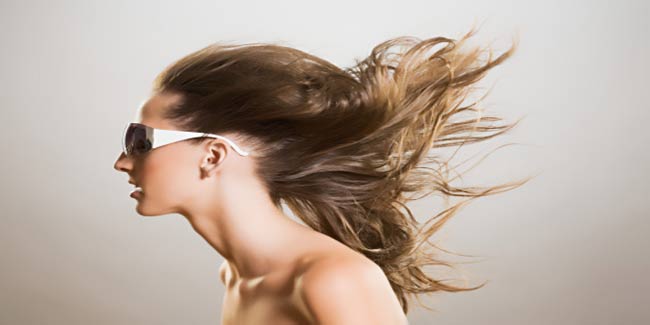 Wondering what this word detox has to do with hair? If you wash your hair regularly and keep them clean, why would you need to detox them? Well, chemical products you use on hair in the form of colours and shampoo cause more harm than good. Besides, too much styling and colouring can cause breakage, dullness, split ends and loss of volume. We do so much to protect our skin on a daily basis but not enough to keep our hair healthy. But detox can give you that much-needed rescue. Let's see what all you can do to detox you hair.
Clean your scalp
It is believed that in order to have healthier hair, you should not shampoo your hair too often. But if your hair get really oily, limp or dull fast, you would want to wash them regularly. A clean scalp is the key to healthier hair. Just like the pores on face, hair follicles on the scalp get clogged due to dirt, oil and product build-up. Choose a shampoo that has selenium sulphide, salicylic acid or pyrithione zinc to remove the dead the skin. Don't put shampoo directly on your scalp; instead start lathering at the nape of the neck and work up towards the hairline. Hair at the nape are thicker hence they trap sweat and get oily.
Lay off the heat
Using hot tools every day on your hair may weaken and dry out hair leading to breakage and dullness. The most damage usually occurs during the final minutes of styling hair with a flat iron or curling wand. Avoid using hot tools too often, and if you can't avoid it completely, at least make sure you use while set on medium heat setting. Use large self-adhesive rollers on the hair before air drying instead of fussing with those tools.
Add moisture
To replenish dry hair, you will need a pre-shampoo treatment which consists of products which are packed with nourishing oils that provide moisture to the hair cuticle and protect vulnerable hair strands from stretching when washed. At least once in a week, massage your hair and leave for 15 minutes before washing with shampoo. You can use chamomile oil for shiny hair, coconut oil for softening hair, geranium oil for strengthening and argan oil for moisturizing.
Go deep once a week
Hair cuticles are made of protein cells called keratin which creates a waterproof and airtight barrier around the root of the hair. When you expose your hair to excess heat, colour or UV rays, the cortex lacks a shield leaving your hair vulnerable to damage. Use a protective deep treatment once in a week to freshly washed hair, from scalp to tips. Leave on for around 10 -30 minutes and then rinse off with lukewarm water. Never use hot water to wash hair as it can strip the protective oils that act as a natural conditioner for the hair making them dull and weak.
Back away from the dye
When you colour your hair, you expose them to damage from the ammonia or peroxide chemicals which are used in most of the hair colours. According to a study from Portugal, bleaching hair makes hair 60 percent weaker. Hence avoid colouring your hair as much as you can or try using the ones which has less harsh chemicals.
Here are some more ways to fix your hair
Baking soda
Sodium bicarbonate acts as an extraordinary cleanser and exfoliant that gently removes product buildup. Add a tablespoon of baking soda to your shampoo and work the mixture through hair.
Olive oil
Olive oil contains fatty acids that provide moisturize and protection to hair against damage. Heat a tablespoon of olive oil and apply it to dry hair. Leave on for 20 minutes, rinse with warm water and shampoo as usual.
Eggs
Eggs are packed with protein and amino acids that help restore strength, shine, and volume of the hair. They prevent split ends from worsening and smoothing hairs' texture. Combine one egg with a quarter-size blob of shampoo and run through your hair. Leave for five minutes then rinse off with lukewarm water.
Apple cider vinegar
apple cider vinegar has acetic acid that helps wipe out product residue and oil and add shine to the hair. Mix 2 tablespoons of vinegar in a cup of water and pour evenly over hair. Let hair soak up the mixture for a minute before rinsing with water. Use a nice a conditioner after that.
Tea tree oil
Tea tree oil is known to be a natural antifungal and antiseptic that helps eliminate bacteria, dandruff, and flakes. Add a few drops of tea tree oil to your regular shampoo, massage into your scalp and leave on for five to seven minutes before rinsing.
Image Courtesy: Hair Care