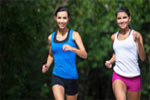 According to a new study, women should take a high-protein meal half an hour before going for exercise, in order to burn maximum calories.
Are you a woman who loves to exercise? If yes, you must seriously consider consuming a high-protein meal half an hour before going for moderate exercise. This will enable you to burn more calories than running on an empty stomach.
This has been evidenced by a new study which was led by Ashley Binns, who is a doctoral student in kinesiology and exercise science at the University of Arkanas. Its aim was to determine the association between the thermic effect of food and exercise on the body's total energy expenditure. This energy is measured in terms of calories. Thermic effect refers to the amount of energy the body takes to digest, store and utilize the food we eat.

When Binns and her team observed the effects of protein consumption (alone and combined with exercise) on total energy consumption, they found that with exercise, a higher protein expenditure ensured a continued increase in caloric burnout.

Binns also noted that in addition to this, women spen greater energy than the fasted stae when they consumed high- or low-protein meals.

"That means that eating prior to exercise does provide fuel to burn, making us more like an energy-burning machine," she asserted.

The participants of teh study were 10 "recreationally active" college-age women who had a normal body weight. During the testing sessions, they were asked to consume high-protein meal, low-protein meal, and no food at all, before walking on a treadmill.

Previous studies that had examined the effects of high-and-low-protein diets in athletic and morbidly obese people.But Binns and her team wanted to learn the thermic effect of food on normal individuals. The individuals who participated in the study, didn't have any metabolic disorders or medications that would affect their metabolism.

Exercise was key to the study, Binns said, because high-protein diets without exercise can lead to muscle loss.

With just a high-protein diet and no exercise, the body heats up to break down the protein but what also happens is it breaks down muscle, she said.

The study was published in the Journal of Science and Medicine in Sport.



Article Source: DNA

Image Courtesy: Getty Images

Read more Health News.