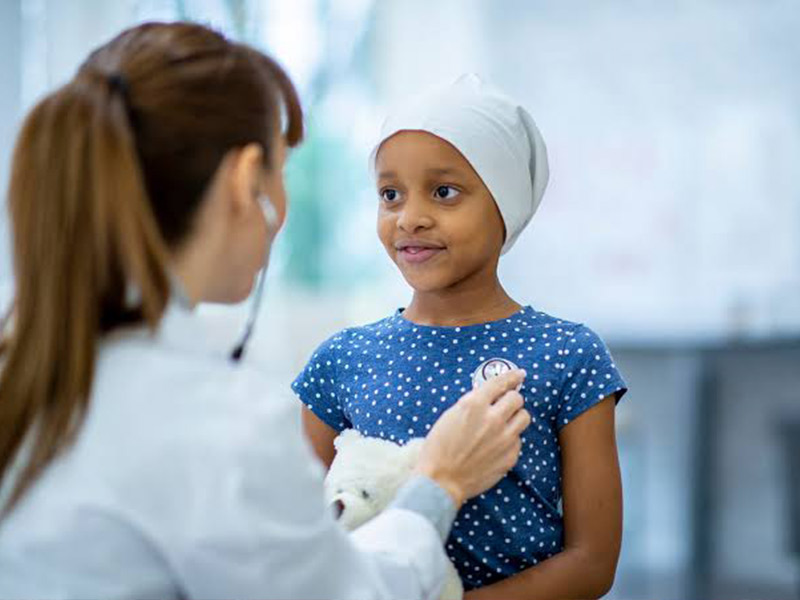 Leukemia means blood cancer, blood cells are produced in bone marrow, but due to this disease the white blood cells are not able to get matured in the bone marrow instead they start dividing very rapidly, hence they start crowding the healthy cells and hinder their Functioning. It also hinders the functioning of red blood cells and platelets. Leukemia is the most common type of cancer among teenagers and small children. It becomes very tough for a child to face cancer but the silver lining is that this disease can be cured if taken care at the right time, patient's life is also prolonged if proper treatment and medication is provided to the patient.
Leukemia can be both chronic or acute with either few or aggressive symptoms. You must pay close attention if their is a history of leukemia in blood relations, or the child is suffering from chromosomal diseases such as down's syndrome. Onlymyhealth editorial team spoke to Dr. Rema G, Clinical Assistant Professor, Medical Oncology, Amrita Hospitals, about the symptoms and risk factors of blood cancer in children.
Childhood leukemia symptoms
Symptoms of blood cancer depend on various factors. The cancer could be in the bone marrow, blood, or other tissue and organs. Symptoms vary from one patient to other and it is not necessary for every child to experience all the symptoms. According to Dr. Rema, here are the main symptoms of childhood leukemia:
1. Pale skin
Pale skin is a very common symptom of leukemia. Due to increase in number of white blood cells, the production of RBCs is lowered, existing RBCs are also not able to function properly because of crowding, this causes Anemia, hence the supply of blood is lowered which makes skin look pale. Presence of blood under your skin decides your undertone of skin, due to deficiency of RBCs in the blood, skin looses red colour and appears to be dull and pale. It may also be accompanied by dark circles, dark spots on face and darker cuticles around nails.
2. Fatigue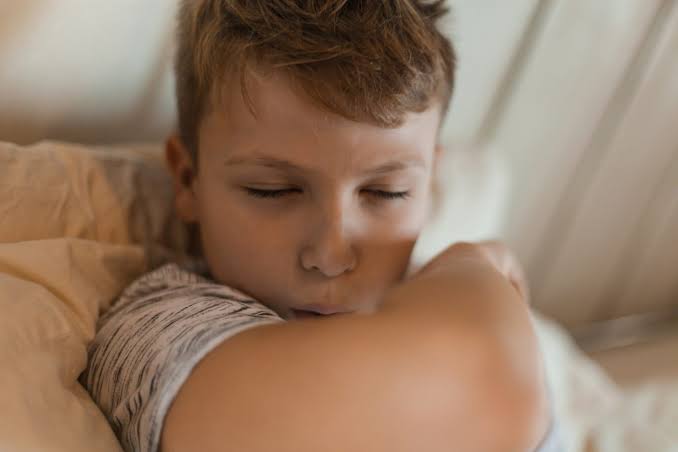 Fatigue is one of the most common symptoms of childhood leukemia, it happens because of Anemia, supply of oxygen to our tissues become low hence our muscles producing lactic acid which can cause fatigue.A person might feel lightheaded and weak due to reduced supply of oxygen to brain cells, this can become an emergency situation because persistent deficiency of oxygen can cause permanent damage to brain cells. It can also cause slurred speech in children.
3. Easy bleeding or bruising
People suffering from this disease may experience appearance of red dots all over body. You must pay attention if you think that your child is getting more than usual bruises without necessarily being hurt.It happens due to high pressure in vessels, which make them rupture easily even by less pressure.
4. Fever
Leukemia patients might generally feel unwell, they are also prone to many infections as body looses it's ability to fight against germs. He might experience constant fever due to these infections. Child might not be able to explain his symptoms but may generally feels sick. You must see a doctor if your child persistently complaints about being unwell.
Also read: World Blood Cancer Day 2020: Introduction To Blood Cancer And Its Early Symptoms
5. Breathing issues
Childhood leukemia affects various parts of body, it causes lymph nodes and thymus (a gland between lungs) to swell which in puts pressure on trachea, it can cause serious difficulty in breathing, and even coughing at times. Breathing issues may also occur due to growth of leukemia cells in narrow blood vessels of lungs.
6. Joint pain and swelling
Production of blood cells occurs in the bone marrow, due to leukemia blood cells collect around the surface of bone and may cause chronic pain. Pain may also occur due to weakness and swelling in various body parts. Patient might experience evident swelling on the patient's face and limbs.
7. Vomiting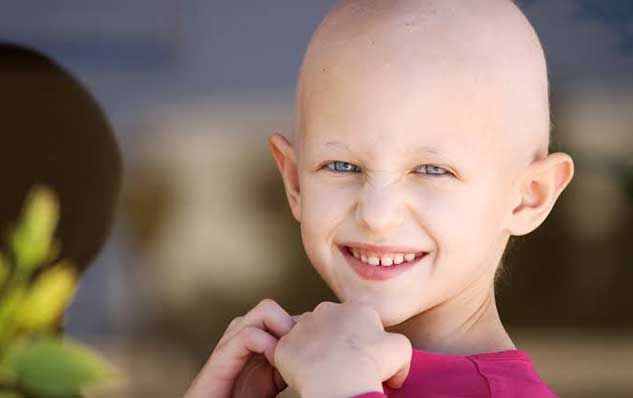 Disturbed food cycle is also a symptom of leukemia. A person might feel pukish and feeling of nausea which is accompanied by headache and weight loss. It is possible that the patient may experience difficulty in concentrating on tasks at hand.Generally it is difficult to figure out such symptoms because children are not able to understand and express themselves.
Childhood leukemia risk factors
As per the studies there have been no significant proof of what factors may cause leukemia in children but there have been certain factors which may indicate risks of leukemia. As per Dr. Rema, here are the risk factors of blood cancer in children:
1. Genetic factor
A child is more prone to leukemia if there is a history of blood cancer in their gene tree. Babies diagnosed with down's syndrome have more possibilities to develop either acute myeloid leukemia or acute lymphocytic leukemia. Li-Fraumeni syndrome and other genetic disorders like neurofibromatosis increase the risks of leukemia and other types of cancers as well.
Also read: World Cancer Day 2021: Signs of Blood Cancer You Should Watch Out for
2. Immune system problems
Children born with immunity disorders are at high risk of leukemia. These immune system problems includes diseases like Shwachman-Diamond syndrome, blooms syndrome, and Ataxia-telangiectasia. Children who have undergone a organ implant also become more prone to such diseases because of the immuno-suppressive medicines given to them during the treatment.
3. Siblings with leukemia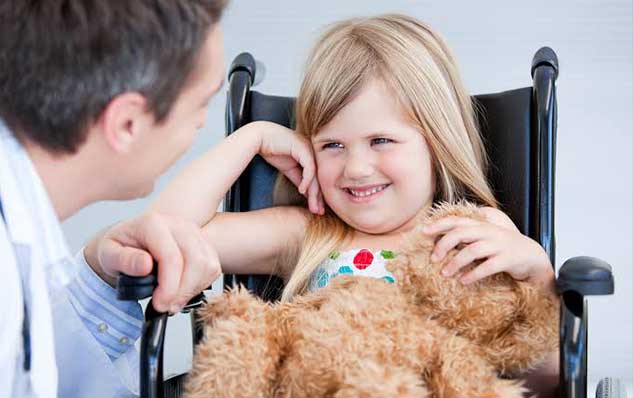 History of leukemia in direct blood relation also increases the possibility of blood cancer in children. Regular checkups can be done for precautionary reasons so that we can identify the disease at early stages. More attention should be paid to the other child if one of identical twins is suffering from leukemia.
4. Radiation exposure
Mothers who are exposed to excessive radiations such as atomic bomb survivors, people working in mines, mothers smoking history and age also determines the risk of blood cancer in their children. Human sources of radiation such as CT scan and x rays also increase the chances of leukemia but the increase is almost negligible, in fact it helps to monitor the health of the baby inside the womb.
Also read: World Cancer Day 2021: How To Prevent Childhood Blood Cancer or Childhood Leukemia
5. Chemotherapy and certain other chemicals
Children recovered from other cancers with certain chemotherapy medicines comparatively have a higher chances of getting a second cancer. Drugs used in chemotherapy have been linked to a higher risk of leukemia, second cancer usually develops after 5-10 years of treatment and usually more difficult to cure.
So, these were the symptoms and risk factors of blood cancer in children by Dr. Rema G. There are various types and complications of leukemia in children, risks depends on the types and extend of the disease. You must pay proper attention to your child's health and monitor is closely, regular checkups should be done if there is a history of disease in family. Sigh of relief is that doctors are now able to treat many cases of blood cancer in children successfully as methods of treatment are advancing day by day and survival rates of patients suffering from this disease continues to improve.
Read more articles on Cancer