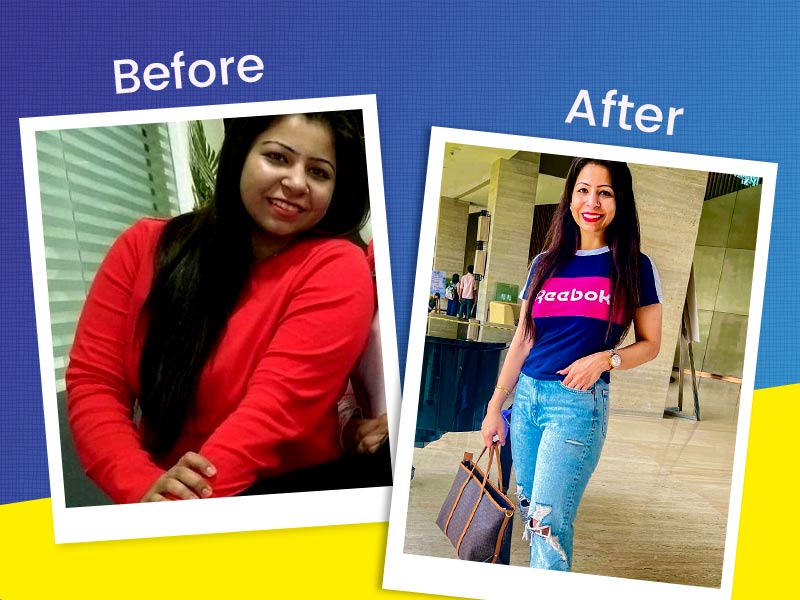 Suman Pahuja, a social media fitness influencer and transformation expert by profession was once a very shy, under confident and self-doubting being. There were several times in her life when society disregarded her in terms of looks, body shape and size. But, it was heart wrenching to have her own father treat her as a shame. She was mocked and body shamed by her own father many times. In a candid chat with Onlymyhealth, Suman Pahuja took us through her weight loss journey of 30 kilos, and the experiences of her childhood, adulthood that motivated her to take on the weight loss challenge.
With sheer zeal and enthusiasm towards life now Suman is an extensively vocal person who shared her weight loss transformation story with us on how she slipped through 30kgs.
My Father Was Ashamed Of Me Because Of My Weight – Suman
A term that we often come across these days i.e. Body shaming, imagine facing it at home, and not from the outside world. With certain heaviness in her tone, Suman shared, "My father never liked my weight and so he beheld me from making a public appearance . During my adulthood before marriage, I never had a single meal with my father. I was always scared that it could lead to yet another tiff in our household.
It is very saddening what a person has to go through for the only reason how he/she looks, and in Suman's case, this was so deep ingrained in her that she had lost every ounce of confidence and belief.
Also Read: Bharti Singh Weight Loss: Here's How She Lost Weight
Your weight often shoots during the teenage years. It is the time when the body is supreme on all levels. So did Suman and that is when her family decided to get her married in order to get rid of a fat girl once and for all. She was married to a handsome but seven year older man who never laid pretty eyes on Suman. Her husband told her upfront that she was not attractive enough for her, and never actually built a relationship with her. Other than being over-weight Suman also had a lot of acne on her face and unwanted hair around her jawline because of PCOD. Suman's husband always thought of her as a short heighted person and very evidently Suman had nothing merry in her life for how her physical appearance is.
Suman Pahuja's Wakeup Up Call To Bounce Back
"The 98.7 kg weight was a wake up bell for me," said Suman. It was that time when Suman was constantly taunted to have a baby. She added, "My mother was constantly pushing me to lose at least 10 kilos so that I could look pleasing and conceive a baby. Never did they think that not everything was because of my weight. I even had PCOD that was a major factor for not having kids."
"I gave into the pressure and decided to lose weight for the sake of my marriage. I had no money and no one to help, so I mortgaged my jewellery and went to a dietician. I was determined to lose weight at any cost. While I was struggling to find the right dietician, I was taken aback by my husband when he sent in the divorce papers," said Suman.
"I was losing it and actually begging him to not divorce me but at the back of my mind I had a thought that this is going to be very bad for my body," Suman said thinking about those difficult times. However, she did not quit and this was the start to her real transformation. She changed both ways, mentally and physically.
Also Read: Lizelle D'Souza's Amazing Transformation, Know Her Weight Loss Secrets
Foods That Helped Suman Lose Weight
View this post on Instagram
While talking about her diet Suman said, "She started her day with a healthy morning drink with a spoon of Chia or Flax seed. It was then followed by a heavy breakfast that mostly had multigrain parathas."
Talking about her lunch, she said, "I took lunch at the same time every day in which I preferred rice, barley, millets, daliya alongside dal or a dry vegetable dish. Seasonal salads were an important part of my diet."
Stressing on the need of having early dinner for weight loss, Suman added, "For the evening I mostly had nuts with some flavoured chai. Making sure that I never ate anything after 7-7:30pm, my dinner meal used to be around 6:30pm. My meal consisted of a chapati with a dry vegetable dish or sometimes with grilled chicken (200-250gms), or paneer."
She ended her day with a spoon of apple cider vinegar as it helps in fighting obesity. Even though Suman has lost all that weight, she still sticks to her weight loss diet.
Here is a list of 7 best foods for weight loss that actually helped Suman get rid of extra fat:
Eggs
Low-fat dairy products: low-fat milk, cheese, and yogurt
Fruits: Apples, blueberries, avocado, pears, pineapples, bananas, oranges, grapefruit, and tomatoes
Go green: Lettuce, asparagus, broccoli, and spinach
Lean Meats
Go for the big fish: Salmon and Tuna
Nuts all the way
The Final Breakthrough
View this post on Instagram
Suman lost her family support, her husband but nothing could stop her. With no third hand, one day she decided to upload one of her raw workout video on her social media account and it went viral. She said, " I started getting questions and queries from all around. People were trusting me and started asking about my diet. From all over the world. I decided to help people via emails. They wanted to hear my story, my diet plan. While my marriage was ending at one end, my new life as a fitness instructor was taking its high," shared Suman, with a budding smile.
She added, "Although I did not physically exert myself that much all throughout my journey, for body toning, gymming helped me a lot. When I was 98kgs, I had PCOD, prediabetes, anxiety and insomnia. Now that I am around 60kgs, I have no health complications. prioritizing did wonders to me. In my journey from fat to fit, I am a completely different person who now knows how to life life being happy with oneself.``
Although, losing weight and achieving the body of your dreams is a long tedious process but also so worth it and Suman is a perfect instance for us in flesh and blood. On a parting note, Suman mentioned, "Significant weight loss and muscle gains would take approximately eight weeks to become evident. Find what works for you and your body. Incorporate healthy food to your diet, cut the junk. Living a healthy lifestyle can be a real pleasure if you make it so. It'll help you to get the body of your dreams. Nevertheless, don't let society set you down in any way because you are still beautiful and well."
Image Credits- Suman Pahuja
Written By- Tanya Srivastava, Sub Editor