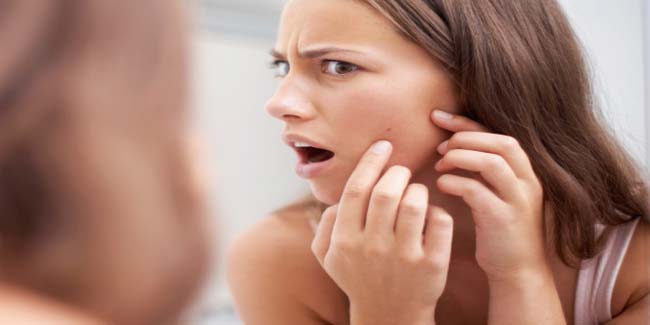 Nothing can ruin your look as much as acne does. While acne are common and usually treatable, you can't completely prevent their occurence on the skin. No matter how well you prepare yourself for the next meeting or date lunch, even a single acne spot on your face can make you feel extremely uncomfortable about your look. Having acne isn't the only problem you may experience; most acne usually leave spots on the skin which may take several weeks or even months to clear.


Some inflamed acne may even leave long-lasting scars on the skin. If you are experiencing acne, you may need proper skin care and even treatment for several years to keep acne spots away. While there are countless over the counter medicines to reduce and prevent acne or clear spots, you can easily do all that using natural methods too. Your kitchen shelf may have some effective natural remedies for acne. Here are six of the most effective kitchen remedies for acne and acne spots.
Lemon Juice
Lemon contains natural astringent and antibacterial agent that works as an exfloliant to remove dead skin cells faster and prevent pores from clogging. Cut a fresh lemon in half, rub it gently on the face and leave it on for some time to dry the lemon juice on your skin. Rinse the skin with cool water and dry it with a towel. Use lemon juice twice a day daily to reduce or eliminate acne.
Aloe Vera Juice
Aloe vera is a popular remedy for treating skin conditions such as burns, minor abrasions, cuts and acne. Apply aloe vera juice on the affected areas twice daily to heal acne and decrease acne scarring.
Neem
Neem has been used medically since ancient times due to its healing qualities. It has anti-fungal properties that are effective in treating acne. You may either drink neem leaf juice to treat acne or apply it topically.
Honey
Honey has powerful antiseptic and antimicrobial properties, which is why it has been used to treat everything from acne to small cuts. Apply honey on your face and allow it to sit on your skin for atleast 5-10 minutes. Wipe the honey from your face with a clean, damp cloth and then risne it off with lukewarm water.
Orange Peel
The high content of vitamin C in oranges makes them nature's best remedy for acne. You may use orange peel as well as its juice to treat acne. Take orange peels and dry them under the sun. Grind the dried peels to make powder. Add water to the powder and prepare a paste. Apply the paste on your face and leave it on for 10 -15 minutes. Rinse it off with water.
Grapes
Take some fresh, chilled grapes and cut them in half. Now rub them directly onto the affected area. Leave it on for 10 to 15 minutes before washing your face.
Image Source: Getty
Read more articles on Home remedies