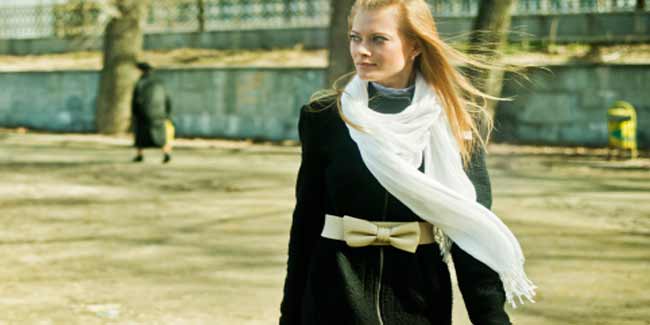 We've all been there: arriving at some haute party, congratulating ourselves over our pitch-perfect outfit only to see her. That girl! The one with the designer leather jacket, the perfectly worn jeans, the crystal-encrusted sandals, and the smoky eyes. Suddenly, you want to burn a cigarette hole into your coat, smudge your eyeliner, mess your hair, and lose 10 pounds in 10 minutes. What was once a starring outfit instantly seems so… let's say mediocre?

This should make you realise that beauty doesn't lie in the eyes of beholder but it sure does lie in looking fashionably good all the time. As you haste off home in a fit of annoyance, you can hope to avoid repeating this stalemate by setting out to not make yourself so fashionably detached again. Let's set ourselves to make the next sartorially ideal night out on the town.


Become a Fashionable Onion
Add layers over layers to your outfit. Go crazy by wearing a coat, over a jacket, over a shirt, over a crop top. And wear a belt and leather leggings under a skirt. Piling on different types of garments makes you look interesting and will give depth to your ensemble.
Wear Wrong Shoes
Ditch your sneakers for a sleek bootie. Trade your sandals for high heels and flat booties for flip flops. Whatever you would normally choose for footwear, choose the opposite.
Carry a Statement Bag
Wear a cross-body bag in the front and show lit off. Try a candy-coloured top-handle to liven up a more basic work wardrobe or a textured clutch to spice up a going-out look. The special purse that will stop anyone dead in their tracks.


Always Wear Sunglasses
Even when you're inside. Even when it's dark out. Your eyes will adjust eventually. And besides, sunglasses are way easier to put on than eye makeup. Cute frames will glam up your entire outfit immediately. Try a wayfarer or oversize style for a look that feels so right now.
Tuck-it-in
Whether it's a sweater, a tank or a collared silk shirt, just grab that middle front piece, tuck it down, and watch your style cred increase instantaneously by a factor of 10 at least.
Wear Something Small with Something Big
A crop top with a ball skirt. An oversized top with cut-off shorts. Looking fashionable is all about playing with proportion and contrast. Not just big with small, but also hard with soft, tight with loose, and heavy with light.
Add a Motorcycle Jacket
A good motorcycle jacket improves every outfit; it doesn't matter if its jeans and a T-shirt, a formal gown, or gym clothes. Black leather is the classic choice, but it's not a must. Colours, prints, embellishments, whatever! It's all good.


Wear Your Jacket on Your Shoulders
Don't think of your jacket as a jacket. Think of it as a cape with sleeves. Sleeves you are never EVER to put your arms into.

When trying to artfully pick the perfect look by diffusing just the right amount of nonchalance, don't force the issue. Stick to your basic tastes, but fine-tune them just enough to give a modern cheerful look. That way, the next time you're out at a glittering celebration, you'll be the girl in the enviable ensemble.

Find some more tips to look and feel hotter in the video tutorial above.

Image Courtesy: Getty

Read more articles on Fashion and Style.