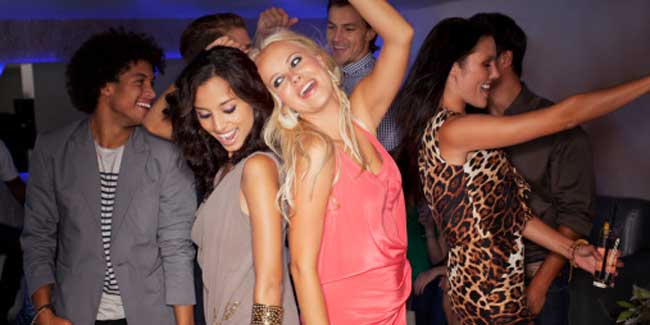 Saturday is here! Well, technically it is every week, duh! Yeah, so all the more reasons to know how to dress up for the partyyyyyyyyyyy. Perhaps you'll be drinking and dining with the social elite (Read: Your friends) of your city, in which case you'll definitely have to put on your best and be sure to button up. There are so many spectacular Saturdays we come across in our lifetime, and dressing for each one should be enjoyable. Once you know the kind of company you'll be keeping at the event you can start to pick an outfit that's bang on.
Skirt Story
Cocktail parties aren't just for cocktail dresses. Skirts are an amazing alternative and totally versatile. Mix it up with a printed blouse or create a look that resembles a dress with a matching set. Make sure your hemline is not too short, though. There is a fine line between classy and trashy. A good rule of thumb? Make sure your finger tips can touch your hem when your arms are by your sides.


Dress it Up
Ok, so if you want to wear a dress of course you can, just make sure it is one that wows! Wear a dress that has exciting embellishments, asymmetrical accents or a bold print. At a cocktail party you have the perfect excuse to go glam so don't shy away from the wow factor. Shimmering fabrics, backless dresses, cowl necklines and sumptuous materials? Bring them on!


Keeping it Classy
It can be confusing to know what approach you should take to get ready for your night out. You want to dress up, but don't want to look over dressed. Yet, you certainly don't want to be the girl that is under dressed.

An LBD goes a long way and is often the instinctual thought that comes to most girls' minds when they think of what to wear to a Saturday night party. Try taking this infamous aesthetic and translate it into a different concept. Perhaps a little navy dress? A little white dress? A little black jumpsuit? Wear a bold red or elegant aubergine to your affair, or sport a light blue to bring a peaceful ambiance into the room.


Best in Suit
From runway to reality, we have been seeing women's tuxedo suits appearing everywhere, and who wouldn't want to look this immaculate at all times? Sporting a suit will instantly make people wonder 'who is that girl?' Whether you opt for a satin tuxedo or a menswear inspired jumpsuit, you can truly never go wrong. Are you brave enough?
Wear Your Best Shoes
You know those shoes you bought 4 months ago because you HAD to have them even though you had nowhere to wear them to? Well NOW is the time to dig them out of the closet! In fact, if you have a pair that comes to mind, why not create an outfit around them. Your shoes can inspire the rest of your ensemble as accessories often make the outfit, and will often be a great way to initiate conversation.


Accessories can Make an Outfit
Clutches are the perfect accessory to add a little shine to your look and the perfect size to store your make up essentials in case you need to retouch. If you can't afford to splash out for a whole new look, simply dress up an old favourite frock with new accessories. Adding a stand out collar necklace to your favourite look can transform a daytime dress for a special affair.


Beauty Routine
Definitely do not skip the makeup step when attending a cocktail party. Make sure you are picture-perfect and ready for the camera before you leave your home. That being said, don't load on TOO much makeup. Keep it simple with some luscious lashes, blushed cheeks, and a great lip stain to cover your bases.




You are never fully dressed without a smile, and a Saturday night party is definitely an affair where you should not forget one. So, get dressed, put on some makeup, and smile!

Image Source: Polyvore

Read more articles on Fashion and Style.