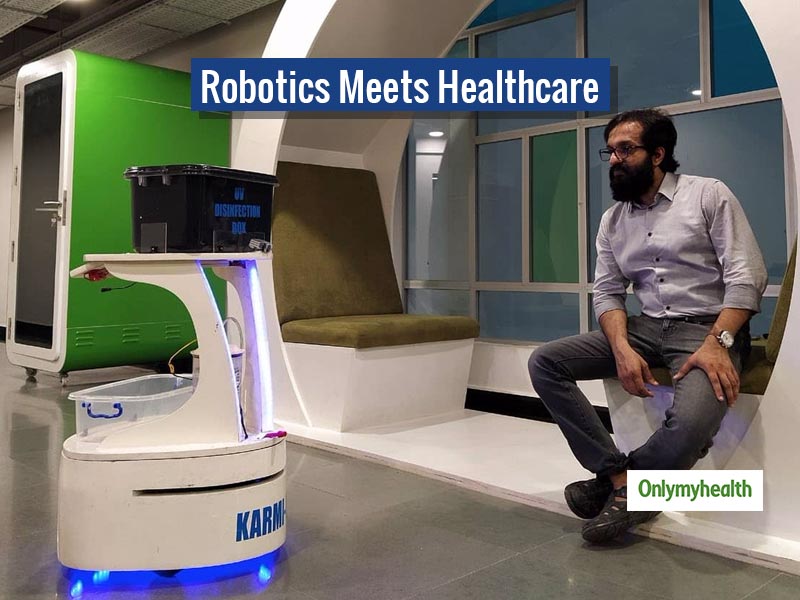 In these testing times, there was a great deal of load on hospitals, doctors, paramedics and the frontline workers. Such difficult times required certain advancements in the medical field that could not only reduce the load on humans but also effectively help in managing the rising COVID-19 cases. Such times saw various tech giants come up with techno solutions to lend a helping hand in the fight against COVID. The outbreak of COVID-19 and the new world order after that has not only expedited the development of health-tech but also have influenced the technology solutions in all other market sectors. One such innovation that we saw was the KARMI-Bot developed by Asimov Robotics.
In an exclusive chat with Jayakrishnan T, CEO, Asimov shares all about KARMI-Bot and what led to this novel inventions despite the various limitations that came with the pandemic:
Within the first month of lockdown, you were able to get Karmi Bot deployed in the hospital? How did your team manage this so quickly?
We have been working on the robotics solution to address the critical caregiving at ICU for the treatment of contagious diseases as soon the second outbreak of Nipah was there in Kerala However, with the outbreak of COVID-19, it is easier for us to quickly subsidize that robot to make KARMI-Bot. The main difference between COVID-19 and Nipah/Ebola is that COVID-19 is not as life-threatening as the latter two diseases, but it is spreading fast at a large scale,".
Also Read: HealthCare Heroes Awards 2020: Read Common Man Darshan Ghosh's Contribution In COVID-19 Fight
Hence the main criteria of the redesign were the following
Comprehensive to include dispensing, sanitization and telemedicine
Fully autonomous same time Cost-effective
Easy Transportation
Easy to disinfection and sterile
Remote deployment and maintenance
Autodocking for charging
How important a role do you see robotics playing in health care, especially in unprecedented times like this?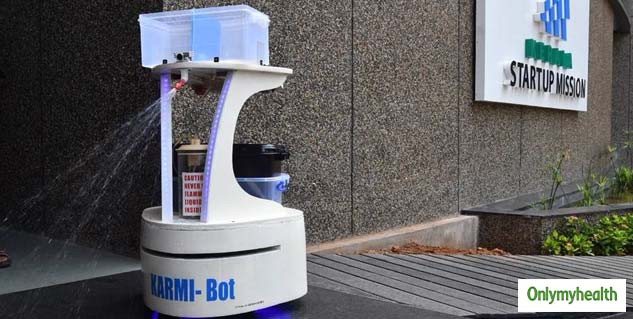 Answer: Healthcare industry is facing major challenges, including the immediate need of skilled professionals in contrast to the population, high probability of human error in diagnostic and therapeutic processes. Personal hygiene, social behaviour, environment hygiene, quarantine etc have become household terms. As humans have withdrawn into their homes, it is now coming to the forefront to support humans in performing mundane and repetitive and risky tasks and to maintain the new normal. However, with the advancement of robotics and supplementary technologies, solutions possible to address these issues in the form of telemedicine, medical logistics, predictive diagnostics, robotic surgery etc.
Tele-medicine: Along with the remote diagnosis, physicians can effectively utilize their time to be spent with multiple patients from multiple geographies. This will also enable a pool of experts from various locations to collectively address a problem and take decisions when it comes to a complicated issue. The various technologies used for telemedicine are IoT and wearables, Video Conferencing. In advanced telemedicine systems, Robotics, VR along with Haptics etc
Medical Logistics: Becoming important both in hospitals and for long-distance needs as well, there is a need to address the healthcare woes looming large in remote locations due to proper transport infrastructure. While inhouse logistics can be addressed by autonomous mobile platforms (AMR), medical drones provide real-time delivery of medical supplies. Crucial supplies like blood or organ transfers can be easily facilitated with cold chains, they ensure real-time delivery and lower medical wastages.
Predictive diagnosis using AI-ML: With the current advancement in AI-ML, it is now possible to identify the onset of such problems much earlier so that physicians/surgeons get enough time to act upon.
Robotic surgery: Robotic surgery also has the added advantage for the patient to reduce the size and number of incisions, a longer stay in hospitals, minimize collateral damage and reduced discomforts etc.
What role would robotics play in the post corona world?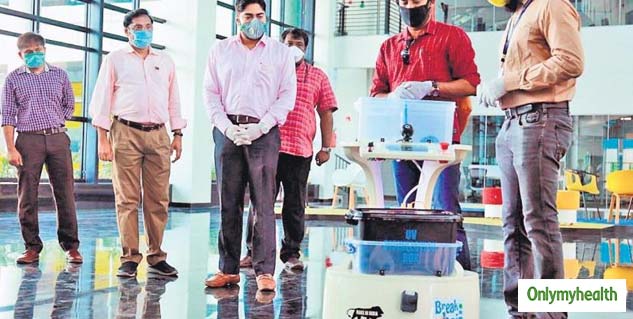 Answer: COVID impact has accelerated the adaption of these technologies to reduce the dependence on human beings and thereby to increase the efficiency along with the reduction of cost. While Covid-19, like many other viruses, may fade away due to an effective vaccine or otherwise, it is certainly not going to be the end or just one pandemic. Thus, embracing technology for a better tomorrow is the need of the hour. Apart from automating mundane and repetitive tasks, robots are going to take over the front-facing and assistive jobs shortly. Robots are closer to humans as a companion, making it likely to provide personalized services.
The indirect effect of the epidemic in social life- Robotics and AI for mental health
The old saying "Empty Mind is a devils workshop" is getting highly significant in these days of a pandemic since it has imposed lots of restrictions in our social life. Being a highly social being, isolation from social interactions introduces countless negative effects on our body and mind. Social distancing, quarantine and isolation introduced overnight will have a significant impact on our emotional well-being causing anxiety, fear, sadness and in individuals under these circumstances. Robots can provide companionship and support to non-critical patients under quarantine or isolation by engaging them. They can perform stress-relieving therapy by perceiving people and their environments through a wide array of sensors and customized AI ML-based responses and behaviour. Having a robot pet can not only support individuals to manage social isolation but also provide them with the benefits of social living. Additionally, it allows remote monitoring and surveillance of patients to provide immediate help when they are mentally distressed.
Read more articles on Miscellaneous