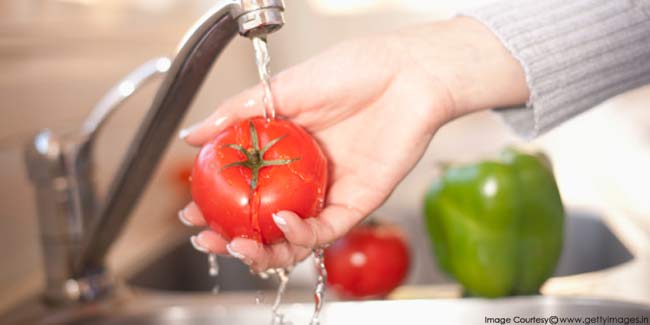 Fruits and vegetables should always be thoroughly washed before eating. The right way to wash fruits and vegetables should be followed to prevent food-borne illness. Washing reduces the bacteria which may be present on the fruit, which is very important as they have to be eaten raw. Although soaps and detergents are not recommended for washing fruits and vegetables, some cleansers are safe. They can reduce the oil-based residues such as pesticides and waxy preservatives which may not get washed away with water.

Right way to wash fruits and Vegetables
Always wash under potable, clean and running water.
Scrub the fruits and vegetables with a firm skin such as melons, and carrots properly. Use a vegetable brush to remove microbes.
Discard the outer leaves of leafy vegetables before washing. Wash under potable and clean water. Make sure all the dirt has been removed.
After washing, you must clean the produce with dry and clean towel. This removes any leftover bacteria.
You do not need to rewash packaged food which has 'ready to eat' or 'washed' written on it.
Once the produce has been cut, it should be refrigerated as soon as possible at 40 degree F or below.
Some fruits such as raspberries should not be soaked in water. They can be sprayed with distilled water.
Cauliflower, broccoli and lettuce should ideally be soaked in clean water for some time before use. This will help remove bacteria from all the nooks of the vegetable.
You must never purchase fruit or vegetable which has been cut.
Commercial rinses, which are also called fruit and vegetable washes are easily available. They are also safe and effective and can be used provided they are within your budget.
Hot or freezing cold water should be avoided while washing fruits and veggies.
After washing the fruit or vegetable, check that no dirt or any other residue is left out. Also, cut off any rotting spots which might be there.
If you are eating out, carry a spray bottle filled with distilled water and wash fruits before eating them.

The right way to wash fruits and vegetables is not difficult; it just requires a little effort and care. With a little care and knowledge, you can prevent scores of food related ailments from afflicting you and your family.