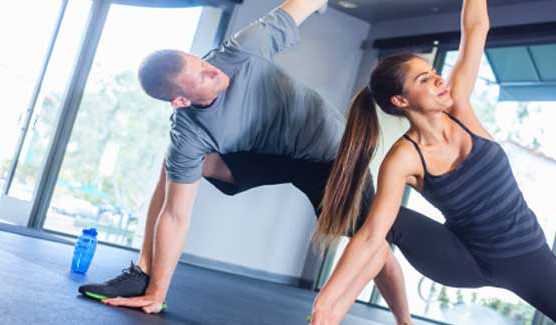 Joblessness just doesn't dismay our economy but it jeopardises our mental calm too. Unemployment rates keep fluctuating and don't take into account the number of people who stop working out of will or stop looking for jobs altogether. Whatever the reason is, an "unemployed" status is always stressful.

So here's the good news, if you are dealing with joblessness or some other trouble in your life which is the cause of your worry, you can do something to cope with it better. You can work out. Yes, life's blues can be cured with a healthy lifestyle that includes exercising, be it yoga, aerobics or cardio.

Exercising ensures wellness which in turn cultivates skill and attitude useful for job hunt and long-term success. Read for yourself how working out can help you improve your attitude and your job prospects.
Provides self-confidence
When you work out, your body, mind and spirit get strengthened. If you practise meditation, certainty about your inherent value gets established. When you can carry yourself around better and are self-assured, your prospective employers will be impressed and convinced.
Retains high energy levels
When you sweat it out during your yoga or cardio session, your body releases endorphins- the feel-good hormones. Endorphins boost your vitality and mood and help you relax. A relaxed mind keeps calm and engaged during job interviews. Even when you face enormous amounts of rejection, endorphins don't let your spirits turn sour.
Increases focus
Exercising, especially meditating with yoga teaches you to breathe properly. With proper breathing pattern, you tend to concentrate more on the task at hand plus on your life. A person looking around for employment must keep distractions out of his/her mind and stay focused on what needs to be done. Regular meditation builds perseverance so that you can invest undivided concentration on the job-seeking drag.
Makes you self-aware
When you know your strengths and weaknesses better, you gear yourself towards self-study and become more confident about who you are. This makes you identify areas that need improvement in you and you set out to put your best foot forward. When you are self-aware, you will make the strongest impression on the job market.
Builds stamina
You need both emotional endurance and mental strength to be a winner and employment is a big number game. You have to be in the game always to win it and rejection can lead the toughest of us to leave. For such hardships, you must brace yourself emotionally and mentally. Exercising regularly not only puts you physically in place but boosts your mental stamina too.
Helps reconstruct
If your daily life doesn't have a structure, you are stressed. Not knowing what to do with the time you have can make you frustrated and mess up all the productive opportunities. If you make it a point to exercise every morning, you will at least have a great start to your day. It will put you in a productive set of mind. You can then proceed with making work-related calls and research. With exercising, you will want to eat healthily and work your mind up by reading work-related books. You will realise how productive your day has been even before it has ended.
Maintains hormonal balance
Stress can induce hormonal imbalances in your body which become apparent in the form of depression, anxiety or weight gain. Our stressed bodies produce excessive cortisol and adrenaline which can slow our digestion, unnecessary hunger, and unhealthy eating habits. These "fight or flight" hormones need to be kept in control to achieve calm that is required for job hunting and interviews. It can be done through working out which busts stress and makes us calm.

Meditation exercises like yogic breathing provide clarity of mind and put you in the right frame of mind to make big decisions needed to pursue a job. When you don't know what to do in life, try meditating.

Image Source: Getty