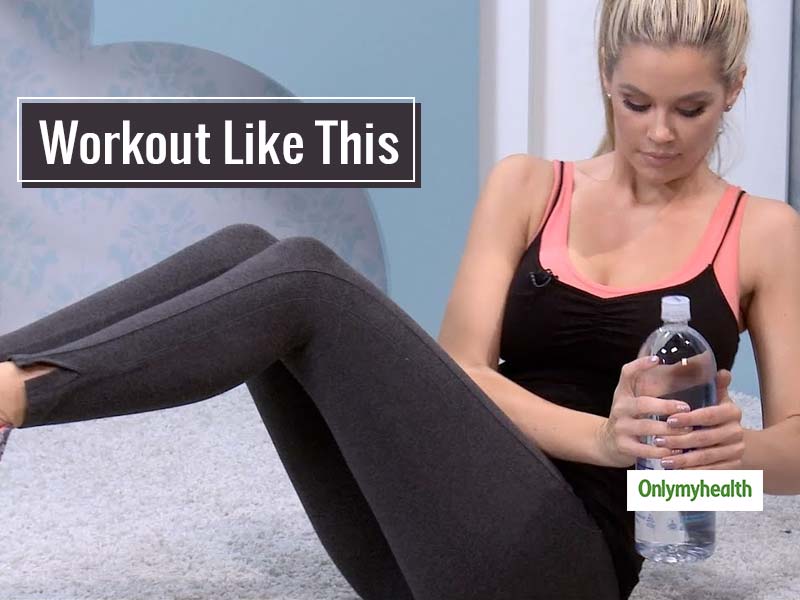 Who you need gym equipment to workout. Put your water cans, buckets and heavy bottles to good use with these simple workout hacks
Even though most of the places are opening up, even gyms in various cities, the safest is to be indoors and take care of our fitness needs. Also, we all know how home workouts have been a saviour for all of us to be in shape, despite sitting at home and eating lots and lots of food. Some may thing weight exercises can only happen with dumbbells and bands. But have you ever thought of using your household items for building your strength? If not, here we bring to you 5 strength-building workouts that you can perform at home with kitchen items: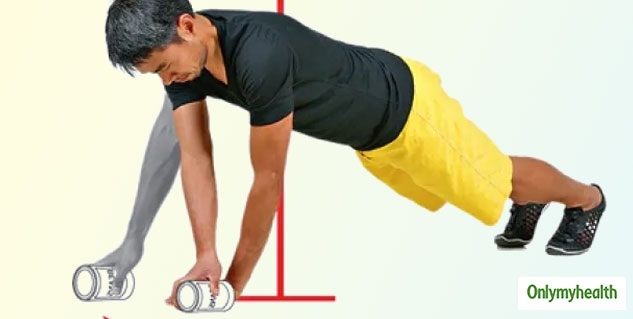 Bicep Curls With Cans
Cans are quite ideal for the beginners as they weight 1 or 2 pounds only, though it varies in size and content. Hold one can in each hand, you can use them to do bicep curls, hammer curls, overhead shoulder presses, and even triceps kickbacks. For bicep curls, keep your elbows close to your body And your shoulders back and chest up. Then curl the cans up to your chest slowly extend them back down to the starting position. Make sure you are only moving your forearms.
Also Read: Burpees For Core Strength: Health Benefits, Steps And Precautions While Doing Burpees
Squats And Lunges With Jugs of Water/ Bags of Apple or Potato
For heavyweights, you can use jug or gallon of water and milk. A gallon weighs 8.5 pounds. You can perform lower body exercises like squats and lunges holding one gallon or jug in each hand. Similar to the jugs of water, you can use bags of apple or potato for heavyweights. You can use it for the bicep curls and hammer curls too. The weight depends on how much article is there in the bag. You can also use it to add extra weight while squats or lunges when you don't have jugs of liquid. Make balance as any sudden move can lead to a muscle pull.
Some tips to lose thigh fat:
Core Exercises With A Backpack
For walking lunge, use a backpack. Squats improve our total-body strength, especially on the legs, glutes and core. For this exercise, grip your backpack horizontally across your chest as it aids in stabilising your core. Then take a step forward for your lunge position with your back knee lowering towards the ground without touching. Make sure your forward knee does not move past your toes. Navigate through your front foot and pull your back leg forward to standing—alternate sides as you continue to "walk" forward. Perform 10-20 reps. If you don't have enough area to walk forward while lunging, step forward into a lunge and then back to standing, alternating legs.
Arm And Shoulder Exercises With A Chair
A chair can be an excellent aid for performing our exercises. It should be sturdy enough to assist your weight. Do chair dips. It helps to strengthen your arms (triceps), shoulder girdle and core. For this, hold the front edge of the chair with your hands. Supporting your body with your arms, slowly walk your feet out in front, keeping your knees bent and your hips up. Bend your elbows to slowly lower your hips as far as is comfortable and then push back up to starting position. This is one rep. Do 5-10 reps.
Also Read: Here Are Some Simple Ways To Warm Up Before Exercise
Lower Ab Workout With A Scarf Or Belt
For lower ab workout, tie the two ends of a scarf together or buckling up a belt then roll it around your ankles and lie down with your back flat on the floor. Straighten up your legs and spread as much as the scarf or belt around your ankles will allow, then gradually lower your legs down and back up several times while trying to keep your lower back touching the floor -- similar to how you'd do it with a stability ball.
Read more articles on Exercise And Fitness