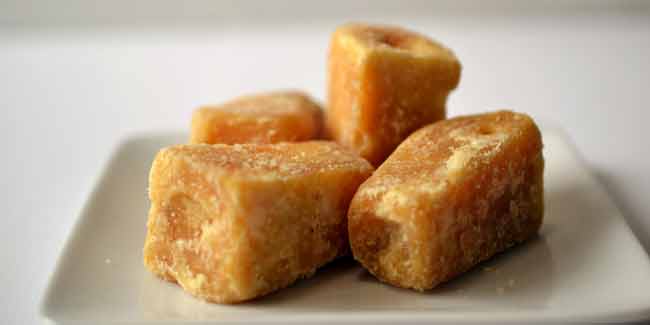 The repercussions of having a deficiency of iron in the body are not hidden from any. And, if you are a woman you are much more likely to suffer from anemia. There are other complications also. So, is there something that you could do about the deficiency? Well, yes and your answer is jaggery. This wonder food is so loaded with iron that once you start consuming it, your body will never become iron deficit again.


Jaggery has an effect on the production of the red blood cells. It is loaded with iron and its regular consumption can increase the quantity of iron in blood.
Jaggery: A Background
Before white sugar became a common sweetener, jaggery was the only sweetening agent. This unrefined sugar is not only sweet but it is also good for health and is inexpensive. It is the purest form of sugar and is prepared in iron vessels with fruit juices without any addition of synthetic chemicals. It is filled with minerals, vitamins and proteins which makes it a useful option to purify blood and regulate liver functioning.

Commonly known as 'gur' in India and 'panela' in rest of the world, jaggery is a useful remedy for iron deficiency anemia. When a person's hemoglobin level falls below 11.5g/dl in women and below 13.5g/dl in men, it is called anemia.
Jaggery Recipes to Reduce Iron Deficiency
Jaggery Chapati
Ingredients: Grated jaggery, milk, flour, salt to taste, ghee

Procedure: Take half a cup of milk and add three cups of grated jaggery and mix it by boiling on low heat. Cool it down and mix it with atta, 1/8th spoonful of baking soda, salt to taste and a little ghee. Prepare a smooth dough and add a little more milk. Roll into chapattis by applying little ghee over them.
Jaggery Rice
Ingredients: Jaggery, water, soaked rice, cloves and green cardamoms

Procedure: Take 4 cupfuls of water and bring it to a boil. Add 1 cupful of soaked rice, 2 cloves and 4 green cardamoms. Once the water starts boiling, simmer the heat till the rice is cooked. Drain the rice and add little ghee in a heavy based pan, add rice and mix well. Slow heat and mix jaggery and cover it. Cook it for 10 to 15 minutes and keep stirring for a couple of minutes.
The secret to fight iron deficiency is revealed. So, fight it now!
Image courtesy: Getty Images
Read more on Iron Deficiency.