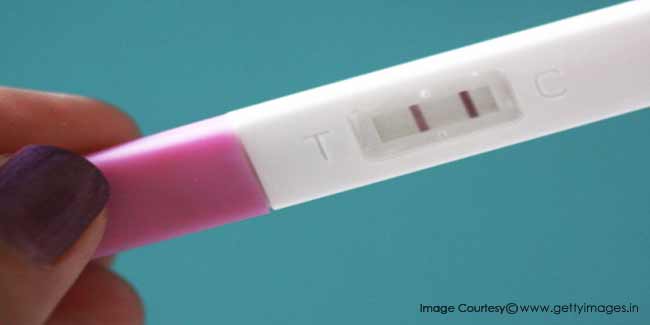 For accurate pregnancy confirmation, it is essential to thoroughly read the directions mentioned on the test kit label before performing it. Scan for steps.
Pregnancy tests are undertaken to confirm pregnancy and to determine the gestational age of the foetus.




Indicators of pregnancy are checked in the urine and blood of a woman suspecting pregnancy. To test a woman for conception, it is important to have her blood or urine sample for testing.



The indicator of pregnancy in the sample is the high density of human chorionic gonadotropin (HCG), a hormone produced when a woman is pregnant.



It is a reliable pregnancy indicator, but cannot be analysed until the egg has fertilised an ovum (implantation). There are two types of pregnancy tests namely, home pregnancy test kits, which require urine sample and blood test that cannot be done at home.



Pregnancy test kits are easily available over-the-counter. Pregnancy test kits or home pregnancy test kits are considered as one of the convenient and easiest methods to detect pregnancy at the earliest stage. Home pregnancy test kits are cheaper than blood test and can be used just after 2-3 days of a missed period. Pregnancy test kits determine the level of HCG in urine to confirm conception, but are usually followed by blood test as their reliability has always remained questionable.
How Pregnancy Test Kit works?

Try to perform the test first thing in the morning for optimal results, though this is not mandatory.
Pregnancy tests are usually stored in the refrigerator. So, make sure you bring the test kit to room temperature before you use it.

Collect urine in a clean, dry glass or plastic container. Ensure that there is no detergent residue in the container.

Take out the pregcolor card (see image below) and place it on a flat surface.

Draw out a little urine with a dropper (provided with the kit) and put just two drops in the circular test well that is usually marked 'S'. Do not spill urine on the reading strip.

Wait for three to five minutes (depending on manufacturer's instructions) and then read the test results. Trying to read the results before the stipulated time or waiting too long, can both lead to inaccurate readings.
Result of the test


Look at the regions marked 'C' and 'T' on the test card. 'C' indicates a control. This band must always appear because this is the comparison band. 'T' indicates the test sample.
If only one pink/purple band appear, in the region marked 'C', it means that the test is negative for pregnancy.
If two pink/purple bands appear, one in the region marked 'C' and the other in the region marked 'T', it means that the test is positive for pregnancy
In case no bands appear, then the test is invalid. Repeat the test with a new pack of pregcolor cards after 72 hours.
If the line formed in region 'T' is faint, this could be due to low levels of hCG hormone. In case of a faint band, repeat the test with a new pack of pregcolor cards after 72 hours.

Accuracy of Home Pregnancy Test Kits

Usually, doctors advise to confirm the result of home pregnancy test with a blood test because other than pregnancy, there are certain health conditions such as breast cancer, yeast infection etc that can also increase the HCG level. A quantitative blood test or beta HCG test can detect even the minimum HCG level.
Read more articles on Pregnancy Test.