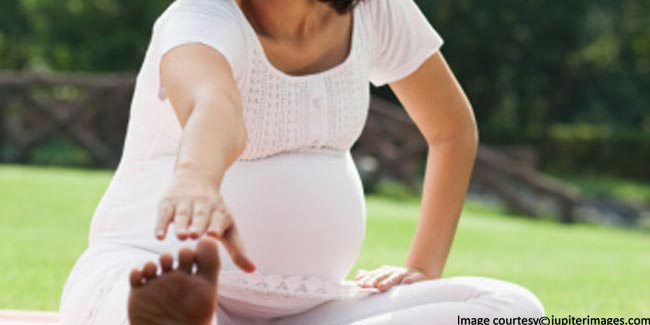 Exercise during third trimester of pregnancy is important. It gives a boost of energy to your body which is under great strain and leads to not only relief from aches and pains but also brings a positive frame of mind. One of the benefits of exercises during pregnancy in its third trimester is that it is easier for you to maintain the right posture for bearing the additional weight of the growing baby. It also helps to cope with pains in the back, shoulder and legs.
Third trimester may seem like too vulnerable a stage for some to associate with words like exercise. This is because the first impression one gets from it is that of strenuous physical exertion. Third trimester exercises are actually essential for maintaining pregnancy fitness but can be fruitful only when practiced with necessary precautions.
Exercise Tips for Third Trimester Pregnancy
Half Butterfly Pose (Ardh Titli Asan) – Keep your legs outstretched. Fold your right knee inwards towards the left thigh. Place your right foot as far up as possible on the left thigh. Hold your left toes with the left hand. Breathe in and move the right knee towards the chest. When breathing out, keep pushing the knee and touch the floor. Use your right arm for movement towards the chest and especially for the downwards movement of touching the ground with it. Repeat this process 10 times and then reverse it and use other set of legs.
Sleeping Abdominal Stretch Pose (Supta UdarakarshanAsan) –Lie with your back. Interlock fingers of both your hands and keep them at the back of your head. Bend your knees while keeping the soles of your feet on the floor. Now, breathe out and try touching the knees to the floor by lowering your legs to the right. This need to be synchronised with the movement of head towards the left and imparting a uniform twist to the spine. Repeat the process with head towards right and legs towards left.
Walking for 20 minutes daily or 30 minutes thrice a week is also a good third trimester pregnancy exercise.
Take the advice of your doctor before trying any exercises.
Third trimester is not the time for exercises that put a strain on your back.
Drink plenty of water before, during and after the exercises to keep dehydration at bay.
You lose your energy after exercise a lot more during pregnancy and more so at this stage. Make sure that your body is replenished with a nutritious meal after the exercise is over.
Be conscious of any discomfort or niggling injuries due to any of the activities. You don't want to get hurt or cause any damage to your baby after exercising.

Third Trimester Exercise is essential because it has a very positive effect on the expecting mother and the growing baby, if undertaken with due care.
Read more articles on Pregnancy Exercises