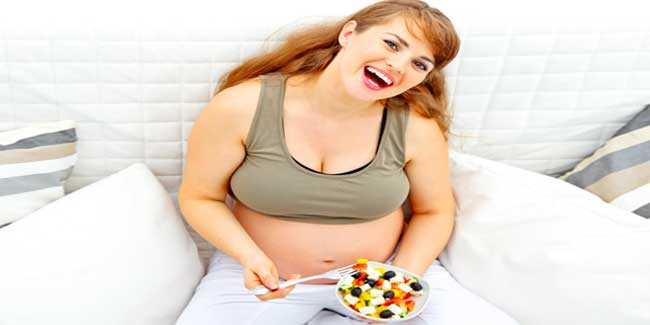 It is important to note that even overweight pregnant women need to gain weight but by having nutritious foods and avoiding foods that increase unhealthy calories.
Women should gain weight during pregnancy but only as much as the baby's weight and the surrounding fluid. Overweight women are advised to gain less than the slimmer ones. Despite the lesser weight gain advised, pregnancy diet for overweight women need to provide the additional nourishment needed for their body and baby. Following a diet plan becomes very important under this circumstance.
Pregnant women gain weight because of increased blood supply, baby weight, amniotic fluid, stored fat for breastfeeding and delivery and some other factors. What you need to watch out for is that the weight gain should not be due to piling up of unhealthy calories. By eating healthy food, even overweight women can actually shed unhealthy fat and gain weight for the purposes of their baby's growth and delivery.
Pregnancy diet for Overweight Women
Overweight women need not go on a diet for keeping their weight normal. Instead, they should include nutrient rich and low calorie foods in their diet. They should have snacks throughout the day consisting of low calorie healthy foods and reach the recommended daily caloric intake.
Diet Plan for overweight pregnant woman should include –
Milk Products Low in fat like low toned milk and low fat yogurt.
Homemade food to avoid infection from germs and bacteria.
As much non-salty food as possible such as low fat unsalted butter.
Roasted or baked food instead of unhealthy fried foods.
Salad with as much green leafy vegetables and fruits.
Plenty of water to keep you body hydrated all the time.
Healthy cereals which are brown such as whole wheat, brown bread and brown rice.
Spicy food like capers is ok for overweight pregnant woman as it increases the metabolic rate.
Overweight women should not only have a diet plan but also suitable workout schedule. Quick walks and swimming are advisable but only after recommendation from your doctor. Overweight people become so because of unrestrained craving and in the case of pregnant woman, the craving only increases in their condition. Following a pregnancy diet plan will need some sacrifice by the overweight women for the sake of the baby.
Read more articles on Pregnancy Diet