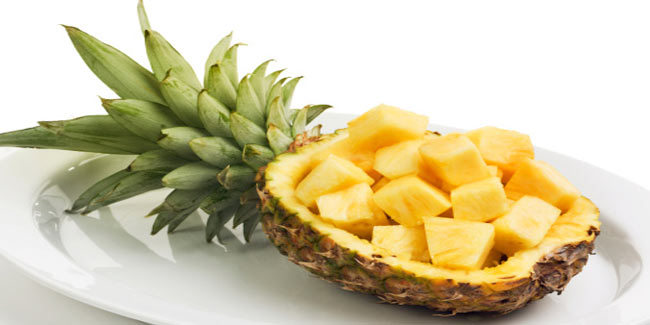 Pineapple during pregnancy is highly unlikely to cause any problems. However, make sure you know the important facts about eating pineapple while pregnant.
Healthful foods are important for a healthy lifestyle at any time, but particularly important when you're pregnant or planning a pregnancy. There are also some foods that must be avoided during pregnancy. So, can pregnant women eat pineapple (anannas)? Can it affect you in any manner when you're expecting or harm your baby?
It takes a careful planning to ensure that you're getting all the nutrients you need to carry your baby to term. Nutrition is very important as the embryo goes through rapid growth during the early days and weeks after conception. Pineapple during pregnancy is highly unlikely to cause any problems; however, make sure you know the important facts about eating pineapple while pregnant.
Can eating pineapple during pregnancy cause miscarriage?



Perhaps you've heard that pineapple during pregnancy can lead to miscarriage but there is no truth to it. The pineapple-pregnancy myth is based on the presence of a compound in the fruit called bromelain which is known to break down proteins. And because an embryo is made up of proteins, it is believed that consuming bromelain can lead to bleeding and miscarriage. Eating a reasonable amount of fresh pineapple is very unlikely to cause miscarriage.
Is it safe to eat pineapple during early pregnancy?



Pineapple during pregnancy is not likely to harm the development of baby, but you should always talk to your doctor making any addition to your pregnancy diet. According to the book "What to Eat When You're Pregnant", you would have to eat between seven and 10 whole pineapples at one time to consume enough bromelain to create a problem. If still worry about pineapple affecting your pregnancy, opt for canned pineapple or pineapple juice as the process of canning and bottling removes most of the bromelain.
What does pineapple offer to those who are expecting?



Many would-be mothers exclude pineapples from their diets, falling to the common belief that it can lead to pregnancy problems such as miscarriage and premature labour. Many studies have concluded that it is safe to eat pineapple during pregnancy.
Pineapple is a nutrient-rich fruit, with less of saturated fat and fibre that keeps away constipation (a common complaint reported during pregnancy). The following are the benefits of eating pineapple when you're pregnant.
The fruit contains vitamin B1 which helps keep nervous system and heart healthy.
Owing to the presence of vitamin B6, pineapple can help with anaemia and provides relief from morning sickness.
The presence of vitamin C strengthens the immune system and keeps away infections.Pineapple provides manganese to ensure healthy bones.

Keep in mind that a major portion of calories in pineapples come from sugars. Therefore, you must eat the fruit in moderation, especially if you have gestational diabetes.
Read more articles on Pregnancy Diet.