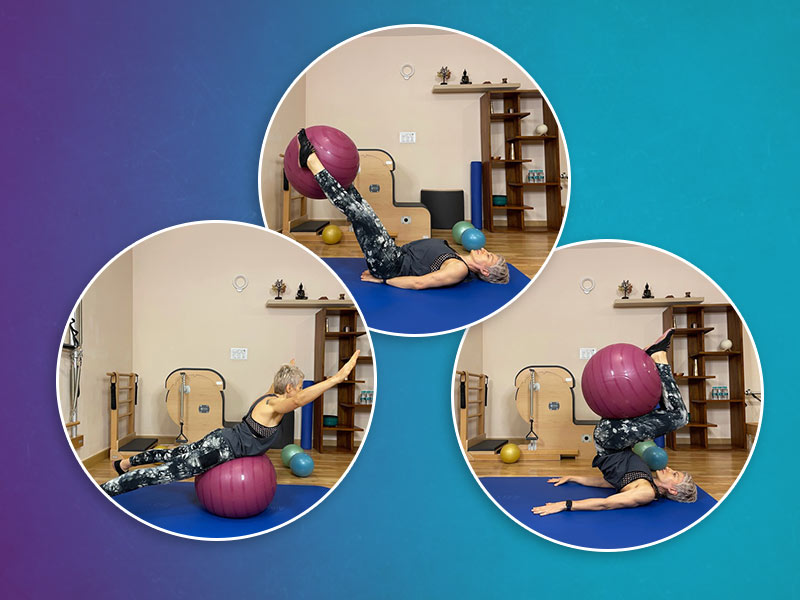 Developed by Joseph pilates, it is a form of exercise that helps in strength training, increasing flexibility and improving posture. It is safe to do pilates exercises for children, adults and both men and women. Using this stability ball, also known as the Swiss or physio ball, can help in taking your exercise session to the next level. This equipment is an inflatable ball that comes in different sizes ranging from 45–85 cm in diameter. It is budget friendly, can be deflated and you can even sit on it instead of a chair. Using a prop while exercising keeps us your interest and adds more effort to your workout. Onlymyhealth editorial team spoke to Fitness and Pilates Expert Vesna Jacob to know about the pilates exercises that one can do using a pilates ball.
Benefits of using pilates ball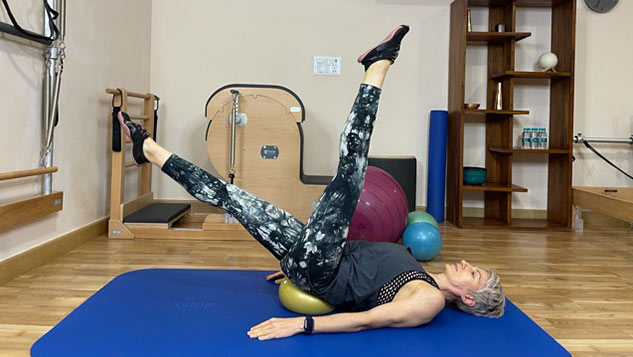 Pilates is a powerful exercise that if done with useful equipments can be even more beneficial. The squishy sphere can be used to add challenge and entertainment in your daily workout schedule. From relaxing and stretching to strengthening your core, even using a small pilates ball has many advantages. Here are the main benefits of using pilates ball:
Adds challenge, fun and variety
Increases core strength
Keeps you focused
More resistance and range of motion
Pilates exercises with pilates ball
The ball makes you challenge your core strength and helps in building muscle power. This exercise ball can be easily found in a sports equipment shop and on stores online. Here are 3 pilates exercises that you can do using a pilates ball:
1. Deep core over ball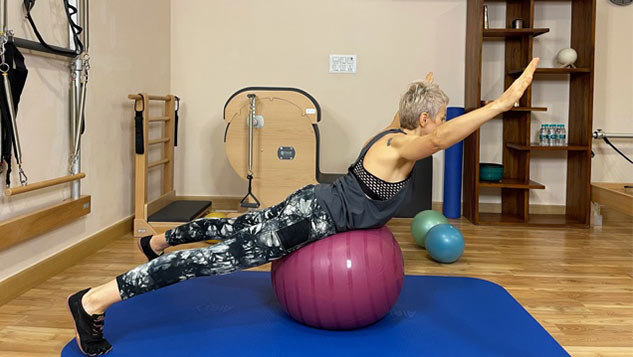 As the name suggests, this exercise is good for your core strength and its supportive muscles. Do not overdo yourself as it can end up in an injury. You can start with this basic exercise while doing pilates with a ball. Lay down on a mat with your face facing upwards. Then, gently lift your hips and place a small pilates ball under it. Balance your pelvis and keep the ball steady. Lift both your legs. Start inhaling and putting one leg down with the other still in air. Exhale while bringing it back up. Do the same with your other leg.
2. Breathing over ball stretch
Breathing over ball is a deep relaxation stretch using the swiss ball. You have to focus on your breath and stretching the body as much as possible. Place the ball under your stomach and lie down on the mat with face facing downwards. Lean your body while being in close contact with the floor and ball. Keep breathing deeply until you feel that your back is straight and flexed.
Also read: Reformer Pilates Body Transformation: Know Why This Workout Is Popular Among Professional Athletes
3. Swan dive on the ball
Swab dive on the ball is a beginner exercise which mostly targets your hip and back area. Start with your hips and stomach on the top of the ball, with your face facing downwards. And, your feet should be wide apart. Touch the floor with your hands in front of the ball. Inhale to stretch your neck and body up to a straight line and then extend your back a little. Exhale to move your body forward, bending your elbows. Keep doing this for 5-8 reps, and then release your body on the ball to relax your back.
These were the benefits and pilates exercises that you can do using a pilates or swiss ball. It is available in many sizes depending on the type of exercise. You can stop if you start experiencing any kind of pain while using the swiss ball for exercising. To avoid any injuries, you should work out with equipments under the guidance of a professional.
Read more articles on Exercise and fitness