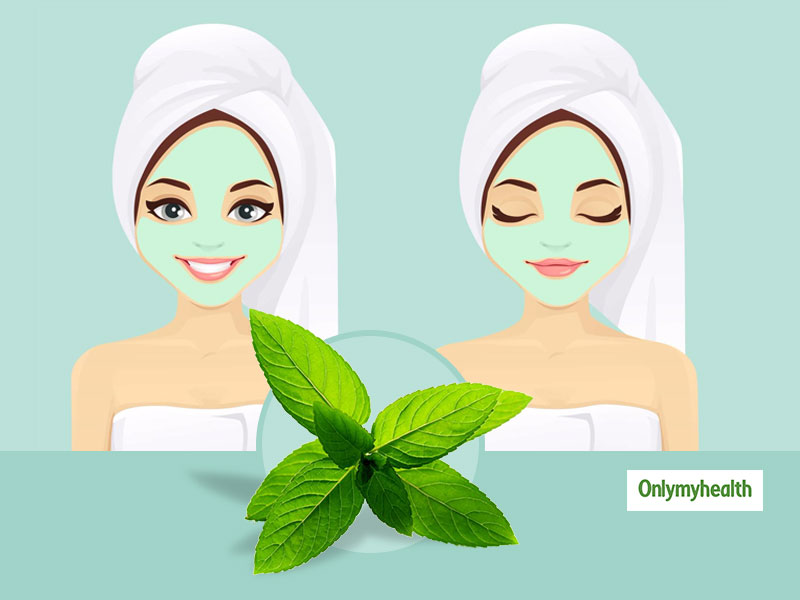 Do you know that peppermint is known as a medicinal herb? It is not only limited to skincare but also used in a variety of products. You can see that many cleansers, shampoos, astringents, toners, etc., have that peppermint factor in them, its because peppermint has a wide range of advantages. Peppermint has antiseptic, anti-microbial, and anti-bacterial properties and hence is excellent to treat acne and inflammatory condition (in particular skin diseases). It gives a cooling effect on the skin and calms irritated skin. Peppermint is rich in vitamin A and can treat, heal, and combat acne condition. Since it takes care of a lot of skin issues, it is reasonable that we make use of its properties by using it in face packs.
Here are some face pack recipes made from peppermint
Peppermint Face Pack for Dry and Itchy Skin: Menthol is present in peppermint as an active ingredient that has anti-inflammatory properties. Due to this, using this face pack made of peppermint, it helps in reducing the symptoms like skin dryness and itching.
Ingredients to make the peppermint face pack
4-5 handful fresh green leaves of peppermint
½ litre of water
Towel to wipe
Method to make the peppermint face pack: Boil peppermint leaves in half a litre of water for about 20 minutes, then let this water cool down. Moisten the cotton cloth in this mixture and spread it on your face. Keep this cloth on your face for about 2 to 3 minutes. Then squeeze the towel and soak it again in this water. This way, you repeat this process 3-4 times. To get good results, this remedy can be done 1-2 times daily.
Also Read: Learn To Make Garlic Oil and its Health Benefits
Peppermint and Rose Water Face Pack: One of the best skincare products is rose water. This helps take proper care of the skin pores and hydrating the skin. But together with peppermint, it also helps in controlling pimples.
Ingredients for making peppermint and rose water face packs
One tablespoon rose water
Two tablespoons honey
10-15 fresh peppermint leaves
How to make rose water and peppermint face pack? It takes about 20 minutes to make this face pack. To get a thick face pack, mix all these ingredients and make a paste with the help of a blender. Apply this mixture evenly on your face. After about 20 minutes you wash your face with cold water. It is suitable for you to use this face pack for 1 to 2 weeks.
Also Read: What Is Hormonal Acne And How It Can Be Cured
Peppermint and Yogurt Face Pack for Dry Skin: Curd hydrates your skin while the Multani mitti thickens this mixture. Also, Multani soil nourishes the skin with its mineral substances. This face pack helps in keeping your skin soft and hydrated.
Ingredients for peppermint and Yogurt Face Pack
For this face pack, you will need
2 tablespoon yoghurt
One tablespoon Multani Mitti
10-12 green peppermint leaves
It takes only five minutes to prepare this face pack.
Method of applying peppermint and Curd Face Pack: Make a paste by grinding peppermint leaves and then mix the ingredients mentioned above in it well. Then apply this blend on your face evenly as you use other face packs. After about 20 minutes of applying face pack on the face, wash your face with cold water.
Mint Water As A Toner: Peppermint is one of the best options as a cleanser for skin. Its astringent properties and salicylic acid content control pimples as well as help in removing dead cells in the skin efficiently.
Ingredients for making mint water
1 cup of water
Two handfuls of fresh mint leaves
One cotton pad moisturizer
It takes about 5 minutes to make it: Boil mint leaves in the whole bowl of water for about 20 minutes. After this, cool the water and filter it again. Wash your face with regular water and then apply this mixture on your face with the help of cotton. You can also use this mint water for seven days. Therefore, it can be stored in the refrigerator.
Read More Articles in Skin Care