The calorie intake of each person varies with age, gender, height, weight and physical activity. Women generally need fewer calories than men as the body makeup is different. Men have more muscle mass, are taller and weigh more than women hence, an increased need for calories.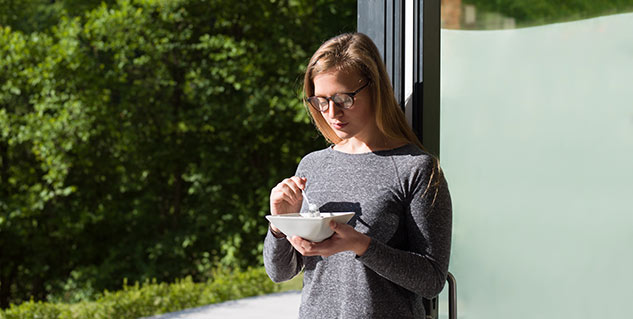 Nutritional Requirements for Women
Women have specific nutritional requirements which are important especially during significant times such as pregnancy and menopause.
A diet for women should be rich in calcium and vitamin D to reduce her risk of osteoporosis and boost good bone health.

A woman needs around 1000 to 1200 mg of calcium every day

Deficiency of iron can result in anemia which can hamper immunity and general health. Women are prone to iron deficiency due to loss of blood during monthly menstrual cycles

Menopausal women are at a greater risk of cholesterol, high blood pressure and heart ailments which needs the 'right' kind of fat which is omega-3 fatty acids. It promotes good cholesterol while also working as an anticoagulant which means it prevents clotting of blood

Protein is important for energy, growth and repair but excess of protein leads to loss of calcium in the urine; women need to balance their intake of protein

Women should have sufficient intake of fiber from natural sources rather than its supplements, fiber is good for digestive as well as heart health
Women who are athletes or are in physically demanding jobs need to have higher calorie intake with increased intake of proteins for retaining and building lean body mass.
Dietary Requirements for Ageing Women
As you age, your metabolism rate slows down as well as physical activity reduces, therefore your calorie intake should appropriately reduce unless you are physically very active. Even if a woman is ageing, it is important to maintain a good intake of proteins, vitamins and minerals to prevent age related degenerations such as loss of bone density, eyesight problems, loss of lean body mass and for overall good health.
To prevent inflammation and oxidative damage it is important to stock up on sources of antioxidants found in certain fruits and vegetables.
The same diet as during your adulthood will not work anymore and would need to be tailored as per your age and physical activity.
At least five or more servings of variety of fruits and vegetables: Colourful and variety of fruits and vegetables are storehouses of essential vitamins, minerals and not to forget antioxidants. They will help in slowing down the body's oxidation process and will delay ageing while reducing risks of degenerative diseases
Add as many colours as you can as it means more vitamins and better nutrition
Opt for steamed vegetables rather than fried preparations
Fruits and vegetables contain plenty of phytochemicals that boost good health
Having fruits rich in vitamin C such as citrus fruits and tomatoes reduce your risk of coronary heart disease
At least two to three servings of calcium sources: Calcium sources such as milk (you may opt for toned milk), cheese and yogurt as osteoporosis is a looming health risk for women. Insufficient intake of calcium can prove detrimental to bone health
Image source: Shutterstock