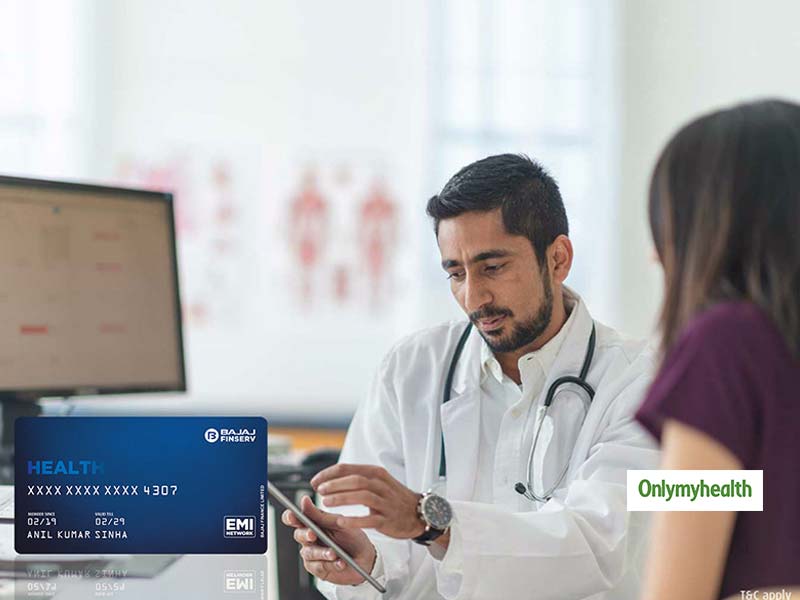 Medical bills is a major concern for many. Here is how a good medical plan can put an end to all of your worries
Healthcare inflation in India rose at double the rate of retail inflation in 2018-2019, as per an India Today report. It is no wonder that today availing treatment for any illness is a costly affair. In some cases, meeting health-related expenses is not possible without additional finances. Now, with hassle-free financing options such as the Bajaj Finserv Digital Health EMI Network Card, you can access a pre-approved limit of up to Rs.4 lakh to avail 800+ medical treatments across 5500+ popular medical institutes across 1000+ cities in India.
This health card is convenient to use, easy to avail, and provides access to much-needed healthcare on No Cost EMIs so you have one less thing to worry about when it comes to healthcare and finances. Here are the features of the Bajaj Finserv Digital Health EMI Network Card.
Pre-approved limit of up to Rs.4 lakh
Given the fact that availing medical treatment in India is expensive, you may not always have the required funding on hand. This is especially the case when addressing critical medical conditions like cancer or heart surgery, where the cost for treatment is usually in lakhs.
Instead of burning through your savings, you can opt for the Digital Health EMI Network Card and avail a pre-approved limit of up to Rs.4 lakh to pay medical bills on No Cost EMI affordably. This limit is 4 times the limit on your EMI Network Card, thereby ensuring that healthcare finance is available right at your fingertips.
Fully digital card with instant activation
In some cases, medical costs arise due to an emergency and to tackle these effectively, you need instant funding. The Health EMI Network Card is equipped to handle such needs since you can get instant activation with 0 documents if you are an existing Bajaj Finserv customer. To enjoy this benefit, follow this easy 4-step process.
Step 1: Apply for the health card online
Step 2: Verify yourself by entering your registered mobile number
Step 3: Check the pre-approved offer available to you
Step 4: Pay an affordable one-time joining fee of Rs.707
If you aren't yet a Bajaj Finserv customer, you can access No Cost EMI financing at any partner clinic, hospital, medical centre, or store nearest to you.
No Cost EMIs for a wide range of treatments at top healthcare partners
Once you get the fully digital card, you can use the pre-approved limit to pay for 800+ treatments across a network of 5,500+ healthcare partners in India. In fact, you and your family can get treated in over 1,000 cities hassle-free and pay bills easily in No Cost EMIs.
Here is a glimpse of some of the treatments you can avail using the health card:
Diagnostic care
Oncology treatments
Hair transplantation
Hearing aids equipment
Bariatric surgery
Cardiac surgery
ENT treatments
Pulmonology
Urology treatments
Ophthalmology treatments
Slimming treatments
Dental care
Flexible tenor for easy repayment
When you use a portion of the pre-approved limit on the card to pay for treatment, you can choose the tenor over which you wish to repay the cost of your treatment(s). Bajaj Finserv offers a flexible tenor of 3 to 24 months. Rather than making an up-front payment and burdening your income or savings, you can split your medical bills over time and pay in instalments.
Special offers on medical treatments
With the Bajaj Finserv Digital Health EMI Network Card, you also have access to a variety of special offers at partner healthcare institutions. These can be accessed through the Bajaj Finserv Wallet App and you can save big on your medical bills. Some of the current offers you can enjoy are: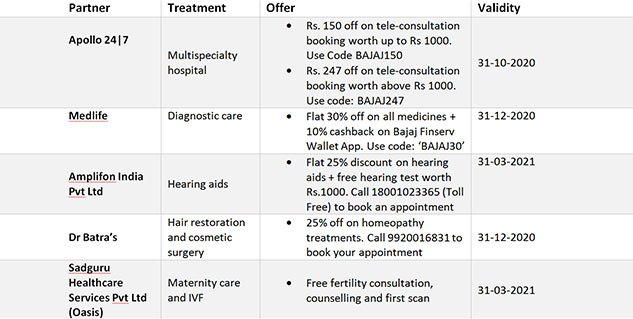 Offering a smart way to meet medical bills, the Bajaj Finserv Digital Health EMI Card is a must-have. Get it now to get instant access to healthcare finance whenever you need to avail medical treatments/services in India.
Read more articles on Miscellaneous