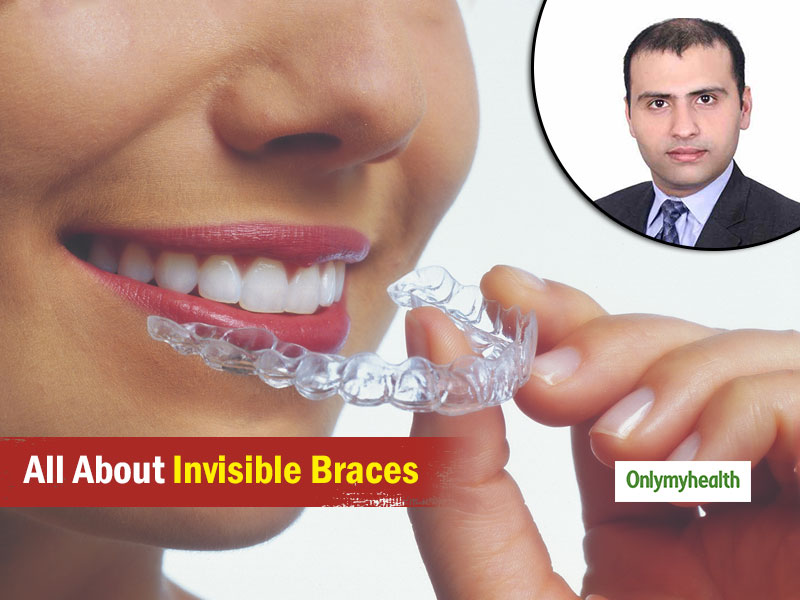 Invisible braces are the latest technology in the field of orthodontics. It is ideal for those who want to straighten their teeth, but are conscious of their look. Most people, even teenagers, don't want to have wires visible on their teeth. Use of invisible braces straightens crooked teeth without any use of metal, ceramic, wire or lingual brackets. These braces work like traditional methods and correct irregular or protruding teeth. Onlymyhealth spoke to Dr Swapnil Gupta, Orthodontist from ODS Aligners explains everything about the concept of invisible braces and why it should be opted over the conventional ones.
Talking about the invisible braces, Dr Swapnil Gupta said, " Invisible braces are removable appliances, which are also known as clear aligners. These invisible braces and aligners are made of thermoplastic material trays and are worn systematically."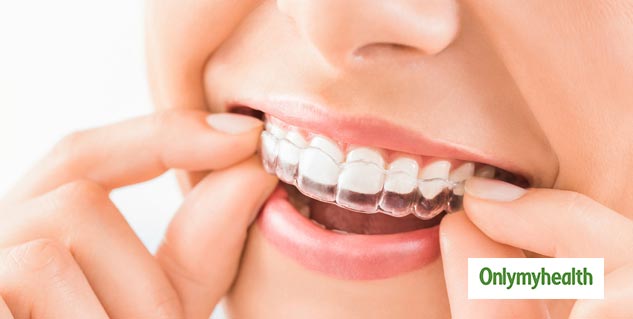 These Over Conventional Braces
Invisible aligners are such that they can be removed. Invisible braces can correct crooked teeth without compromising on your confidence or smile. Invisible braces can correct a variety of dental issues including crowded teeth, spacing, overbites, underbites and crossbites. However, this is not the best option for patients with rotocyte or forearm teeth. One should be in a proper habit of keeping these on for a minimum of 22 hours a day. Before anything, those who wish to get aligners done should keep these pointers in mind:
Get impressions done for invisible aligners for accurate imaging of your teeth. If not done correctly, these aligners can be of no use in treating the problem.
Moulding does take a little time and should be done correctly. The dentist can use X-rays or 3-D imaging for proper imaging of the teeth.
Also Read: 5 Oral Care Tips to Strengthen Tooth Enamel
The essential characteristic of this brace type are as follows:
Invisible: These braces are clear in colour
Removable: The best part, these braces can be easily removed
Not dietary restrictions: There are no restrictions when it comes to food with invisible braces
Lesser number of dental visit: This brace type requires lesser dentist visits over the conventional ones
Improve smile and lifestyle: As it is invisible, these braces only enhance the personality of an individual
Easy to clean the appliance: You have to take it off and clean it with a solution given by the dentist
With these aligners, multiple cases can be treated, including spacing, crooked teeth, forwardly placed teeth, and many more. Dr Gupta adds, Unlike traditional metal braces, Invisalign braces are made from transparent plastic, and they do not have any wires, elastics, and brackets. This is the significant difference between the traditional braces and Invisalign. However, both are designed to straighten misaligned or crooked teeth. Invisalign are removable."
Precautions with Aligners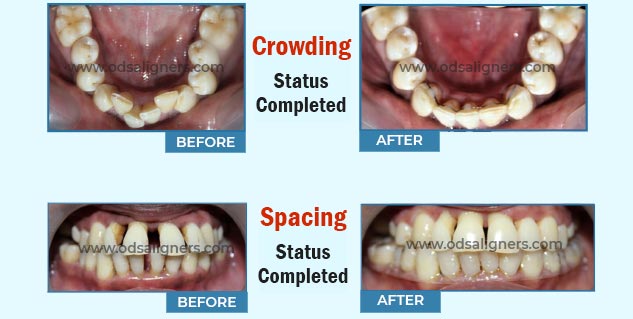 Special care needs to be taken to maintain these invisible aligners by taking these simple measures:
These aligners are removable and should be worn properly. In case of any discomfort, one should consult their dentist at the earliest.
One should go through the proper procedure of IPR and attachments for correcting the crooked teeth
Consult the dentist for an appropriate appliance of cleaning to keep the invisible aligners free of stain and dirt
While eating, do not forget to remove these aligners. These aligners should also be removed while taking any hot beverage.
Never rinse these aligners with hot water.
Treatment length
Treatment time with invisible teeth aligners is based on how much the teeth need to be moved or rotated. "The more your bite is off or the more crooked your teeth, the longer it will take. Treatment usually takes between 10 and 24 months. But if you're an adult who had braces as a child, and your teeth shifted slightly over the years, you may need invisible teeth aligners for as little as ten weeks," explains Dr Gupta.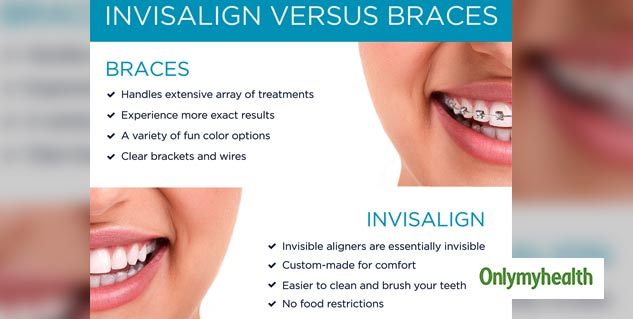 Also Read: Know how to take care of your Sensitive Teeth
Care For Your Aligners This Way...
1) Rinse after removing: Every time you remove your aligners, rinse it with cold water to remove the dried or accumulated saliva from it. These aligners, if not cleaned regularly, can have permanent stains of saliva.
2) Keep hot water away: Never put these aligners in hot water or even in a washing machine. High heat and intensity can harm your aligners easily.
3) Brush every time before wearing aligners: Always remember to brush and floss thoroughly before wearing these aligners after meals. If there are any food particles stuck in between your teeth, it can leave a permanent stain on the aligners.
4) Keep toothpaste away from aligners: If you thought you could clean your aligners with toothpaste then think twice. Only use soapy water to keep your aligners clean. Toothpaste can lead to scratches on the aligners. If you have scratched aligners, it will be easily visible that you are wearing braces.
5) Use mouthwash wisely: Never use any coloured mouthwash to clean your aligners as it can lead to discolouration of aligners. The best way to clean retainers is to wash them with a solution given by the dentist. If you don't have any, use soapy water to clean them.
With inputs from Dr Swapnil Gupta, Orthodontist from ODS Aligners
Read more articles on Other Diseases