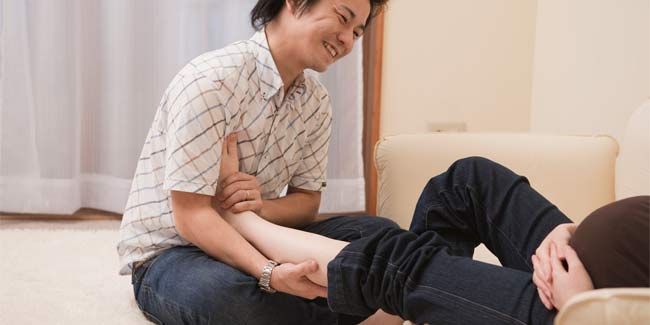 Restless leg syndrome is an issue that pregnant women may face, this jerk or twitch of the legs can be a problem. Here are some natural remedies for it.
Do you feel this uncontrollable urge to move your legs so as to relieve crawling, tingling, or burning sensations? This very uncomfortable ordeal could be the reason for restless legs syndrome.
Morning sickness, heartburn and nausea aren't the only problems that you may face when you are pregnant. There is this issue with your legs that need to be taken care of, and it is known as restless legs syndrome. In this situation your legs will tend to twitch or jerk and may experience the sensation of something squirming or wiggling under their skin. This syndrome could then lead to other problems such as anxiety and depression.
Intake of Iron
A pregnant woman requires 3-4 times more iron and about 8-10 times more folate in order to nourish the developing fetus.
Those pregnant with restless legs syndrome have been found to have decreased iron stores in their cerebrospinal fluid and they were also deficient in folate. Folate is a B vitamin that helps to produce healthy red blood cells. You could correct the iron and folate deficiencies by taking supplements, or by eating food that are rich in them. Foods rich in them are grains and legumes, fruits, spinach, asparagus and so on.

Moderate Caffeine Consumption
Coffee, tea, chocolate, sodas or even over the counter medications do contain caffeine. You must try your best to cut down on the consumption of caffeine containing foods and medications, your condition could improve if you take this step. Also, you should avoid tobacco as it contains stimulant nicotine and alcohol as it has its own effects on sleep.

Vitamin Intake
Vitamins could help reduce the symptoms of Restless Leg Syndrome during pregnancy; you are recommended 1,200 mg of calcium and 350 mg of magnesium on a regular basis. Magnesium helps to build and repair the tissue and also prevents the uterus from contracting prematurely during one's pregnancy.

Foetus also needs calcium so as to build strong bones and teeth, a healthy heart, nerves and muscles; above all it is required to develop a normal heart rhythm and the ability to clot blood. Not having enough calcium in your diet would mean that you baby will draw it from the bones and thus this could put you at the risk of osteopenia, which means weakened bones.

De-Stress
Learn to de-stress yourself as stress could exacerbate restless legs syndrome though it may not really be the cause for the same. You could eliminate your stress by doing regular exercise and relax by doing yoga, meditation or visualization. Alternatively, you could even engage in a hobby or learn something new in order to help you de-stress.

Exercise
The main motive is to get out of bed and move around, therefore you must do moderate exercises only, as excessive exercises could aggravate your symptoms of restless leg syndrome. Just a daily walk at a moderate pace would be a nice choice for them who haven't had a very active lifestyle.


Read more articles on Problems in Pregnancy