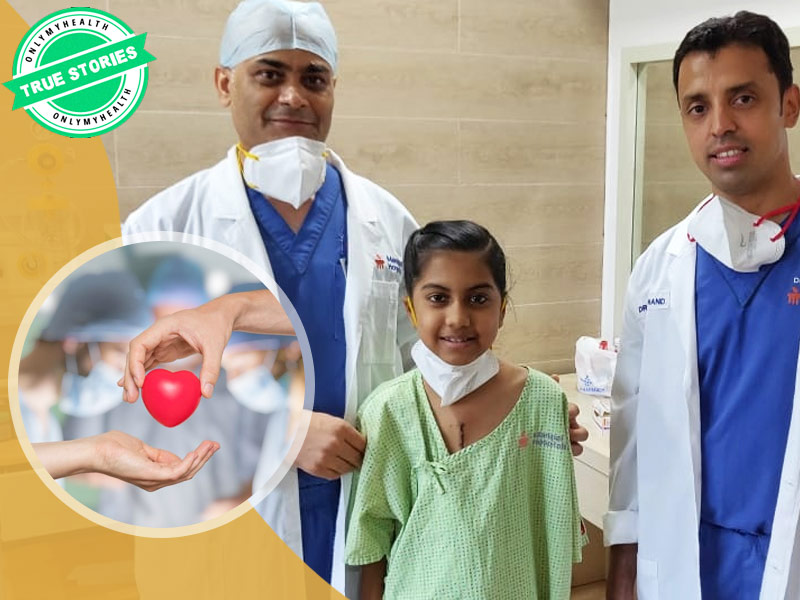 This is a story of an 11-year-old girl who was diagnosed with dilated cardiomyopathy at 5 years of age. Dilated cardiomyopathy is a life-threatening condition where the heart enlarges and is unable to pump blood effectively. She had undergone a heart valve repair surgery 5 years back for the same and was being managed with medications. But her condition deteriorated, requiring heart transplantation for survival. Luckily, a matching paediatric donor heart was found just in time, saving her life.
True Story of Paediatric Heart Transplantation
In January 2021, unfortunately, she developed a clot in the heart which obstructed the blood flow to one of the blood vessels of the brain, producing an acute brain stroke. She was rushed to the hospital, and within hours, the clot was removed by the Neurological team, and she recovered almost completely. In December 2020, she was allocated two potential heart donors, but due to the positive crossmatch (pre-existing antibodies against the donor, or the recipient and the donor are incompatible), this did not materialize. Finally, on 19th May 2021, she had a paediatric heart (the donor was of the same age and weight) which matched her perfectly. She underwent successful transplantation and was discharged after 3 weeks of mandatory hospital stay.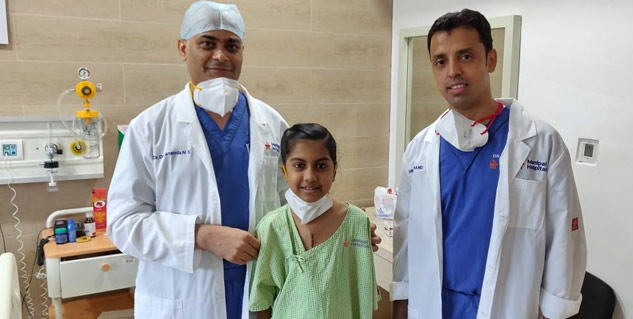 "There are several children suffering from congenital cardiomyopathy or viral dilated cardiomyopathy or other myocarditis that result in the development of severe heart dysfunction needing heart transplantation. But, unfortunately, the donor pool in this segment is very limited. Especially, during the pandemic when there is a lack of organ donors, we are very lucky to get a suitable heart donor for this child. We have still many children waiting for transplantation, but she was lucky enough to get a matching donor. She is our first paediatric heart transplant recipient at Manipal Hospitals, Old Airport Road, while all 9 previous patients were adults." added Dr. Devananda NS, HOD & Consultant – Cardiothoracic Vascular Surgery, Heart and Lung transplant surgery, Manipal Hospitals Old Airport Road, Bangalore.
Also Read: Here Are 5 Common Medical Tests to Diagnose Heart Conditions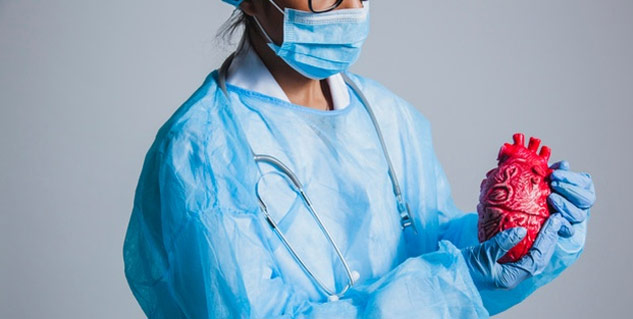 Challenges in Paediatric Heart Transplantation
Paediatric heart transplantation carries multiple challenges at multiple levels. Very few parents of unfortunate brain-dead children come forward to donate the organ. Hence, many times, nearly matching adult donors by weight and height are used. Finding such a compatible match often takes time. Managing their post-operative care like immunosuppression can be challenging compared to adults. However, the hospital wins against all odds by finding a matching donor heart and saving the life of the little girl.
"This is the first-ever paediatric heart transplant performed at Manipal Group of Hospitals and a successful one. Heart transplantation in a child always poses extra challenges. Moreover, in this case, it was the child's second heart operation. We made sure that the child's body was able to accept the new heart, and she was monitored continuously for any post-surgical complications. "We are happy the transplantation was a successful one, and we were able to return the child back to her parents safely" added Dr. Devananda NS.
Also Read: All You Need To Know About A Heart Transplant From Cardiologist Dr Dora
Heart transplantation is also an expensive surgery. Not all patients can afford it. In this case, too, the child's parents were unable to bear the entire expenses of the surgery. Thanks to the timely help from NGOs and the child's well-wishers, the surgery was possible. Expressing his gratitude, Dr Devananda NS appreciated the online donations and Pranic healing trust for their contributions in raising funds for this transplantation.
Read More Articles in Heart Health